Five years ago, after completing my first year in grad school, I flew home to visit my parents, and it was then that I photographed, wrote, and published my very first blog post! Shortly thereafter, I shared the story behind the silly name of the blog, but I've never really talked much about why I started a blog in the first place. That's because it's part of a rather unhappy story, but regardless, I think it's one worth telling now, even if very belatedly.
To say that my first semester of grad school was difficult would be an understatement. The workload was immense and overwhelming, of course, but I was dealing with some mental health issues on top of that. I lost sleep, I lost weight, I lost friends; I lost interest in just about everything. But when I went home for Christmas, I received several cookbooks as gifts from my family, and with an eager group of taste-testers present, I was reminded of how much I enjoyed spending time in the kitchen—I had lost sight of that while living alone and cooking for one. Soon after, I created a Pinterest account and started scouring the internet for recipes that made me excited to try new things again. This was huge, considering that I had spent the past few months living off oatmeal and unable to watch anything but reruns of favorite shows on TV, taking comfort in knowing exactly what was going to happen. Cooking (and baking) became my lifeline: it was both a reminder of how delicious life could be and a reminder that it's okay when things don't go as planned!
In retrospect, it seems like such a little thing, but trying new recipes helped motivate me and gave me more energy—oatmeal is great for breakfast, but eating it for several meals a day probably left me a bit sluggish!—and over the next few months, I began to turn things around. I finally decided to just go for it and adopt a puppy, and I also gave online dating a try, which is how I met Mr. Cake Pants! Largely owing to the fact that he too loves to eat, the husband has always been very supportive of my kitchen endeavors, and after noticing that I liked to share photos of the results on Facebook, he suggested that I start a blog. I wrote off the idea at first, but after more and more friends started to comment or message me asking for the recipes, I figured, why not?
Over the years, this blog has provided me with the creative outlet that I desperately craved (and yet didn't initially know that I needed) and a way of connecting with people near and far. I am so grateful for both. Thank YOU for being here and for being (hopefully) as excited about food as I am! Julia Child said, "People who love to eat are always the best people," and you guys…well, you really are the best!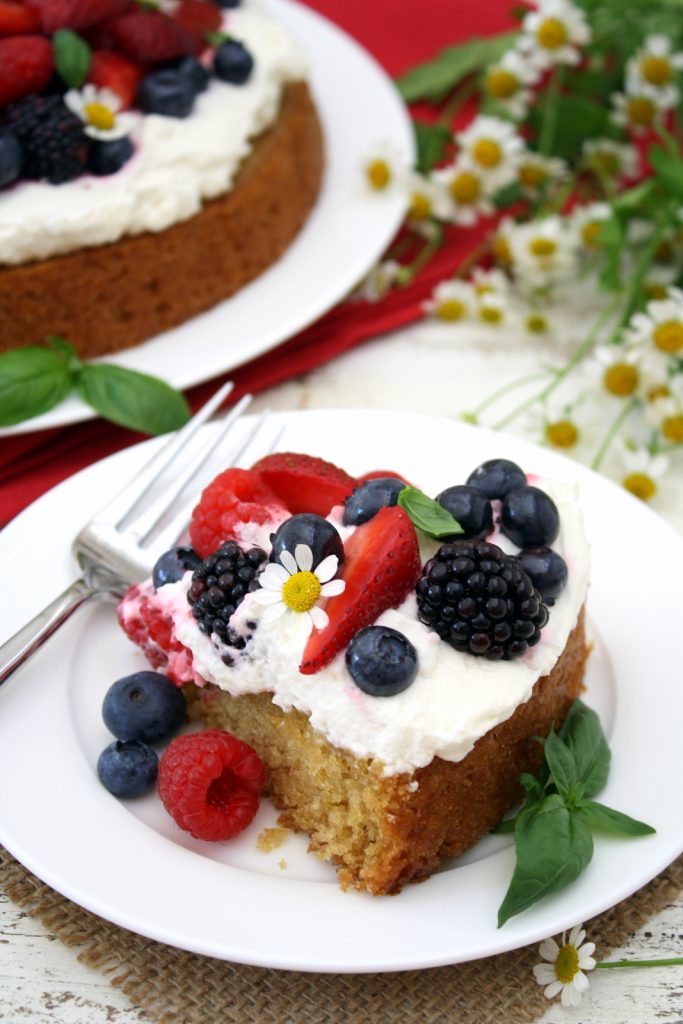 As we all know (and I mentioned above), things don't always go as planned in the kitchen (or in life), and this lemon basil cake is my most recent example of this. The first cake tore in half when I tried to remove it from the pan, despite liberal greasing and flouring. The second one (which I baked in a springform pan) was delicious, but the basil simple syrup I brushed on top didn't infuse the cake with as much flavor as I'd hoped—but I didn't know this until after I photographed it. The third one (a piece of which is pictured below) had a more discernable basil flavor, thanks to the basil sugar I whipped up in the food processor, but the flecks of basil gave the cake a greener hue than I was expecting ("It looks like a Shrek cake," the husband declared).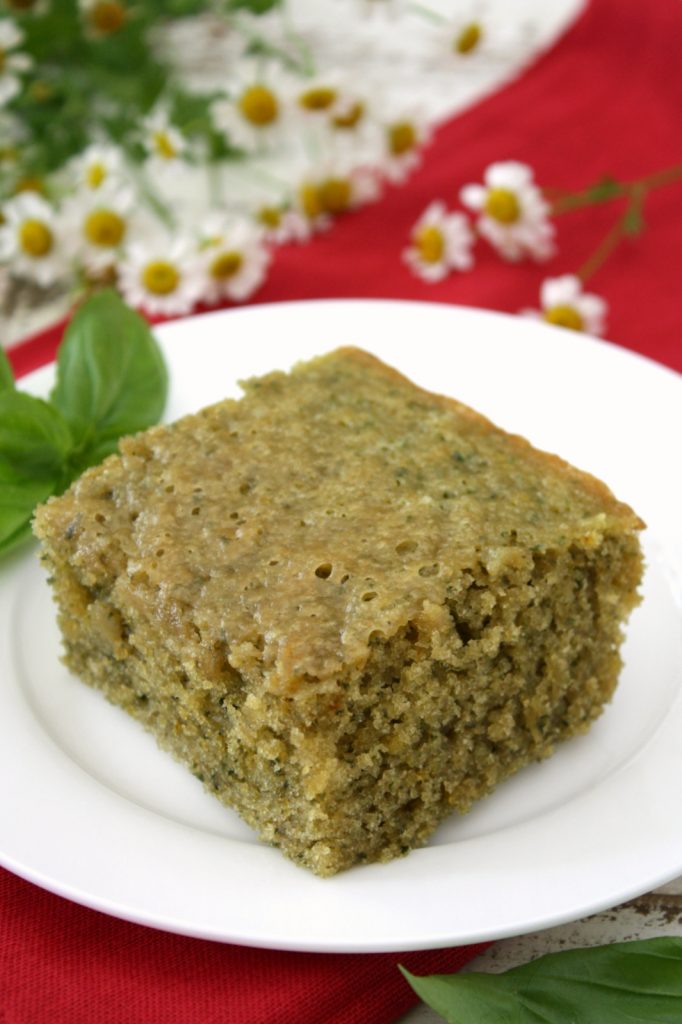 I decided, as a result, to give instructions for two different versions: a (yellow) lemon cake with basil incorporated simply as a garnish on top and a (greenish) lemon basil cake made with basil sugar. Both are incredibly moist, easy to make, and wonderfully unfussy in their presentation—it just comes down to your preference about color and what role you'd like the basil to play.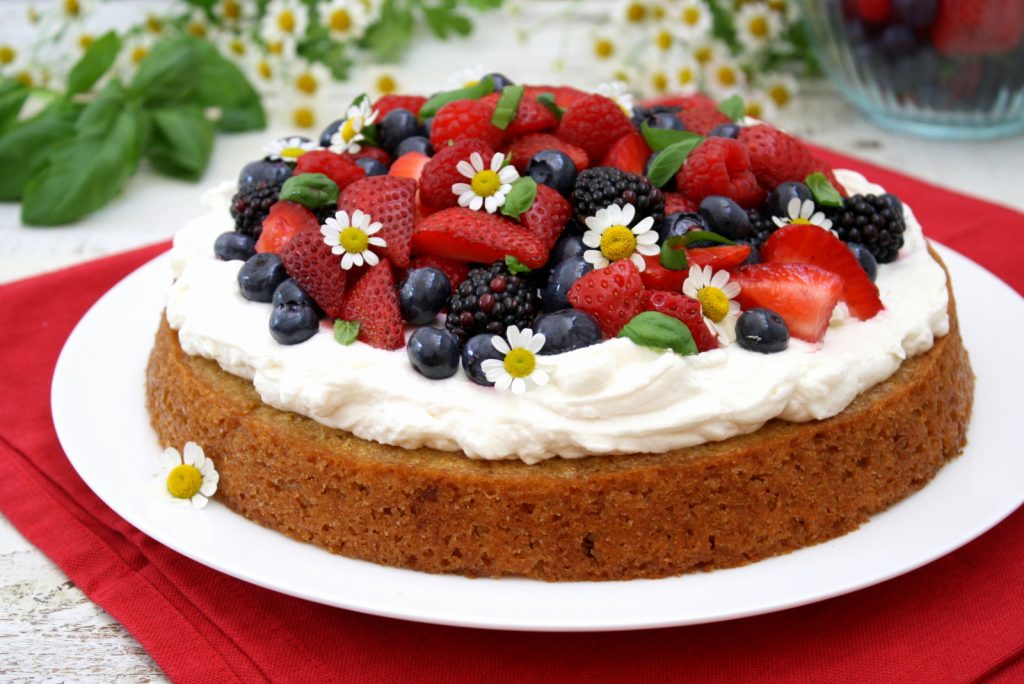 Before signing off for today, I'd like to highlight a few all-time favorites, in honor of hitting the five-year mark. So without further ado (since this post is long enough as is!), here are five of my personal favorites and five of my husband's!
My picks: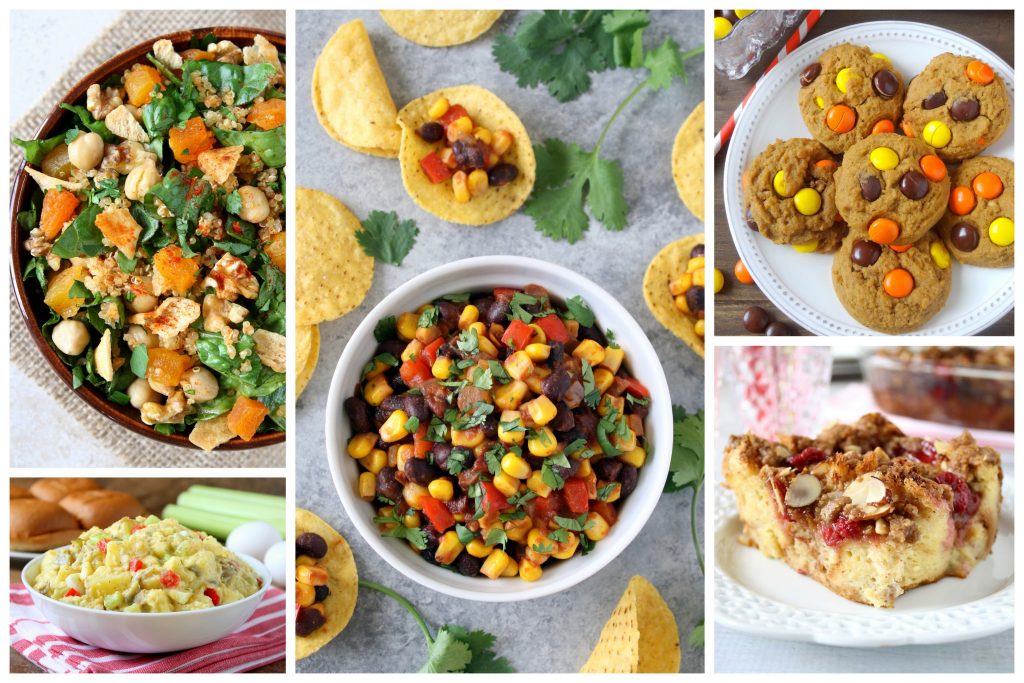 Chickpea and apricot salad | Copycat Trader Joe's cowboy caviar | Ginger spice peanut butter cookies | Dill potato salad | Cherry pie French toast casserole
The husband's picks: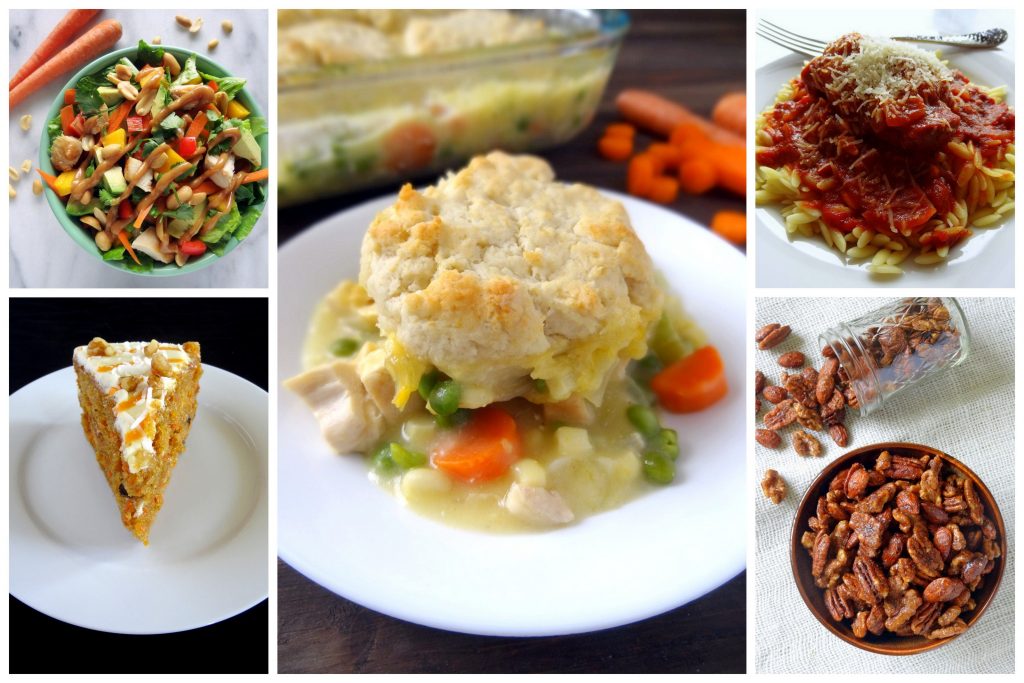 Mango Thai chicken salad | Chicken pot pie | Chicken kapama | Mango carrot cake | Easy spiced nuts
Recipe of the Week
and
Fiesta Friday
. Hilda from
Along the Grapevine
and I are cohosts for Fiesta Friday this week, so please head over and
join the party
!

SaveSave
SaveSave
SaveSave
SaveSave
SaveSave
SaveSave
SaveSave