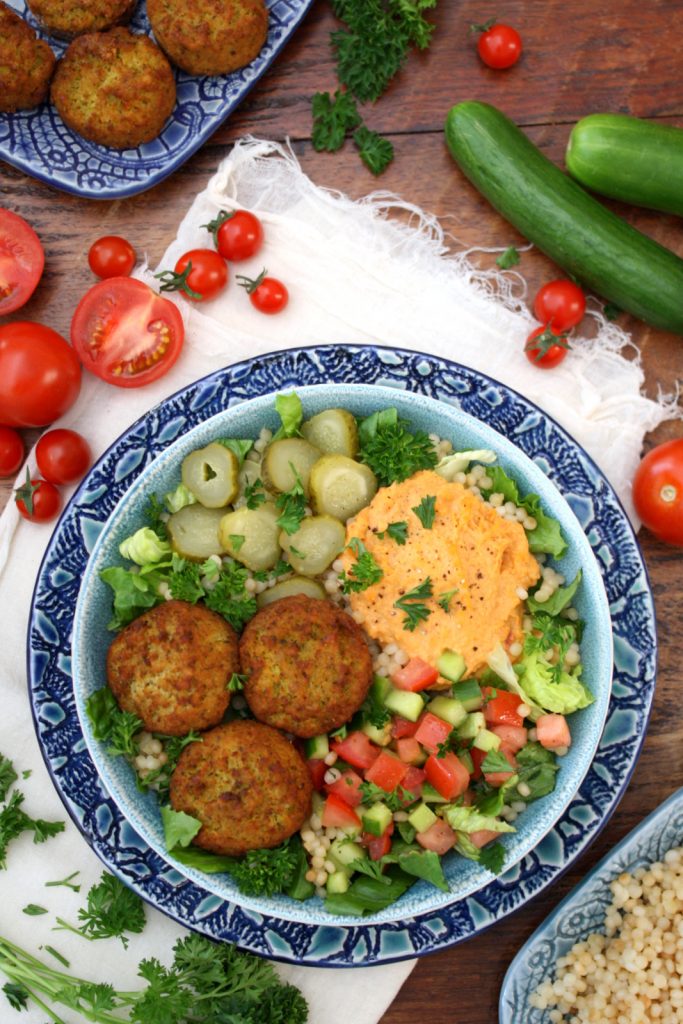 The husband and I both have summer birthdays, one month apart, which means there have been lots of treats and indulgent meals lately. When we're not in celebration mode, we've been opting for healthier fare to help balance things out, and these falafel and hummus bowls have quickly become a new favorite!
Inspired by a local restaurant, these bowls are comprised of a bed of lettuce and Israeli couscous, a scoop of tomato cucumber salad, sliced pickles, falafel, and a generous dollop of hummus. The variety of flavors and textures means there is never a dull bite, and we love how this dish is simultaneously filling yet refreshingly light! It also comes together surprisingly quickly, as we use a package of fully cooked falafel—Trader Joe's frozen falafel can be ready after a minute or two in the microwave, although there are also baking instructions—and pre-made hummus. If we're on top of things, we'll make homemade hummus on the weekend to eat throughout the week, but sometimes store-bought just makes more sense. So with the falafel and hummus taken care of, all that's left to do is chop up some veggies and cook the couscous! The instructions I've provided for the couscous may differ from what some packages say, but heating the couscous in oil for a few minutes before adding water helps bring out its natural nutty flavor, so it's really worth the extra bit of time in my opinion.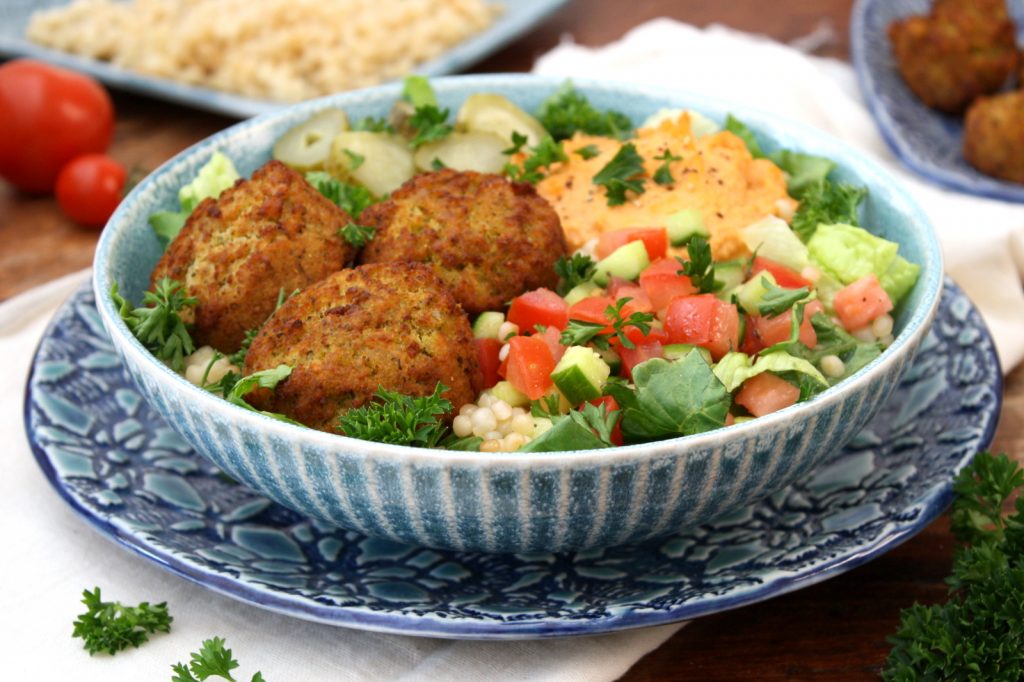 These falafel and hummus bowls are vegan if you prepare them according to the instructions below, but if you're craving meat, shawarma-style chicken, lamb, etc. would be an excellent addition! Have you tried falafel? If you have, was it love at first bite or more of an acquired taste? I'm curious to know, because it's yet another food that I hated as a child but am more than happy to eat as an adult!
Fiesta Friday
(cohosted by
The Frugal Hausfrau
and
Iris and Honey
).

SaveSave
SaveSave
SaveSave