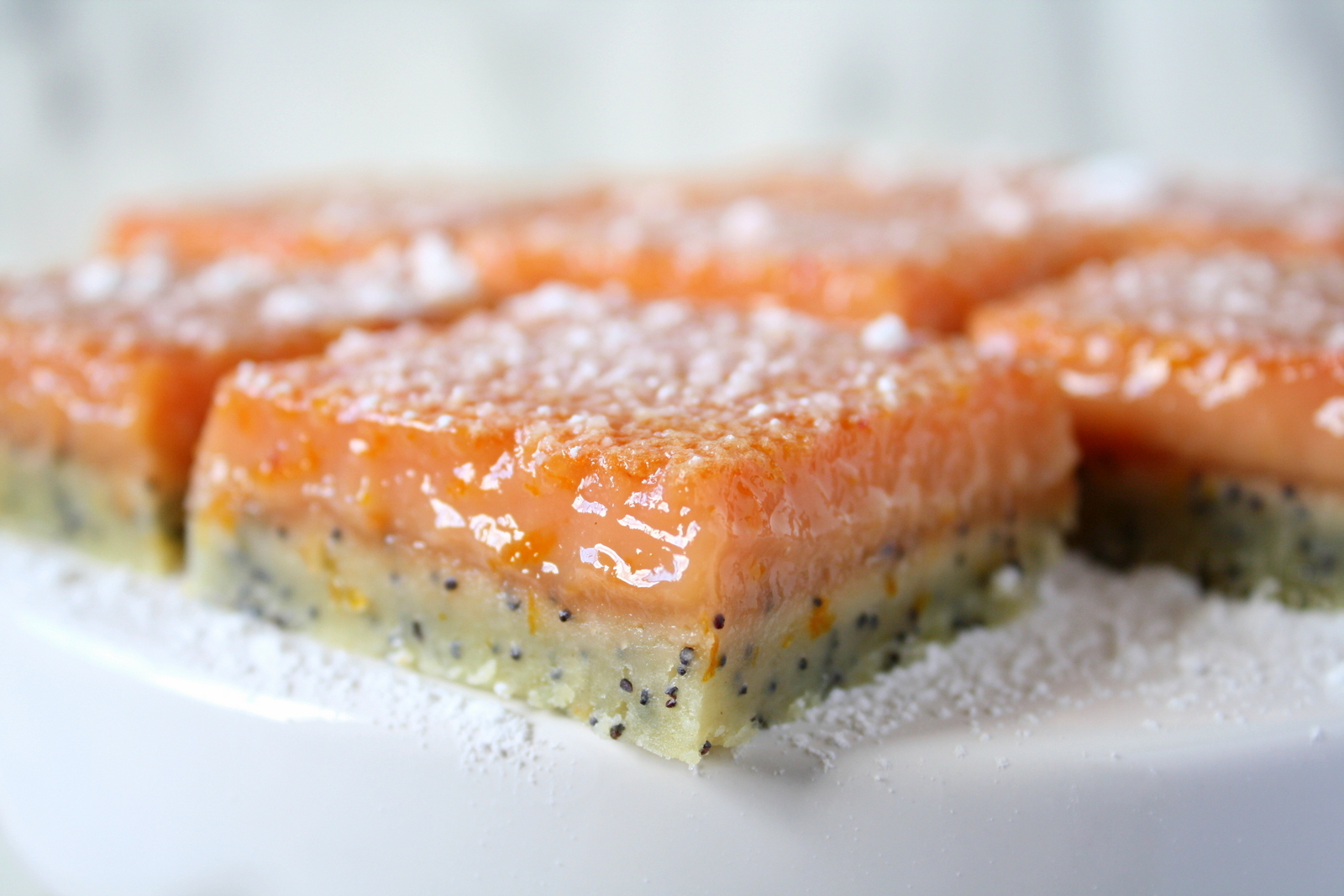 These poppy seed blood orange bars were a real labor of love…or probably more accurately, a testament to my stubbornness. What you see above is a bar comprised of juicy, tangy orange curd and a buttery crust replete with tiny pop(py seed)s of crunch, whose vibrant color is cheery enough to brighten any cold, dreary winter day.
This was not the case with batches one and two. The filling of batch one had a liquid ratio of two parts orange juice to one part milk, and sadly, the opaqueness of the milk all but negated the beautiful color of the blood oranges. To compare, batch one is on the left and batch three is on the right: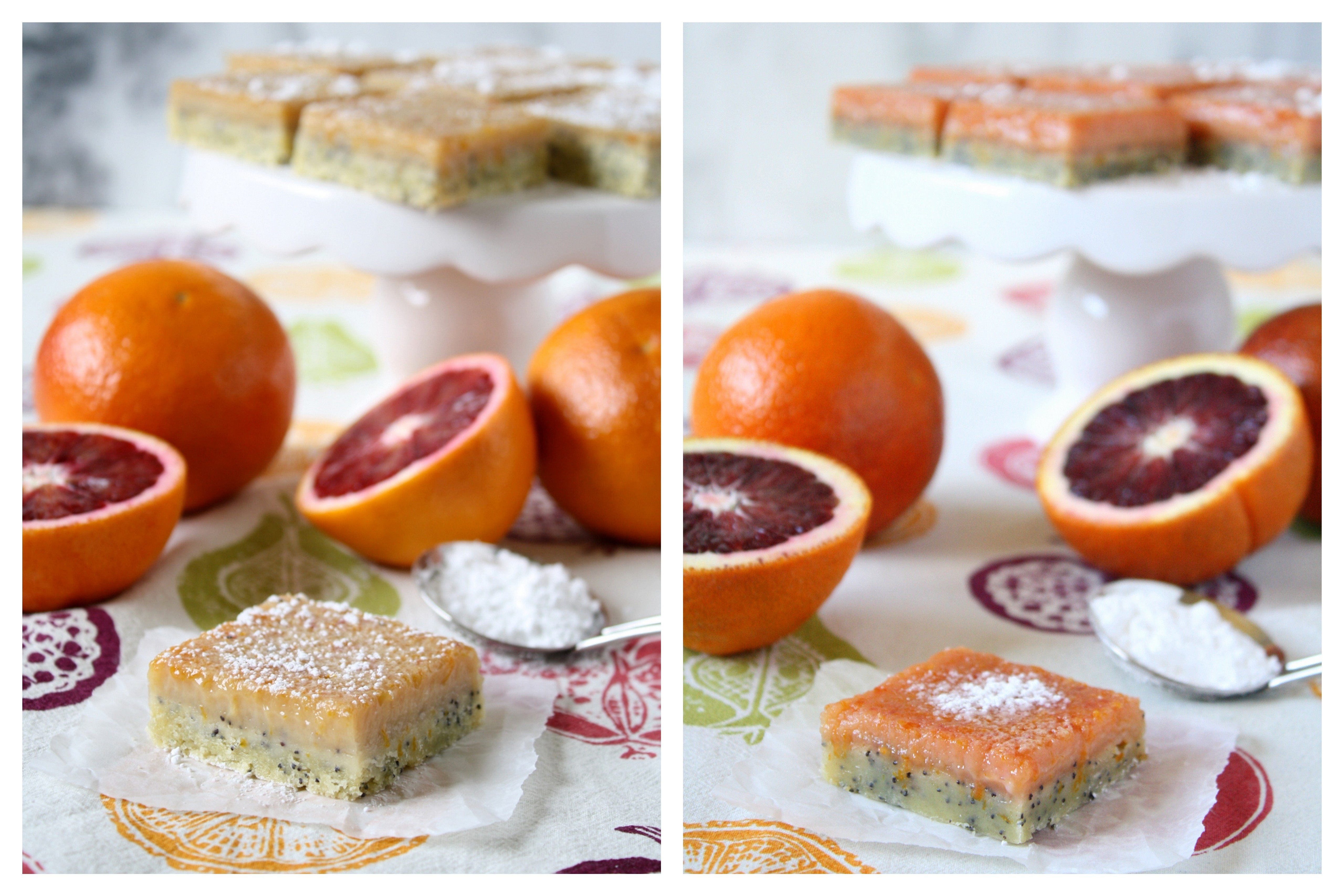 The bigger problem, however, was the taste: it was a major disappointment. I had adapted the filling recipe from a recipe for lemon bars, replacing the lemon juice with orange juice, but I had failed to take into account that oranges are not merely sweeter versions of lemons. Lemons pack a much more powerful flavor punch, which meant that my orange bars were just kind of faintly citrus-flavored.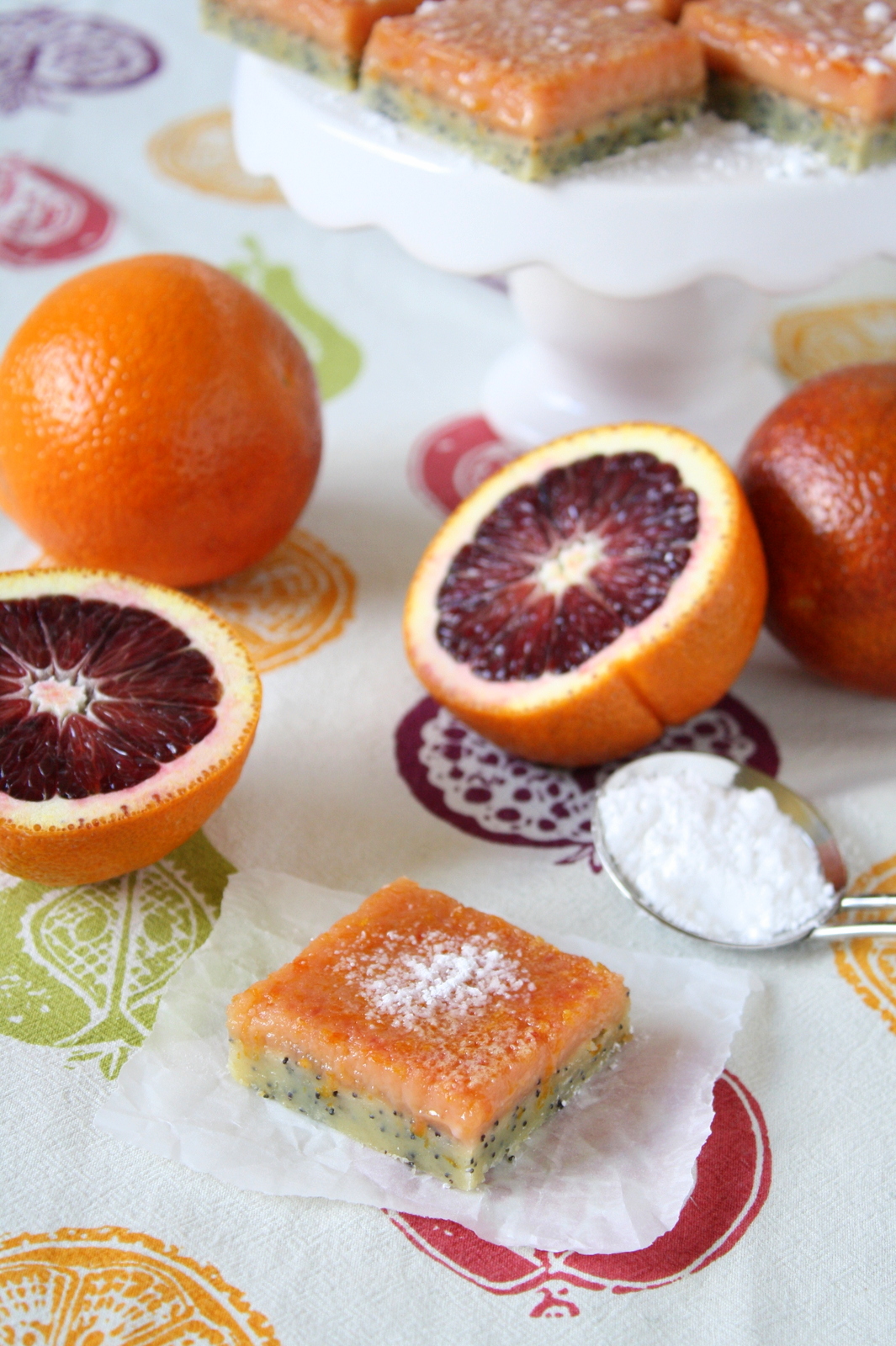 For batch two, I replaced the milk with lemon juice, using a liquid ratio of two parts orange juice to one part lemon juice. The transparency of lemon juice relative to milk solved the color problem, and the flavor was much improved! But unfortunately, I poured the filling into the crust a bit too quickly/carelessly, and the force from the stream of liquid caused little pieces of the crust to break free and swim around in the filling. It tasted great, but looked like some kind of petri dish experiment gone disgustingly wrong. I also found the amount of filling a little on the skimpy side for the amount of crust, so in batch three, I increased the filling by 50% and poured it into the crust very carefully…and at last: success!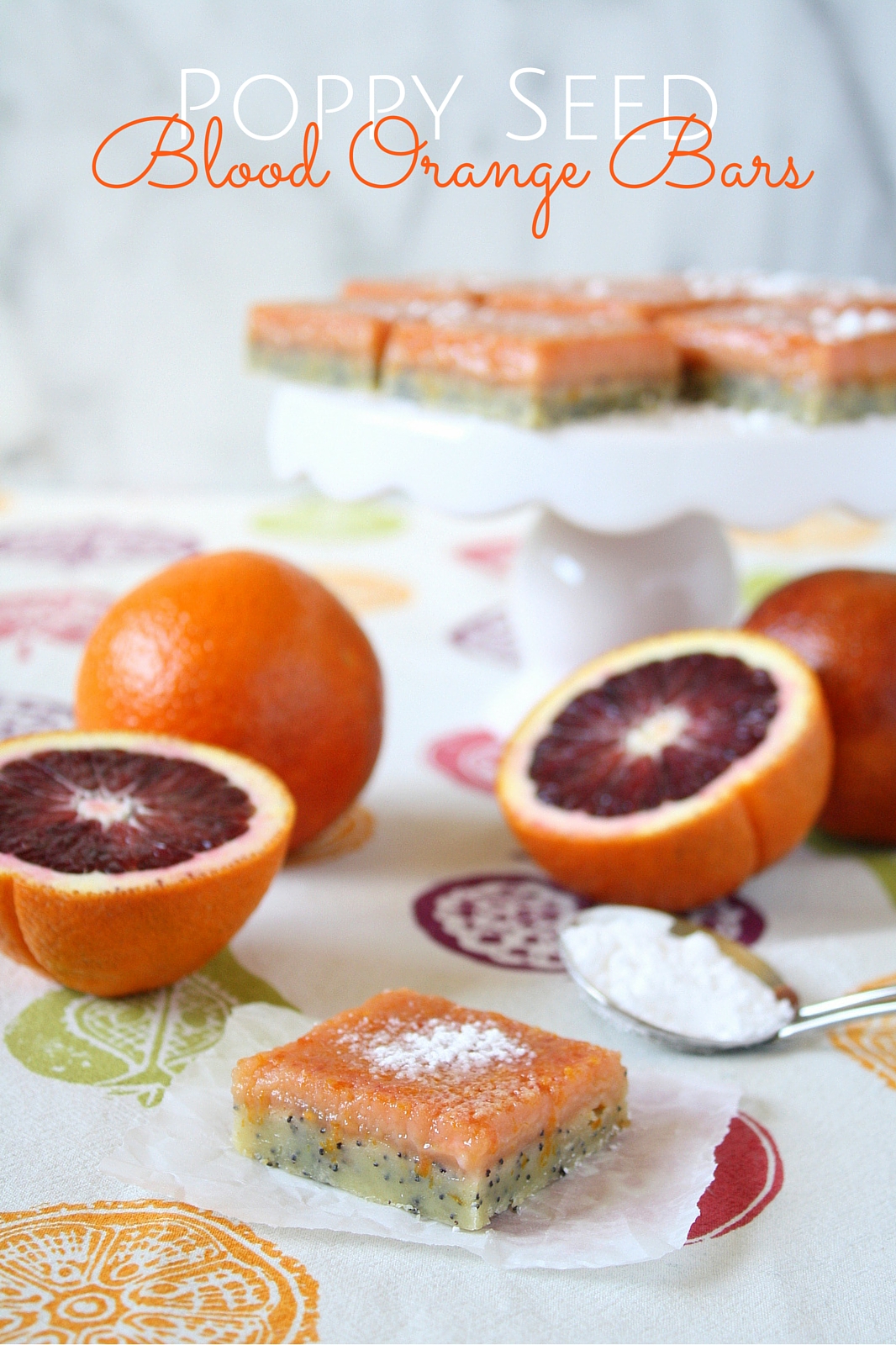 So here you have it: a recipe for poppy seed blood orange bars whose bright appearance and flavor will dazzle your eyes and taste buds alike!
On a completely unrelated note, Happy Chinese New Year! May the year of the monkey be happy, healthy, and prosperous for you! Do you know the animal of the year in which you were born?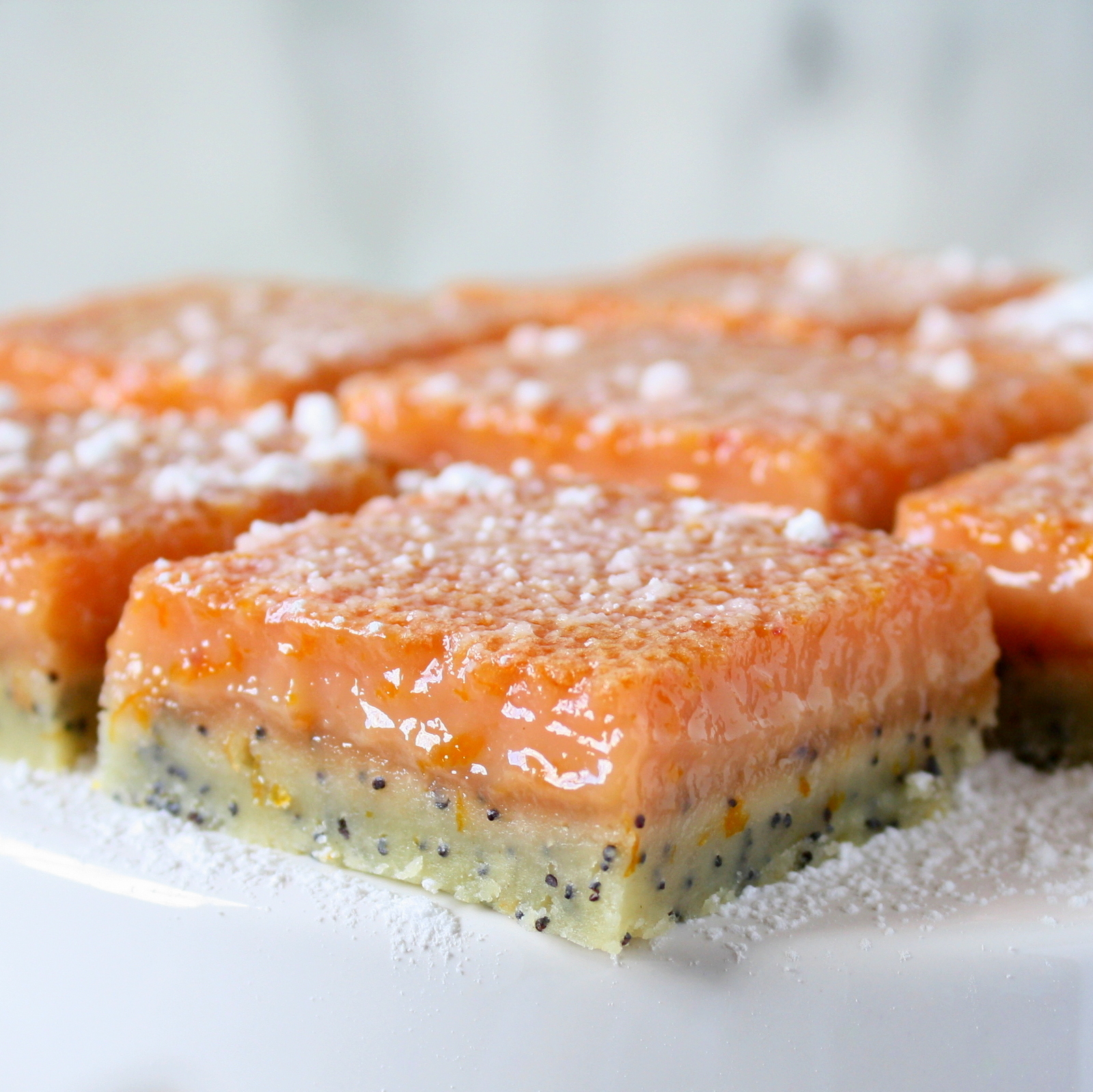 I'm sharing this post at the following link parties: The Wednesday Showcase, Foodie FriDIY, Fiesta Friday, and Recipe of the Week.