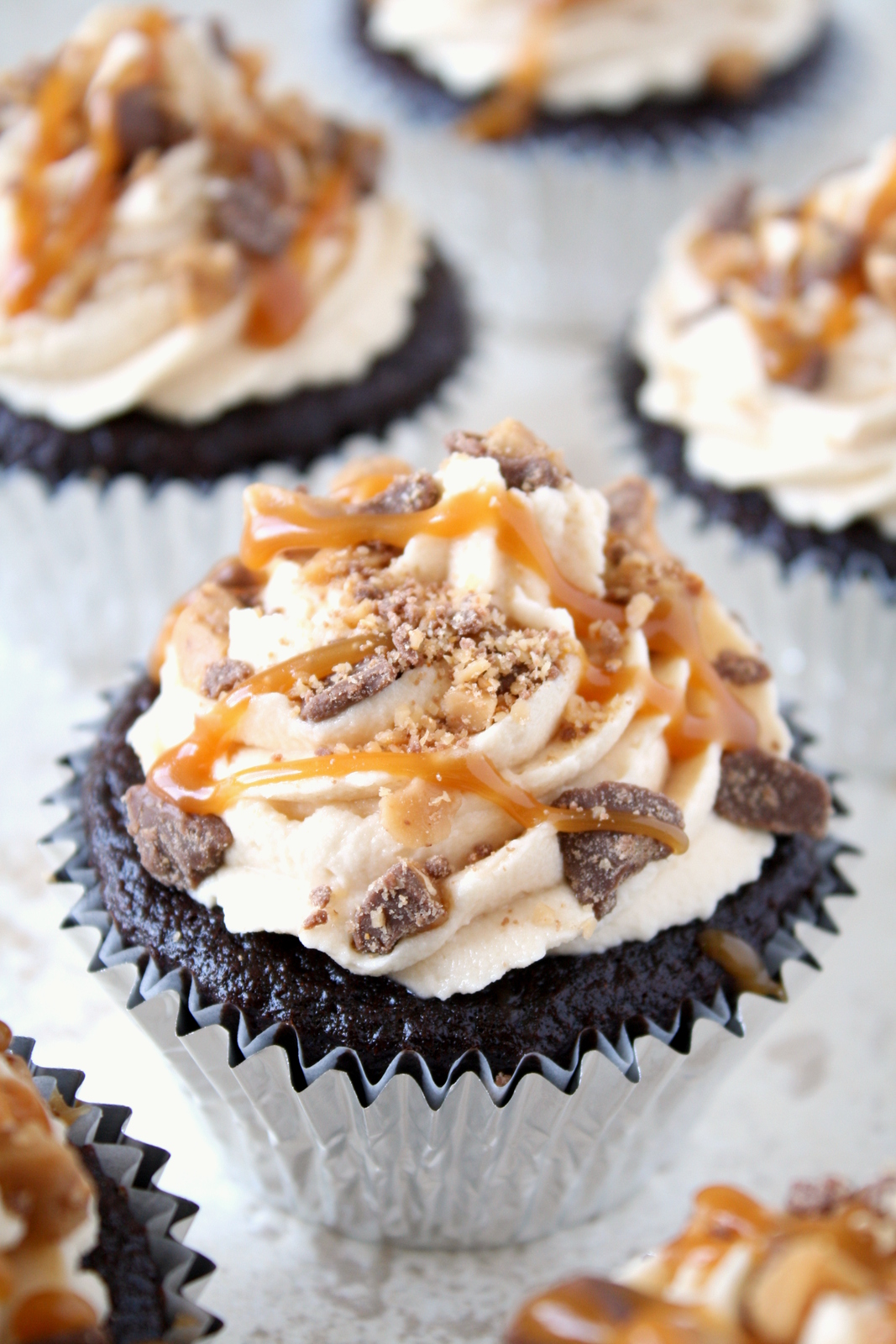 You know what's crazy? This week marks the four year anniversary of when I started writing this blog. You know what's even crazier?! I actually got my act together this year and made something celebratory to share with you for the occasion, unlike in past years, when I tried to pass off things like salad or breakfast tacos as blogiversary-worthy treats.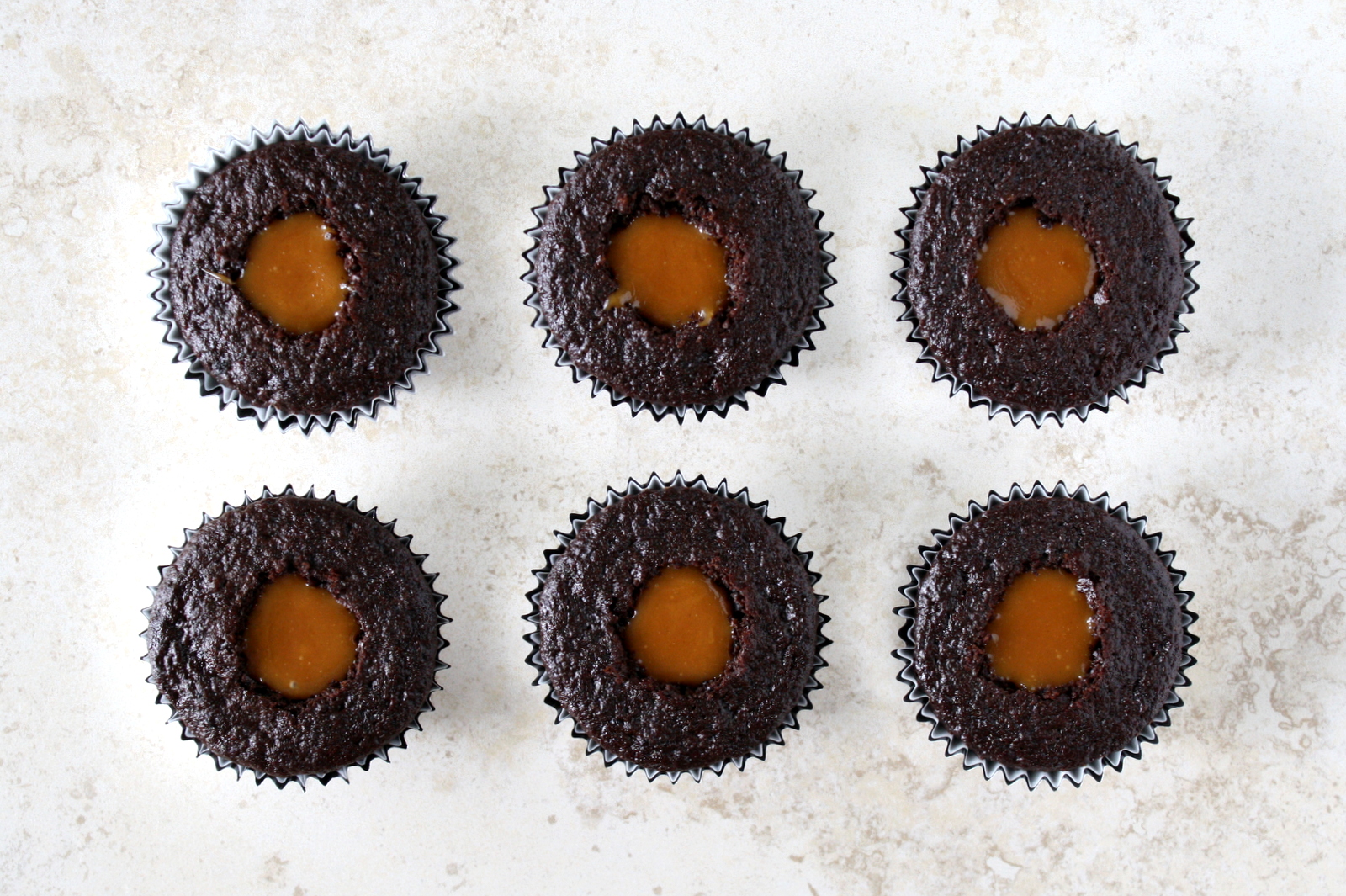 Okay, okay…to be honest, the stars just sort of aligned this time. And by stars, I mean that the fiancé was visiting for the week, which seemed as good a reason as any to make a cake, especially given that I don't bake cakes when I'm by myself (I'd need bigger cake pants if I did). But whatever the circumstances, these coffee toffee caramel cupcakes are 1000% appropriate for anything festive you've got going on—birthdays, showers, pool parties, you name it!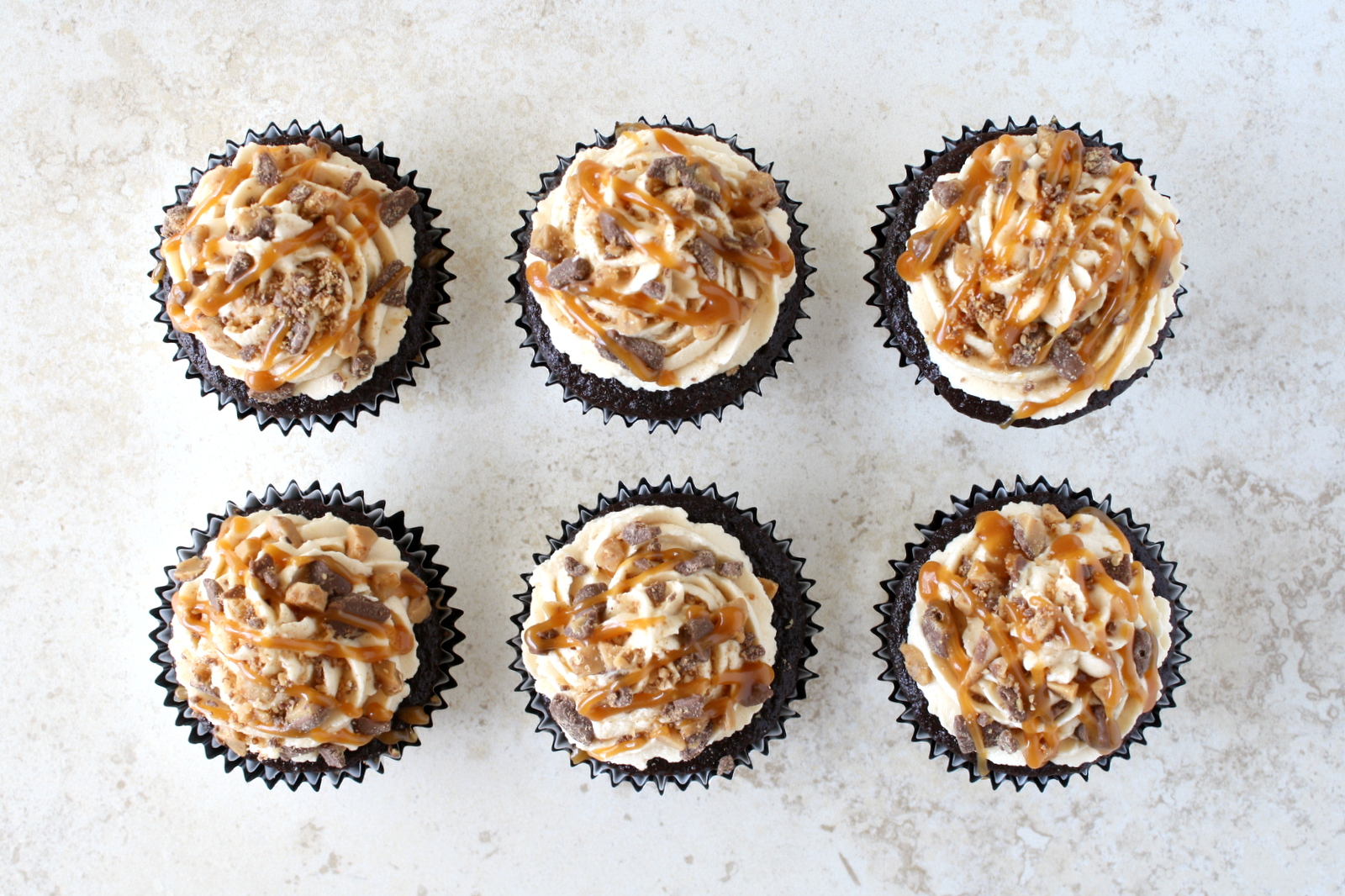 These cupcakes were inspired by my all-time favorite Ben & Jerry's flavor, Bonnaroo Buzz, which was discontinued a number of years ago. It offered a tantalizing combination of coffee, toffee, caramel, and whiskey, and after several years of hoping in vain for it to be resurrected from the flavor graveyard, I decided to take matters into my own hands and create a Bonnaroo Buzz confection of my own!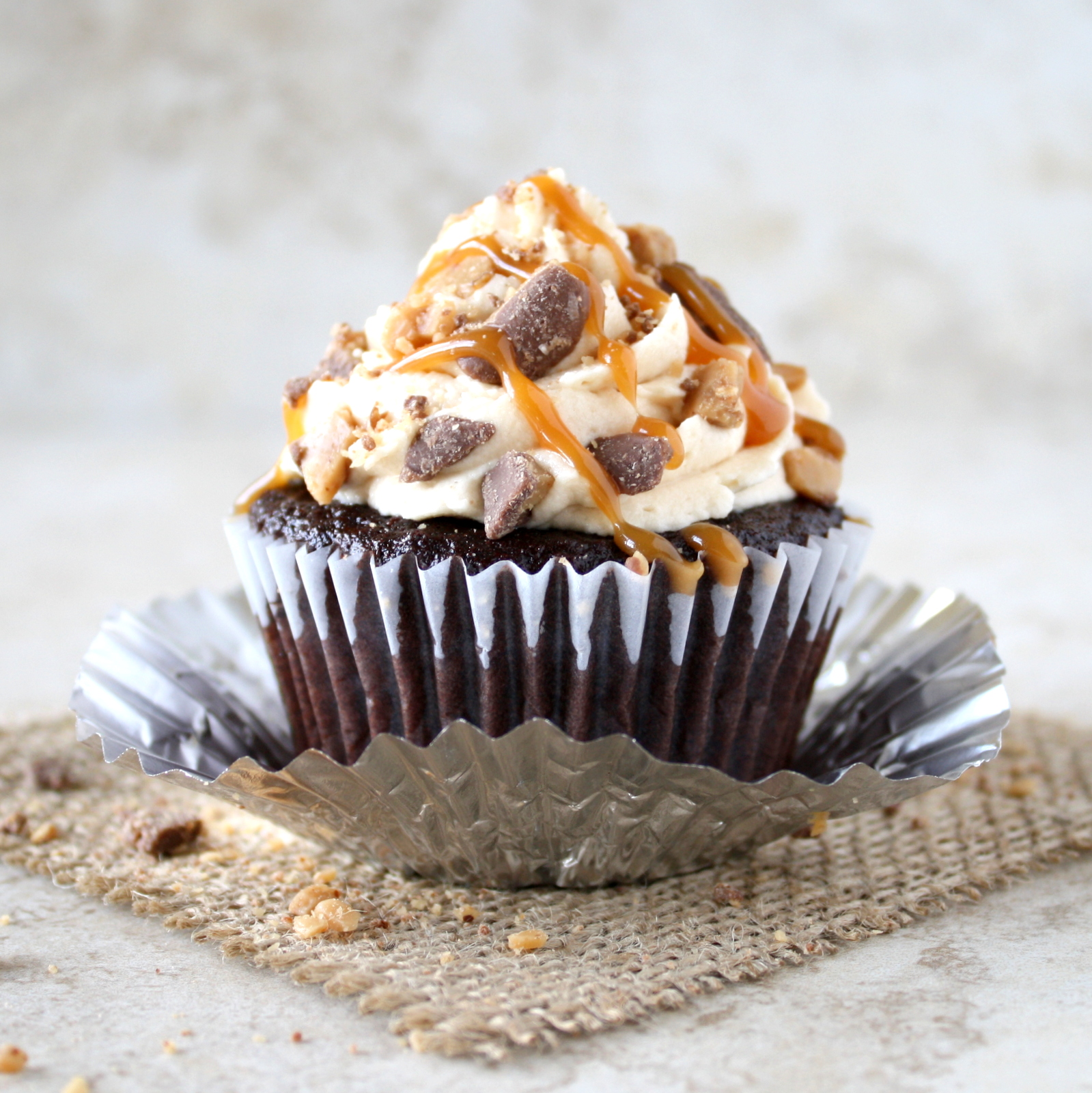 Although the original ice cream flavor didn't have much in the way of chocolate (only what covered the toffee), I used a chocolate cupcake as the base—after all, when is chocolate ever a bad idea?! I also opted to leave out the whiskey component, partly because that was never the standout ingredient in my view, but also because I don't have whiskey and I'm actively trying to reduce (or at least avoid increasing) the number of items in my pantry/fridge/freezer.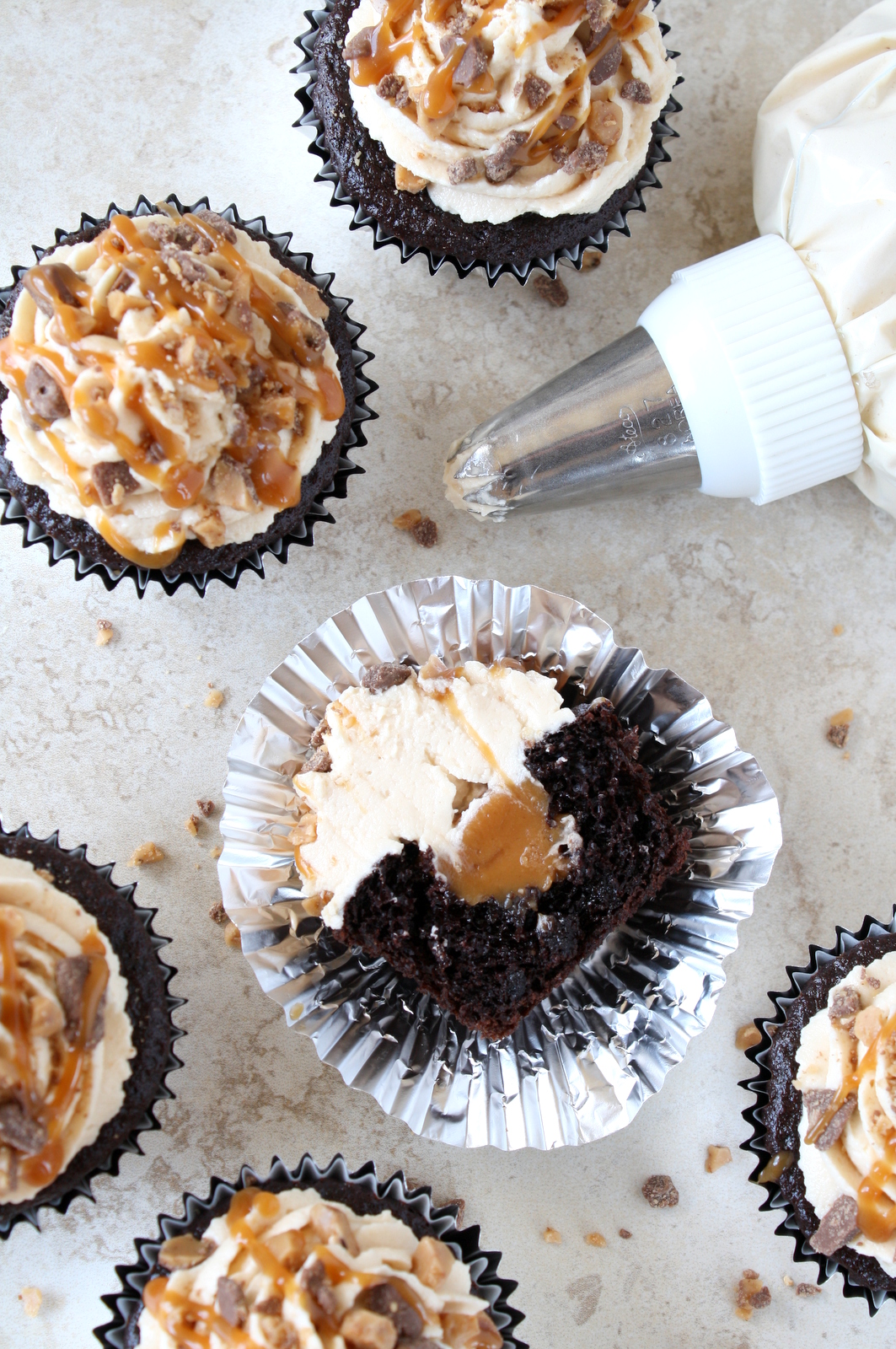 Even if you haven't spent the past few years mourning ice cream flavor turnover, I think you'll find that these coffee toffee caramel cupcakes really hit the spot! The chocolate cake is soft and tender with a moist but not overly dense crumb, and the caramel buttercream balances out the cake with an irresistible salty-sweet combination that is enhanced by the toffee pieces sprinkled on top. There's even a surprise pocket of caramel tucked underneath the frosting!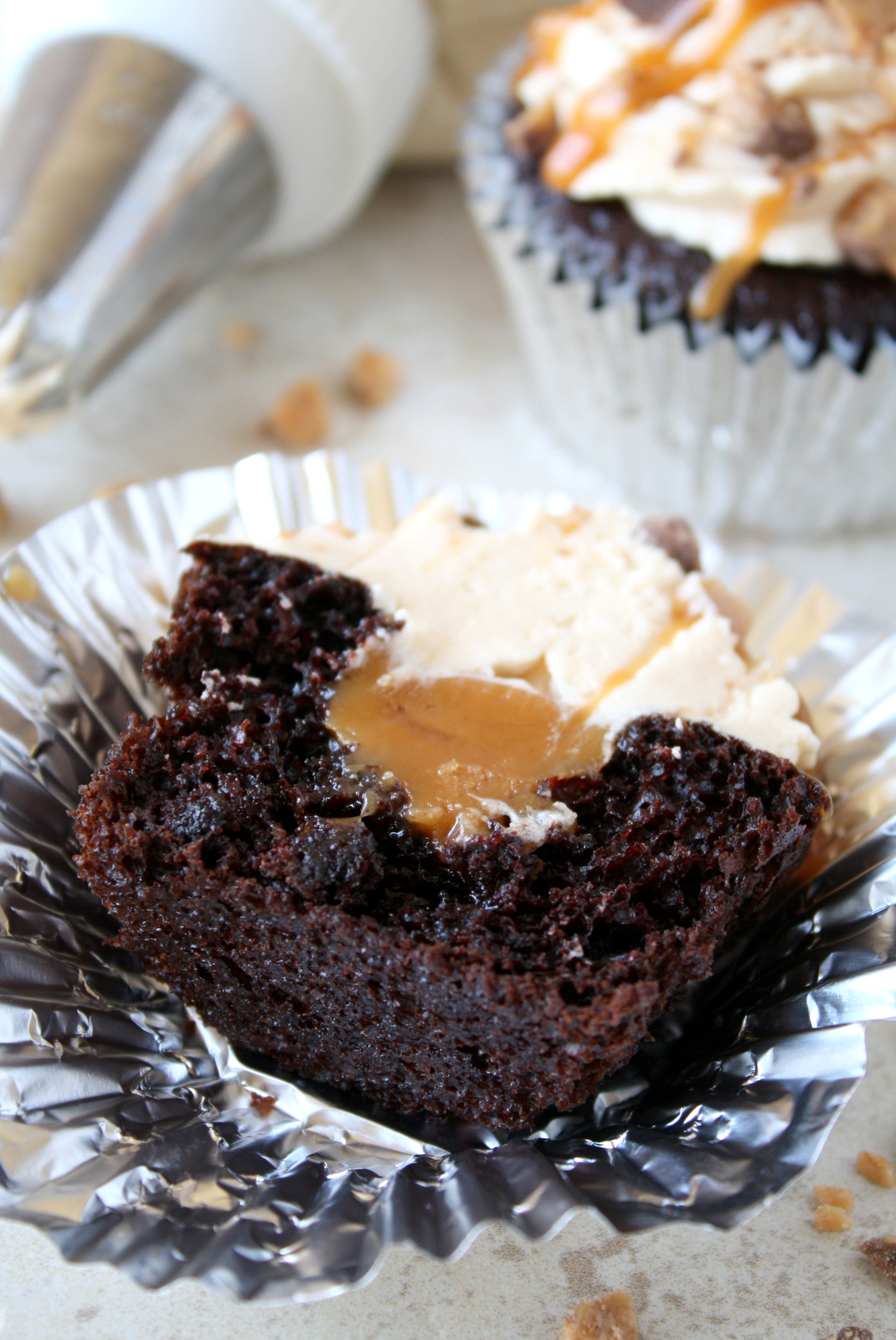 While I wish that I could thank each and every one of you for being here by giving you a cupcake I baked myself, we'll have to make do with words for now. Thank you so much for reading along and being a part of Put on Your Cake Pants! I truly appreciate you taking the time to visit my little corner of the internet. As is my blogiversary custom, I've compiled a list (included below) of my favorite recipes from this past year, but I'd also love to hear from you! What are your favorite Put on Your Cake Pants recipes—from this past year or any other?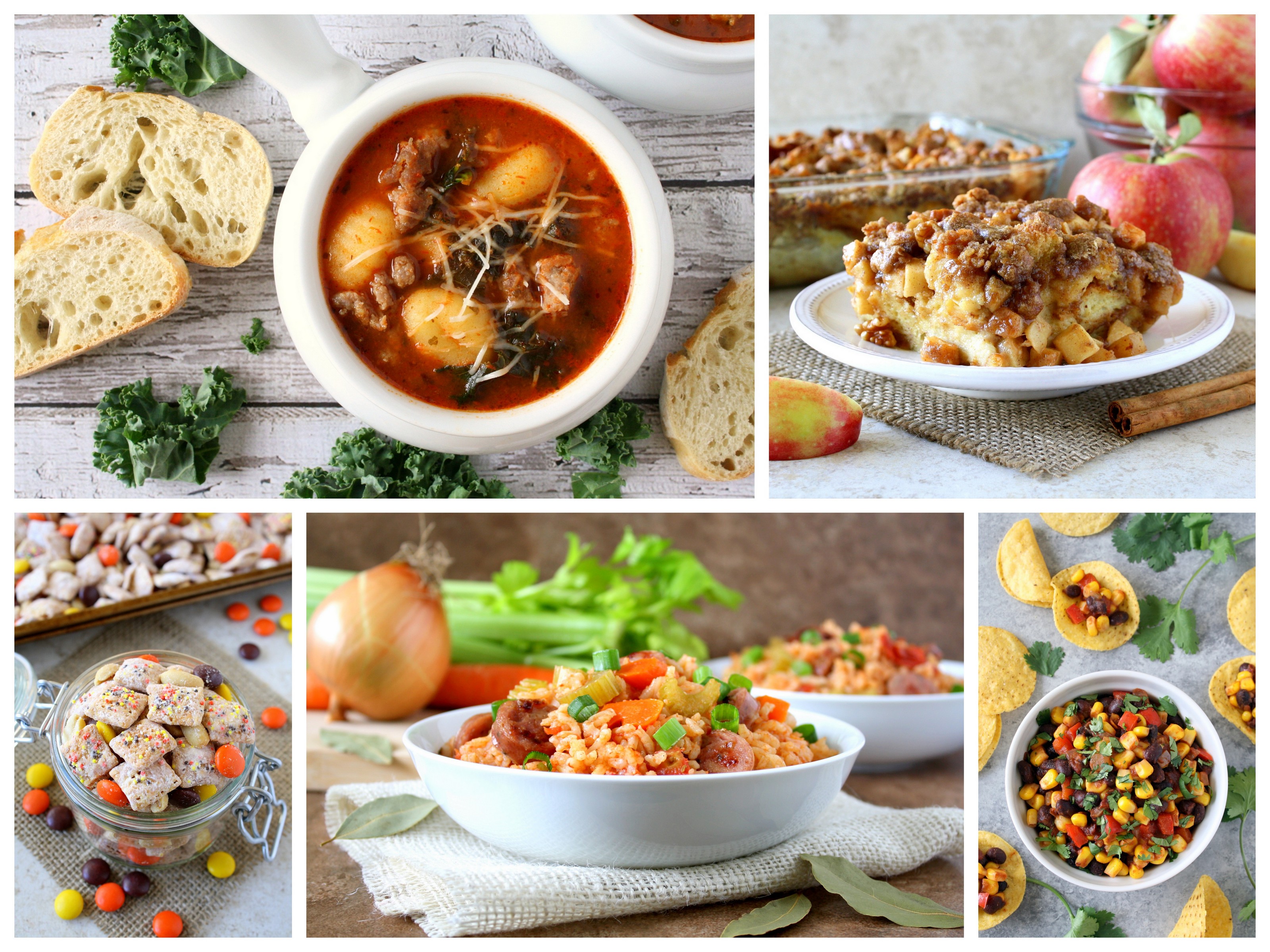 Clockwise, from top left:
Italian tomato gnocchi soup
Apple pie French toast casserole
Copycat Trader Joe's cowboy caviar
Easy one-pot jambalaya
Peanut butter butterscotch puppy chow
Recipe of the Week
,
Welcome Home Wednesdays
, and
Fiesta Friday
(cohosted by
Sarah's Little Kitchen
and
Caramel Tinted Life
).