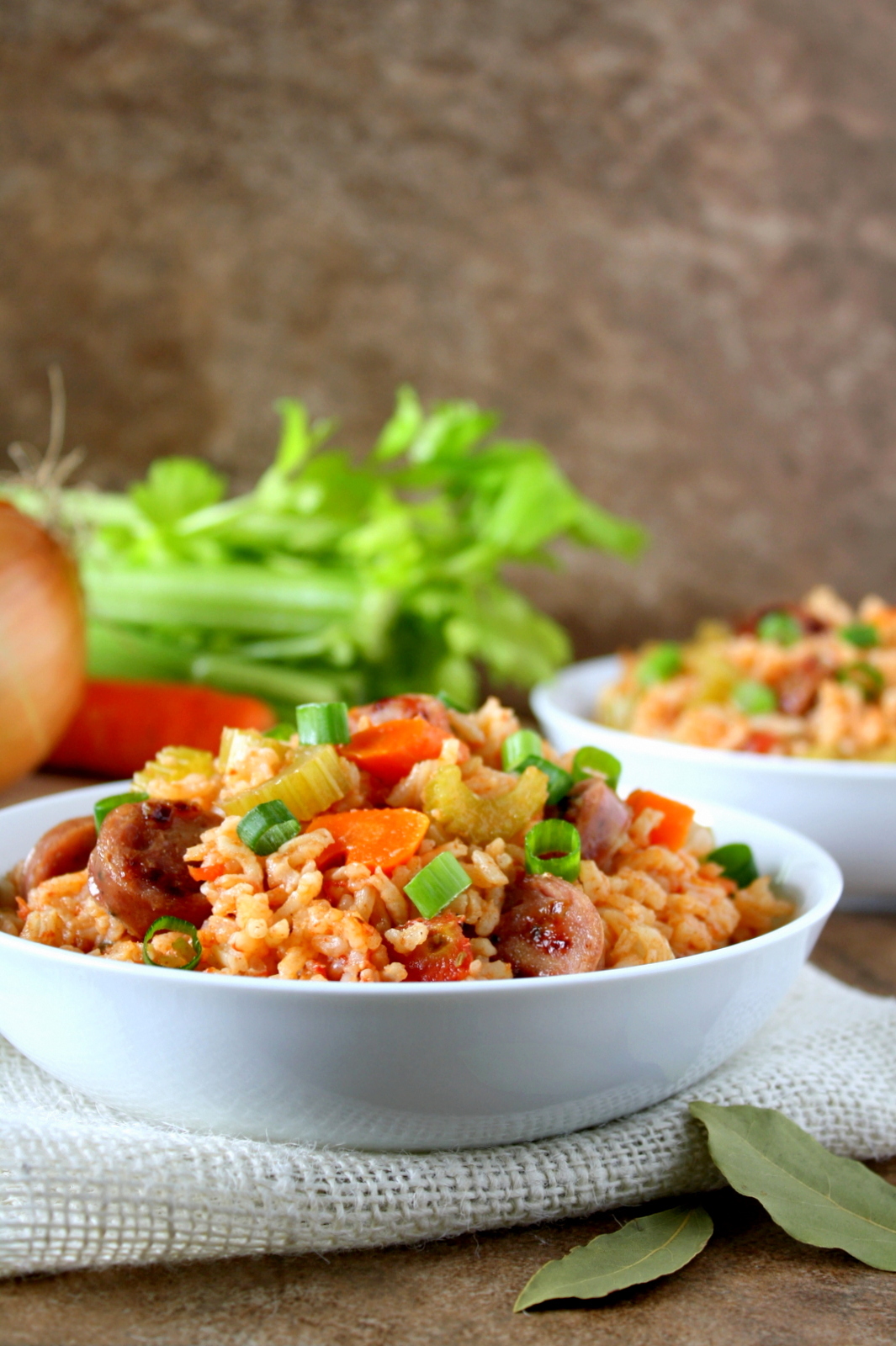 I often watched my parents prepare dinner when I was growing up, and one of the main lessons I learned from them was the importance of being resourceful. Pretty much anyone can pick a recipe and go out to the store to buy the necessary ingredients, but making do with what you have at home requires a pinch of creativity and flexibility. Swinging by the store for a couple of items can be tempting, but I find that when I do that, I often end up either buying things I don't really need (just because I'm there and I'm hungry) or neglecting the things in my fridge that I need to use up. Neither of these outcomes is very cost-efficient, so I have a few go-to meals that don't require planning ahead and that I can make even when I haven't gone to the store recently. These meals are based on ingredients with a relatively long shelf life, which I'm likely to have on hand at any given time. I started making this easy one-pot jambalaya a few months ago, and it has quickly become one of my favorite "minimal planning" recipes!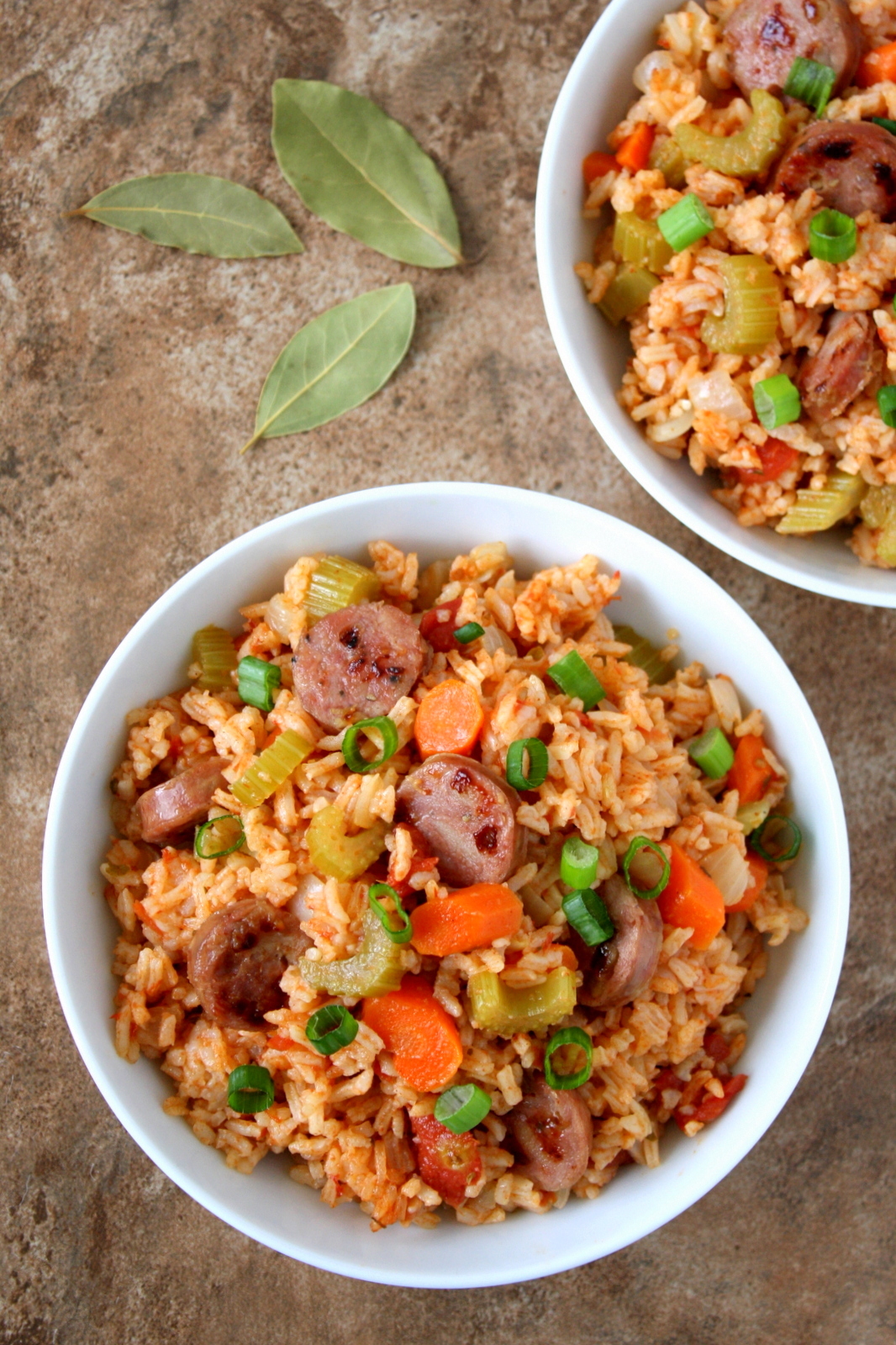 Those of you who are familiar with Creole and Cajun cooking know that jambalaya and many other dishes start with the "holy trinity," a combination of onion, celery, and green pepper. For this recipe, however, I decided to swap out the green pepper and use carrot instead. I almost always have carrots in the fridge and they stay fresh for quite a long time, whereas I find that bell peppers often turn wrinkly and soft after a few days. Like carrots, onions and celery are also fridge regulars in my house, and thankfully they too last for a fair amount of time.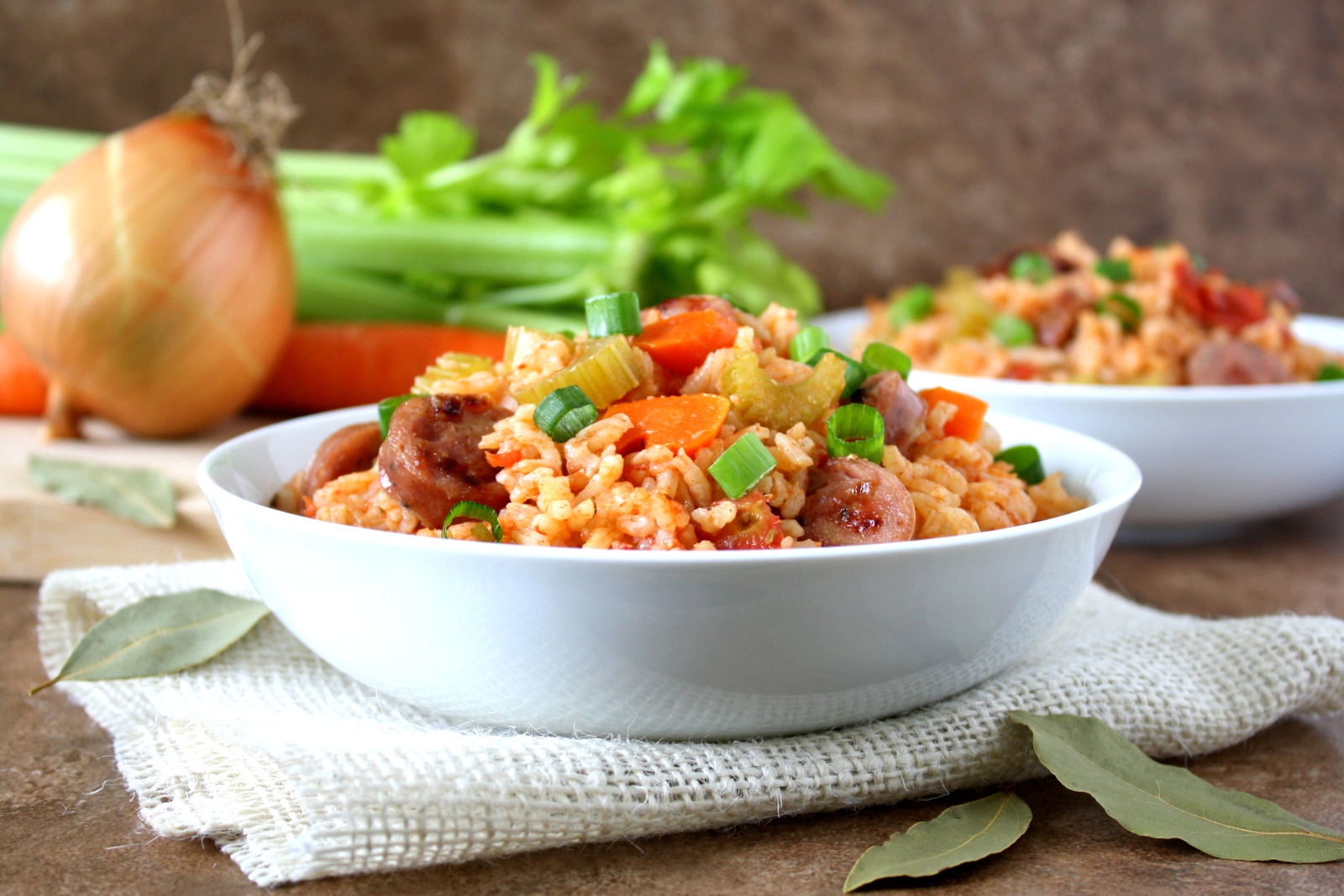 This jambalaya may not be the most traditional recipe you'll come across, but it is extremely flavorful and satisfying—and if your stomach wasn't already growling when you started cooking, just wait until you smell the irresistible savory aroma as it simmers! The rice cooks in a blend of chicken broth and canned tomatoes, seasoned with a medley of dried herbs and spices, all of which ensures that each bite is packed with tons of oomph. Even beyond its flavor profile, this recipe has a lot going for it: it can be a meal in and of itself (starch, protein, and veggies: check, check, and check!), it only takes one pot (who doesn't love having fewer dishes to wash?!), and it's even naturally dairy and gluten free!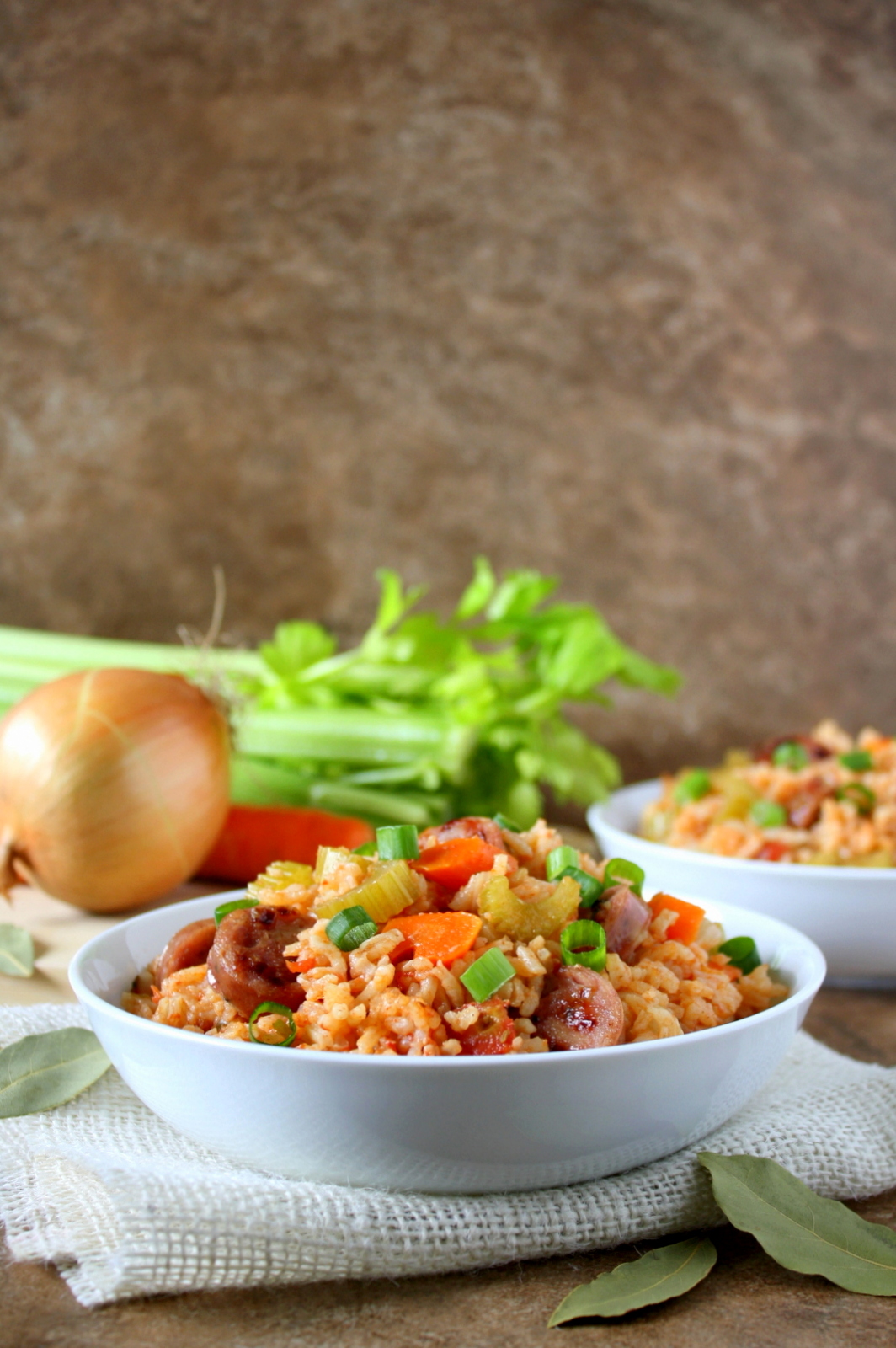 So the next time you're rummaging through the fridge in an attempt to scrounge up a balanced dinner, just whip up a batch of easy one-pot jambalaya—both your taste buds and your wallet will be glad that you did!
I'm sharing the recipe for this jambalaya on Crafty Coin, a wonderfully helpful blog dedicated to all things frugal, so head on over to BreAnna's site to get the details. And if you're interested in more "minimal planning" recipes, here are a couple of my other favorites: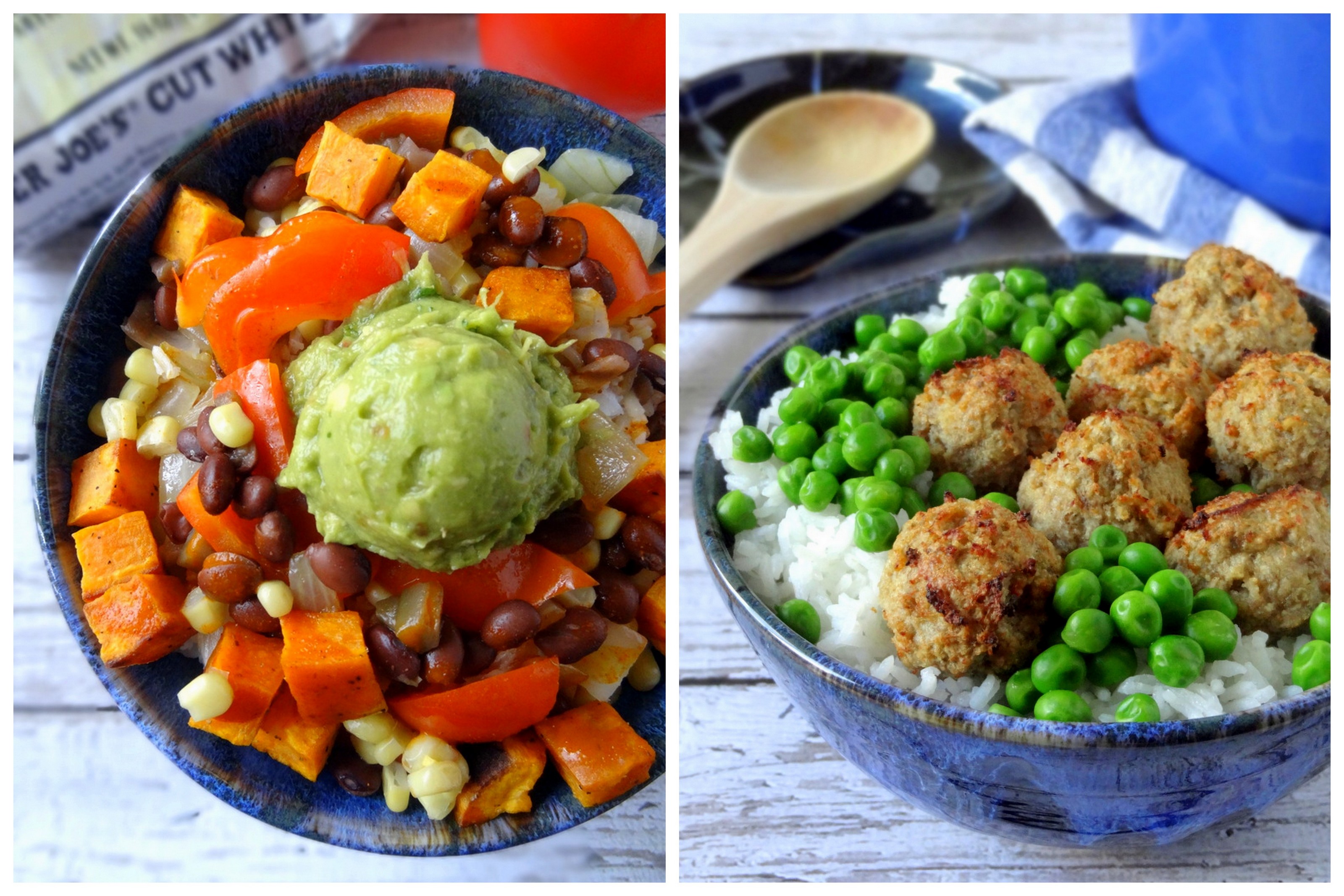 Left: Sweet potato enchilada bowls
Right: Lighter Swedish meatballs
I'm also sharing this post at the following link parties: Recipe of the Week, The Wednesday Showcase, Foodie FriDIY, and Fiesta Friday.