Try as I might, I cannot bring myself to be excited about drinking a cold green smoothie in the morning for breakfast. Or as an afternoon snack. Or, well, anytime. My excuse is that I live in Michigan. Gut reaction to "winter + smoothies" = noooooo. At least, that was the response the boyfriend gave when, on a recent dog walk, with icy snow blowing in our faces, I asked if he wanted to split a smoothie when we got back inside.
So I've given up on trying to trick myself into liking things that resemble liquefied peat moss, but I refuse to let go of the entire concept of smoothies, winter weather be damned. There's just something so refreshing and empowering (okay, perhaps this is mostly a mental thing?) about slurping down a few servings of fruit with their multitude of vitamins and minerals all in one glass. How. Ever. This cranberry-apple smoothie recipe comes with a couple caveats:
This is not a smoothie from Jamba Juice. It will not taste like it has sherbet in it, because, well, it does not have sherbet in it. In fact, it doesn't have any added sugar. It's January and we're trying to be healthy, right?
I cannot in good faith recommend that people in cold climates eat this for breakfast after crawling out of a warm bed or upon returning home after struggling through an ice storm. It is, however, great as a post-workout snack or as part of dinner, mixed in with some warm, comforting fare (chicken pot pie, anyone?).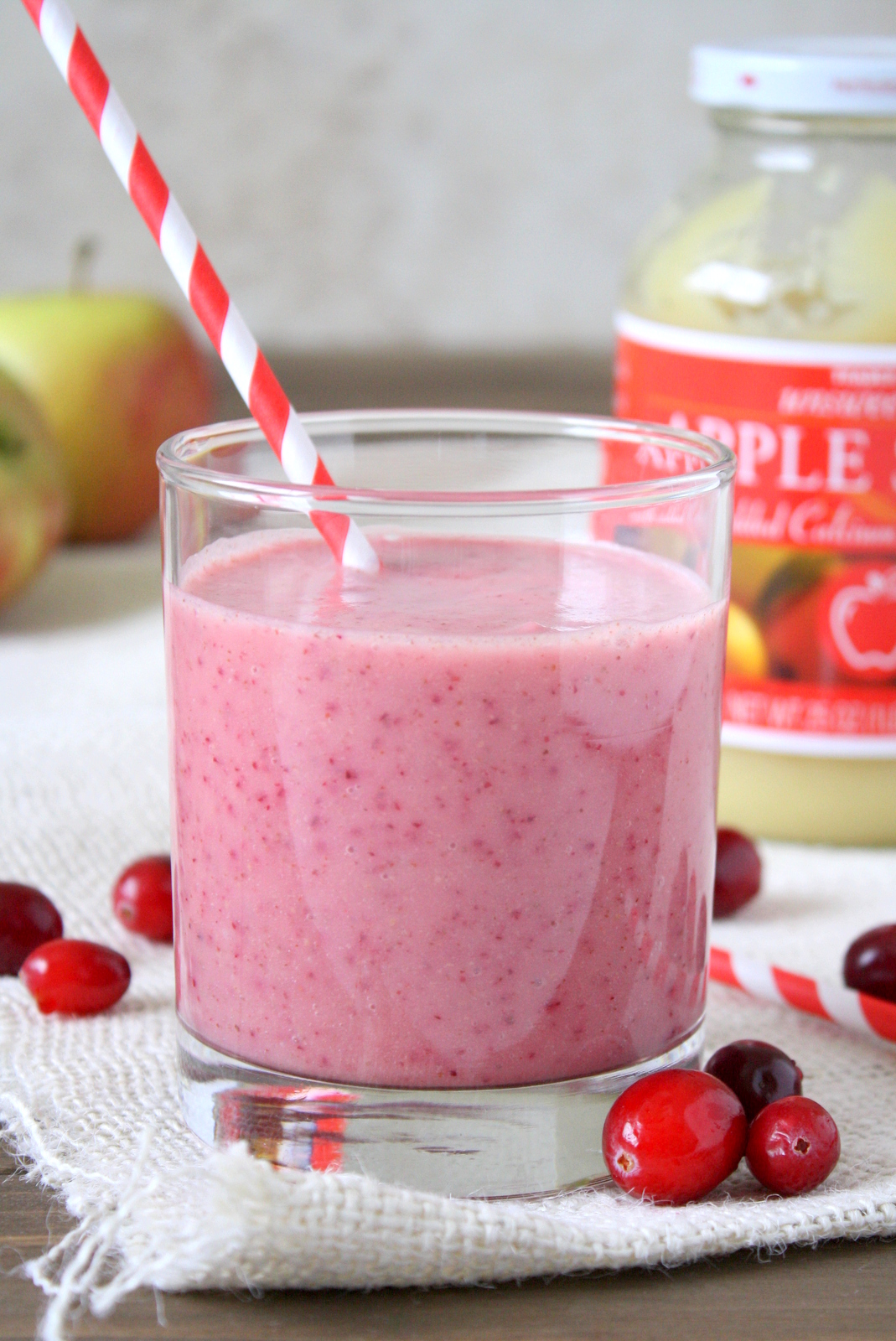 Now that we've got the caveats out of the way, let's talk about the perks of this cranberry-apple smoothie! First of all, it's got oodles of fresh (or frozen) cranberries, which, despite their reputation for being high in anti-oxidants, most people avoid unless they're cooked down in a vat of sugar, stuffed inside baked goods, or some combination of the two. This recipe makes fresh cranberries actually palatable, since the frozen banana provides enough sweetness to counteract the cranberries' pucker-inducing tartness. Next, the almond milk gives you a boost of calcium while the almond butter adds a little protein, together lending a subtle nuttiness to the overall flavor and texture of the smoothie. Finally, each serving has an entire apple, so hopefully this smoothie will help you keep the doctor away! I'm never sure how much truth there is in that, but at any rate, be sure to keep the apple skins on to get all the nutrients.
TL;DR? This cranberry-apple smoothie tastes pure and refreshing, has all sorts of nutritional perks, and will make you feel virtuous. Just maybe don't drink it first thing in the morning during the winter if you live in the Midwest.
Fiesta Friday
and
Recipe of the Week
.