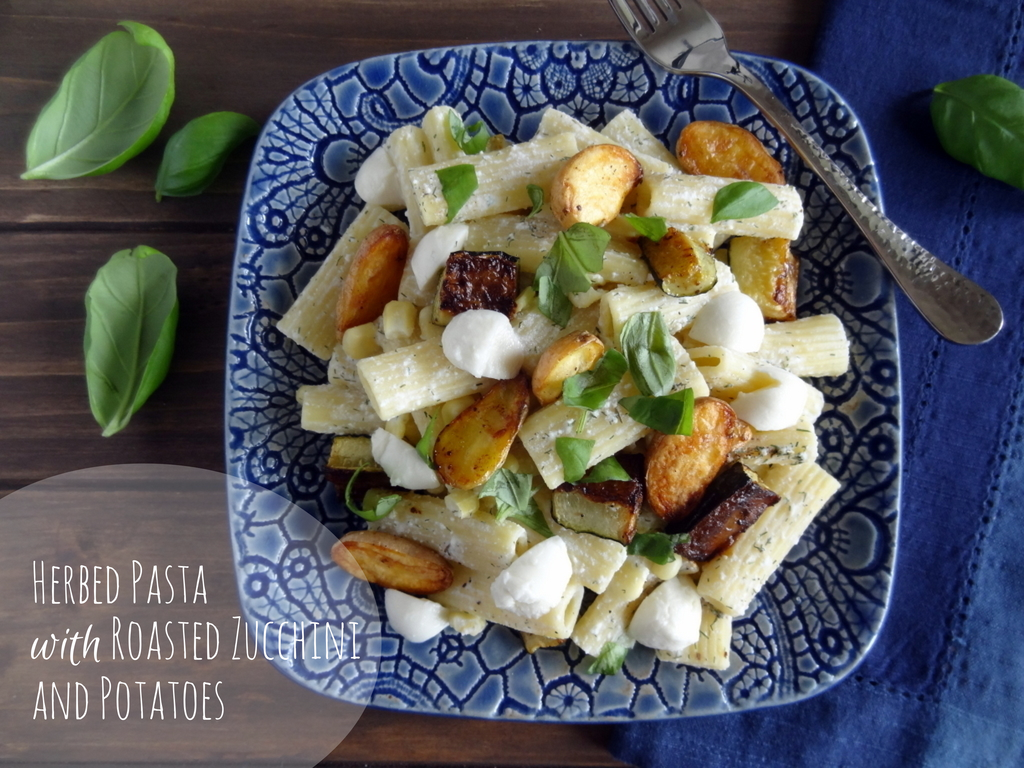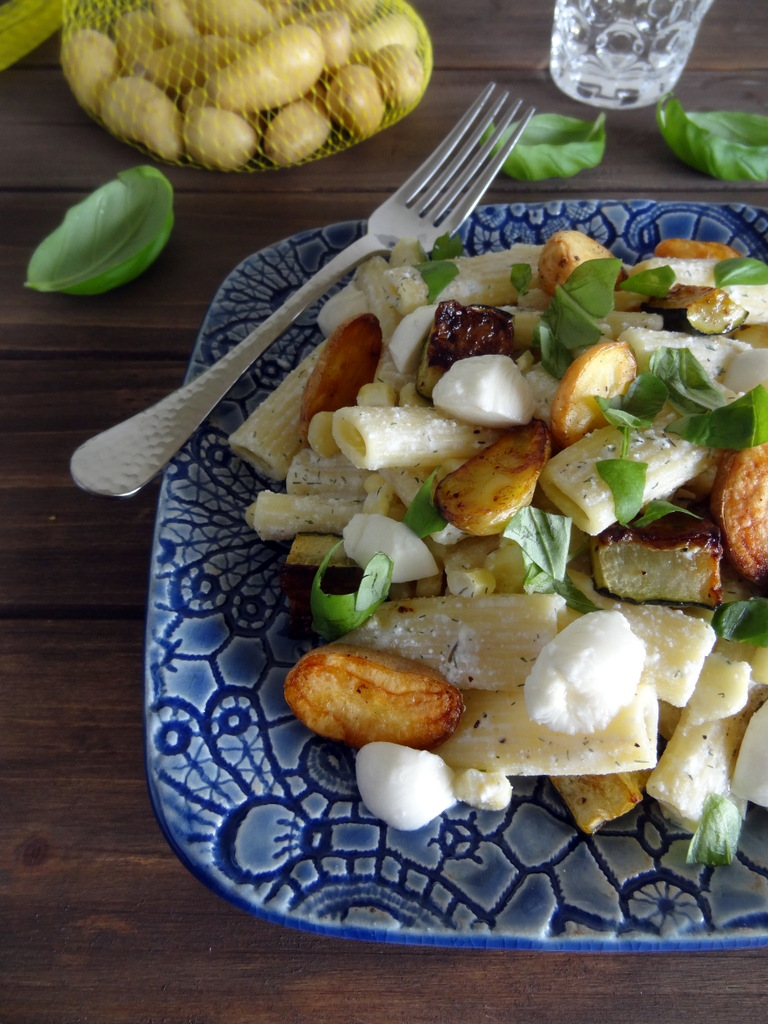 Happy Friday! I made us some pasta.
More specifically, I made us some herbed pasta with roasted zucchini and potatoes! I'm not entirely sure what it is about this pasta, but it strikes me as distinctly summery pasta…it could be the corn and zucchini (the power couple of summer vegetables, if you ask me), it could be the sweetly fragrant basil, or heck, it could just be the fact that it's simple to make – and what is summer cooking all about if not simplicity?
If you happen to have a grill, I imagine this dish would be nothing short of phenomenal with grilled zucchini, potatoes, and corn. Alas, I personally do not have a grill…BUT roasted veggies are pretty awesome too, especially since you can just pop them in the oven and basically forget about them while you cook the pasta and do other stuff.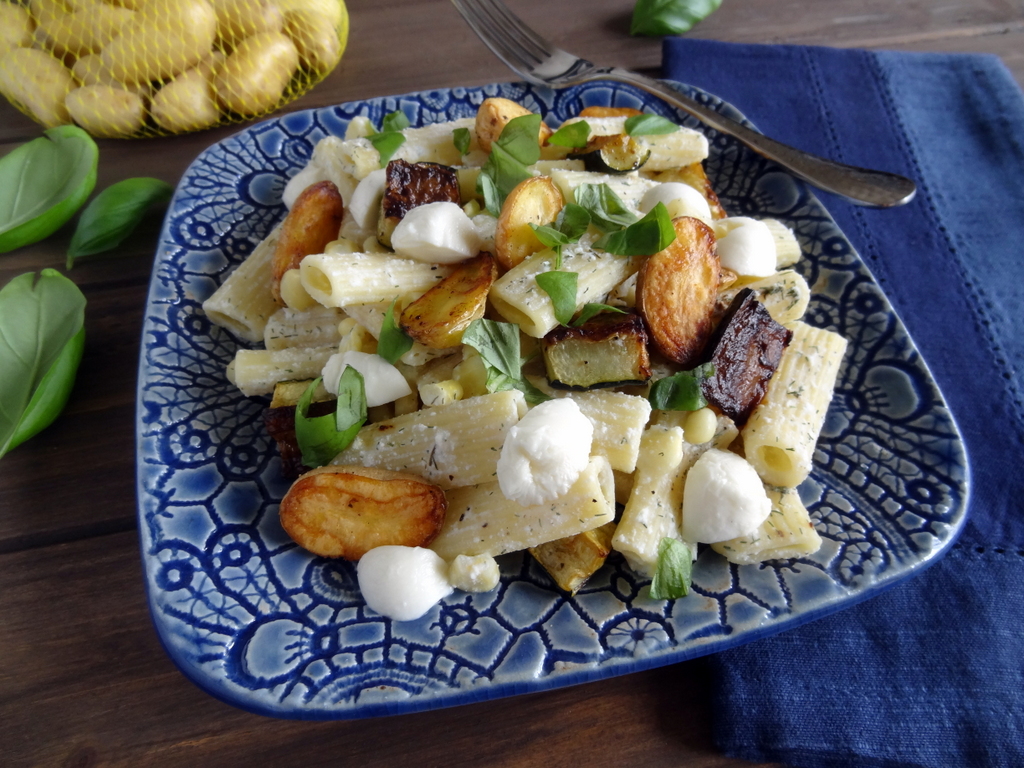 In other news, I bought a basil plant! I have the brownest thumb of anyone I know, so it'll be interesting to see how long this lasts. I once inadvertently killed a miniature ivy plant, the most robust plant known to mankind. Yeahhh…but at least if this plant doesn't survive, I can probably just blame it on a caprese addiction, right?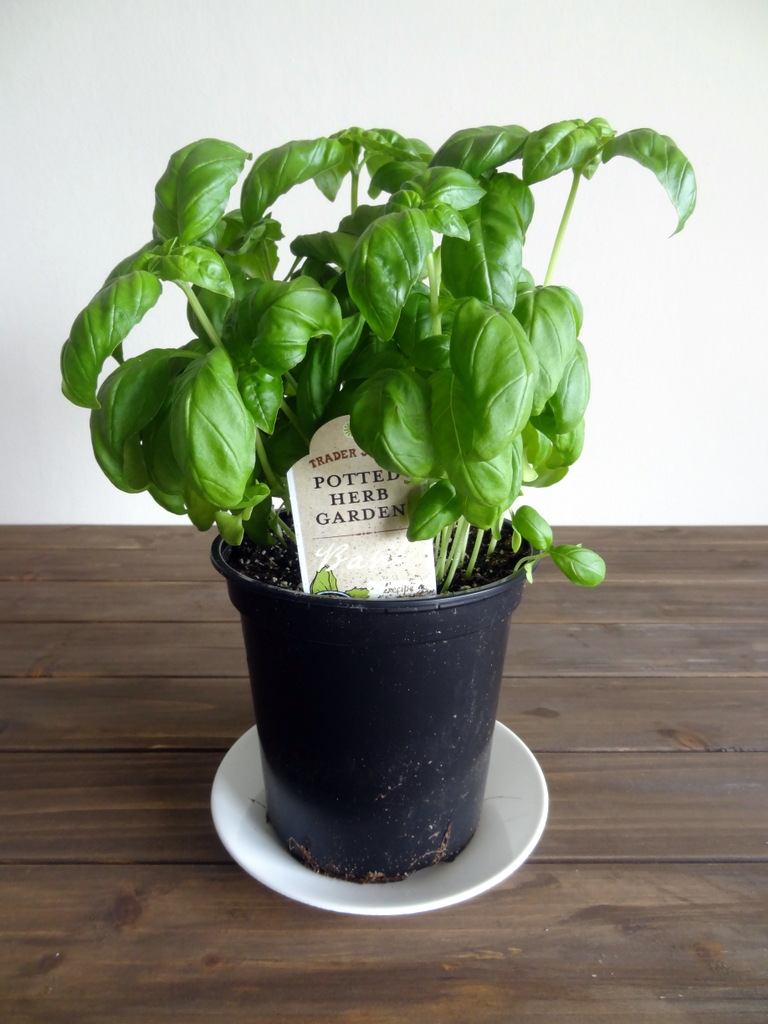 So anyhow, dish up a big bowl of this herbed pasta with roasted—or grilled!—zucchini and potatoes for yourself, and I hope you have a lovely weekend!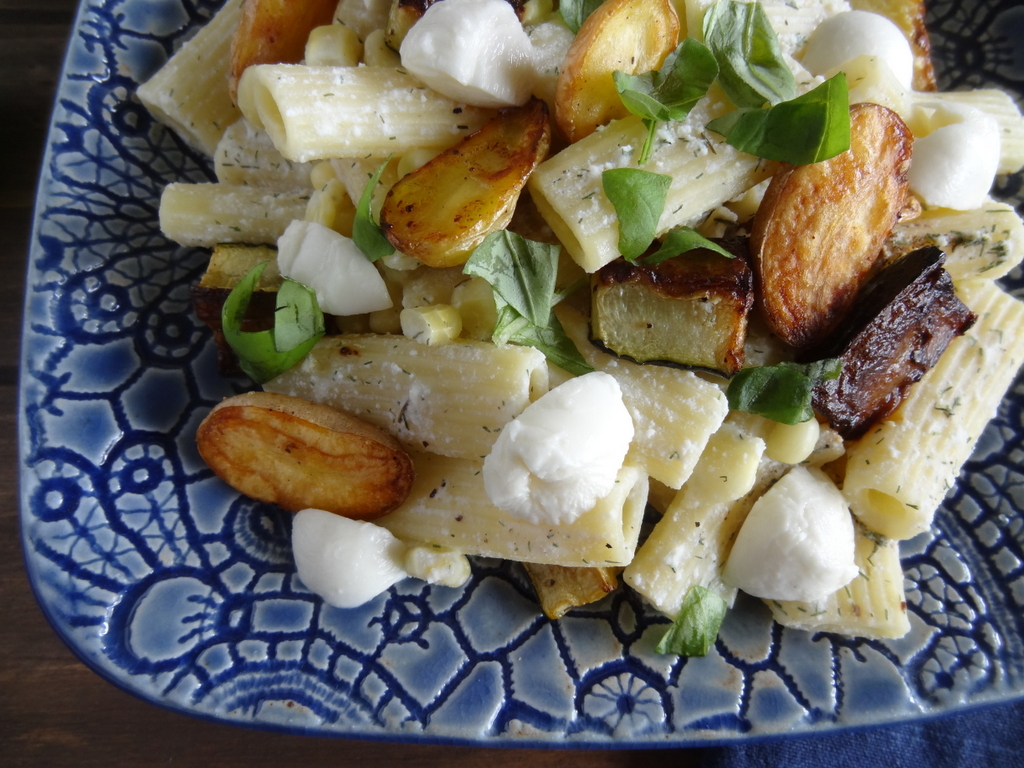 Herbed Pasta with Roasted Zucchini and Potatoes
2016-01-18 14:07:59
Serves 4
Ingredients
3/4 pound ziti or similar pasta
1/4 cup olive oil
8 ounces fingerling potatoes, scrubbed and halved lengthwise
1 large zucchini, cut into 1-inch pieces
3/4 cup ricotta
1 tablespoon lemon juice
1 teaspoon dried dill weed
1 1/2 cups corn
6 ounces fresh mozzarella, cut into bite-sized pieces (goat cheese would also work nicely)
1/4 cup fresh basil leaves, torn or chopped
salt
pepper
Instructions
Preheat the oven to 450 degrees. Toss the zucchini pieces and halved potatoes with the olive oil and season generously with salt and pepper. Place on a rimmed baking sheet, and once the oven has preheated to temperature, bake for 15 minutes. Remove from the oven and use a spatula to turn over the zucchini and potatoes, then return to the oven and bake for another 15 minutes.
While the zucchini and potatoes are roasting, cook the pasta according to the directions on the package. When draining the pasta, reserve 3/4 cup of the pasta water.
In a medium bowl, whisk together 1/2 cup of the pasta water and the ricotta until smooth. Add more of the water if the mixture is too thick to coat the pasta. Stir in the lemon juice and dill weed.
In a large bowl, toss together the pasta, zucchini, potatoes, corn, and ricotta mixture. Top with fresh mozzarella and basil leaves. Serve immediately.
Notes
I used non-fat ricotta because that's what I had in the fridge, but I wished I had used regular (or better yet, homemade!), because the consistency is really quite different. Depending on what type of ricotta you choose, you may not need to use as much pasta water to make the sauce liquid-y enough to coat the pasta.
Put on Your Cake Pants http://putonyourcakepants.com/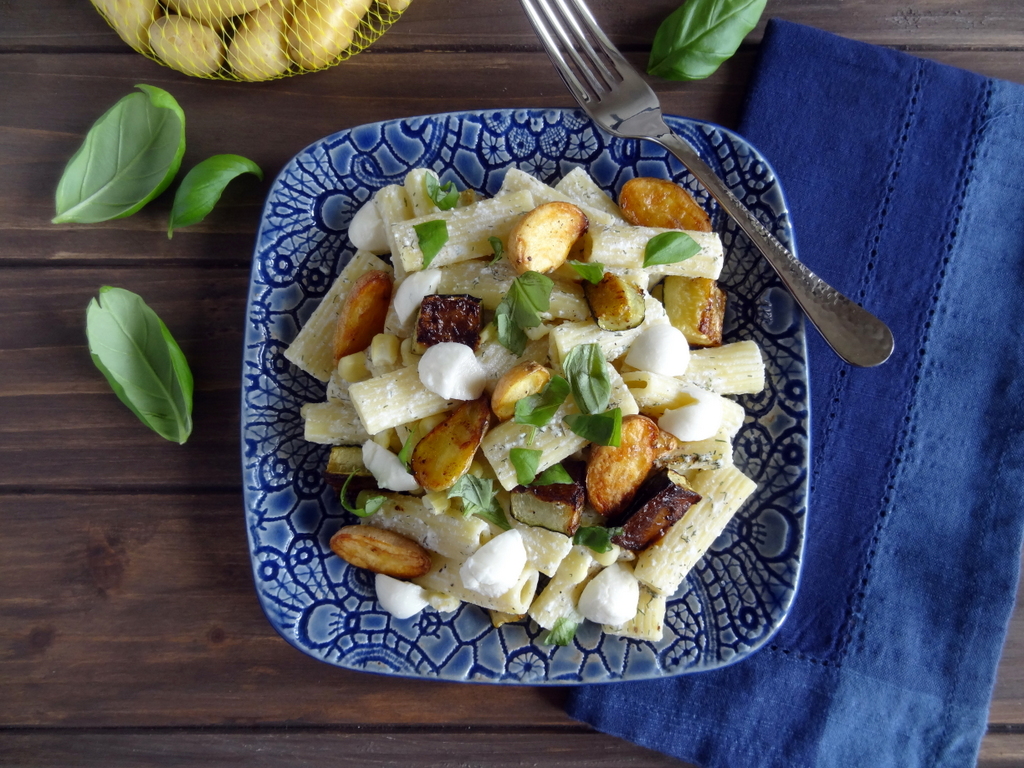 This recipe is my contribution to June's Cheese, Please! challenge (this month's theme: cheese and herbs) over at
Fromage Homage
.