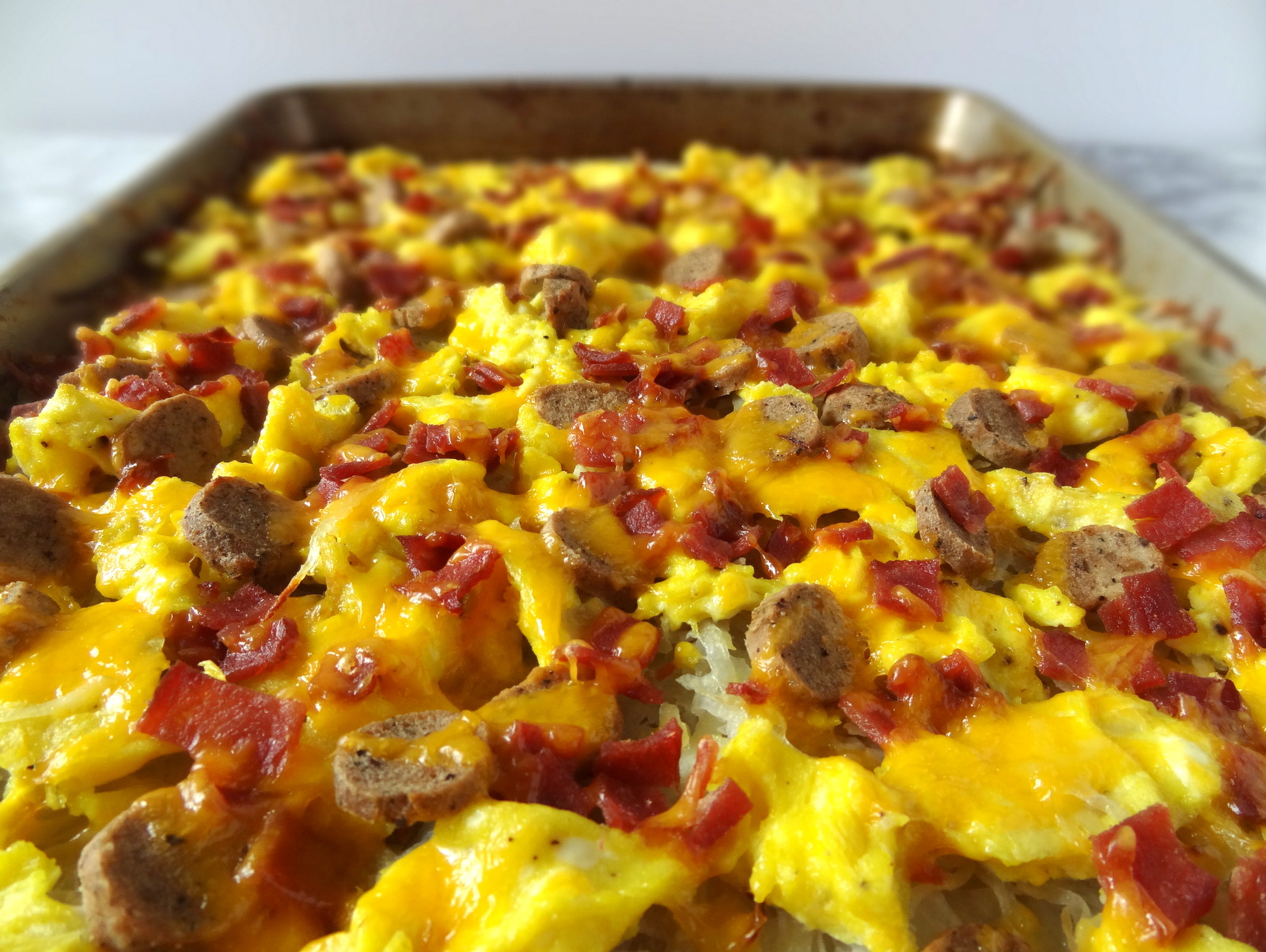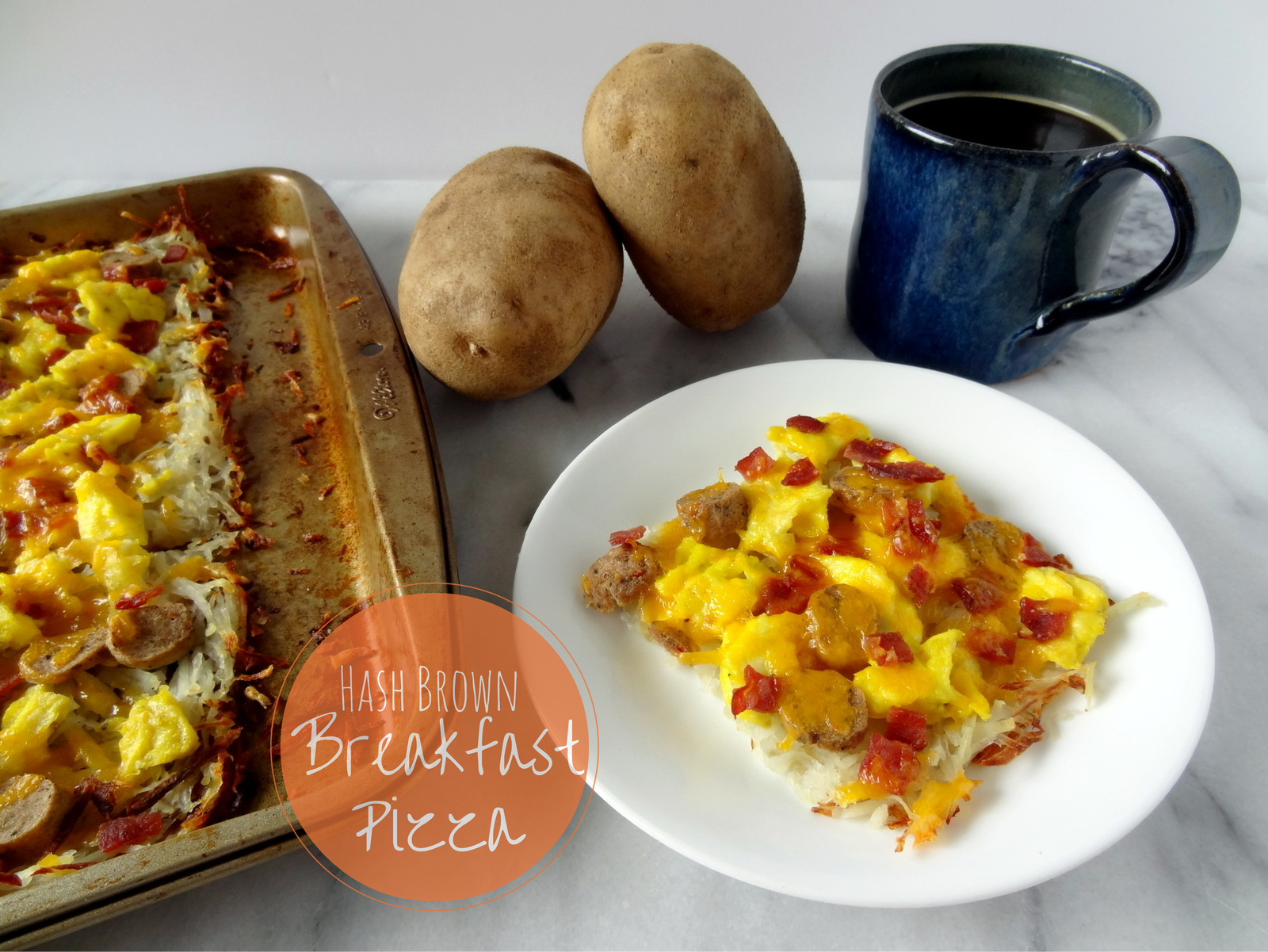 Potatoes are one of my favorite foods. In fact, my go-to breakfast order at my favorite local diner is called "The Potato Lover": just a plate full of hash browns with a smorgasbord of toppings! I know. It's kind of weird. But hey – if it's on the menu, then other people must order it too, so that means I'm not the only weird one! Or that's what I like to tell myself, at any rate.
As much as I love sweet breakfast foods – pancakes, waffles, French toast, etc. – I don't eat them often, because for me, a big weekend breakfast isn't complete without potatoes. Given this obsession with fondness for potatoes, when I decided to make a breakfast pizza, I absolutely had to figure out a way to incorporate potatoes…so I figured, why not a hash brown crust? (and bonus for those who are sensitive to gluten – thanks to the hash brown crust, this breakfast pizza is totally gluten-free!)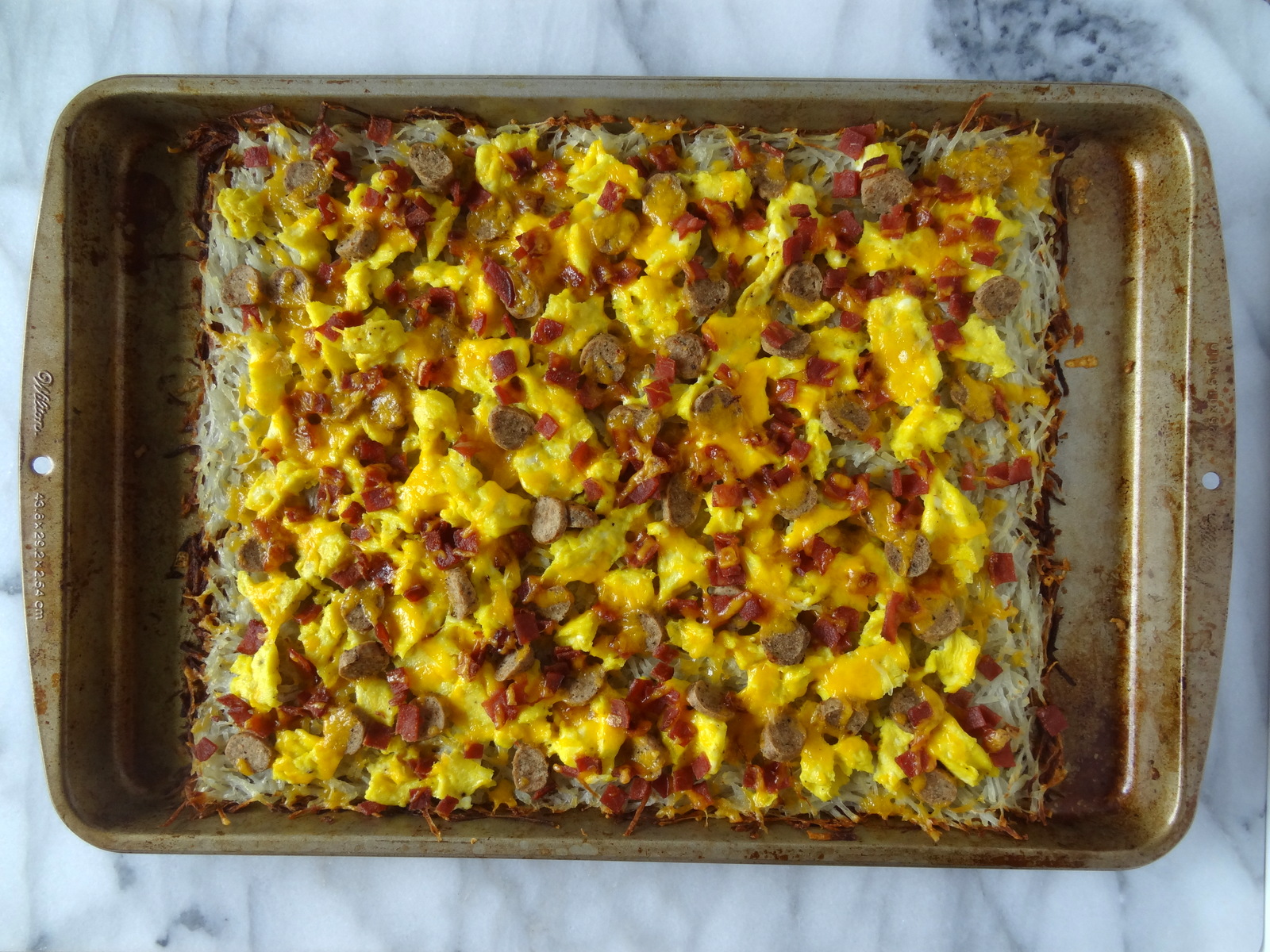 This breakfast pizza will keep your tummy full and happy for hours. It's packed with protein and has all the components of a traditional American breakfast: eggs, bacon, sausage, and potatoes! This pizza is also a great way to have breakfast for dinner, and if you have leftovers, guess what? Instant breakfast the next morning! What's not to love about that?!
Hash Brown Breakfast Pizza
Servings: 4-6
Time: 50 minutes
Ingredients
2 pounds russet potatoes
3-4 tablespoons vegetable oil
4 ounces turkey bacon
4 ounces turkey sausage
6 eggs
1 cup grated cheddar cheese
salt
pepper
Instructions
1. Preheat the oven to 375 degrees. Coat the bottom of a rimmed baking sheet with 1-2 tablespoons of vegetable oil and set aside.
2. Peel the potatoes, discarding the skins, and grate them on the coarsest opening of a box grater. Place the grated potatoes in a large bowl and fill the bowl with cold water. Using your fingers, gently "wash" the potatoes for a few seconds, then transfer the potatoes to a colander to drain. Transfer back to the large bowl and repeat "washing" and draining. After draining for the second time, squeeze any extra water from the potatoes with your hands.
3. Mix the potatoes with the remaining 2 tablespoons of vegetable oil. Place on the prepared baking sheet, forming into a square or rectangle, pressing the potatoes to a thickness of about 1/3-1/2 inch. Bake for 30 minutes.
4. While the potatoes are baking, cook the turkey bacon until crispy. Once cool enough to touch, cut into small pieces (about 1/4-1/2 inch squares). Cook the turkey sausage if needed (I bought pre-cooked, frozen links, so I skipped this). Cut the sausage into bite-sized pieces.
5. When the potatoes have about 5 or 10 minutes left to bake, whisk together the eggs with salt and pepper. Scramble the eggs, removing from the stove when the eggs are still slightly wet in appearance.
6. Place the scrambled eggs on top of the hash brown crust. Scatter sausage and bacon on top of the eggs, then top with grated cheese. Return to the oven and bake for an additional 10 minutes.