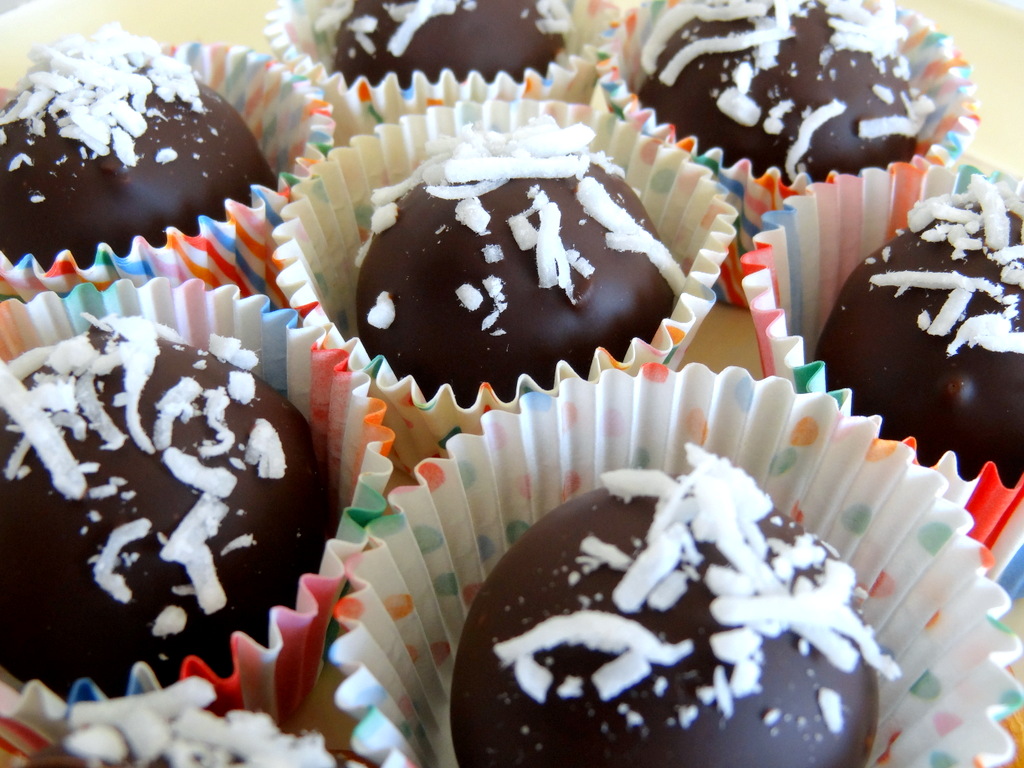 It's Monday. And Mondays require chocolate, right? Don't worry – I've got you covered!
As a child, Almond Joys weren't even on my radar: my favorite candies were pretty much all peanut-based (Snickers, NutRageous, Reese's Peanut Butter Cups, etc.) This probably stems from the fact that my brother is allergic to peanuts. The only time we really had much candy was at Halloween—we got some at Easter, but that was mostly jelly beans and malted milk eggs—and after our post-trick-or-treating candy swap each Halloween, my candy stash ended up being nearly exclusively peanut candy. It wasn't until maybe college or so that I realized how much I like Almond Joys!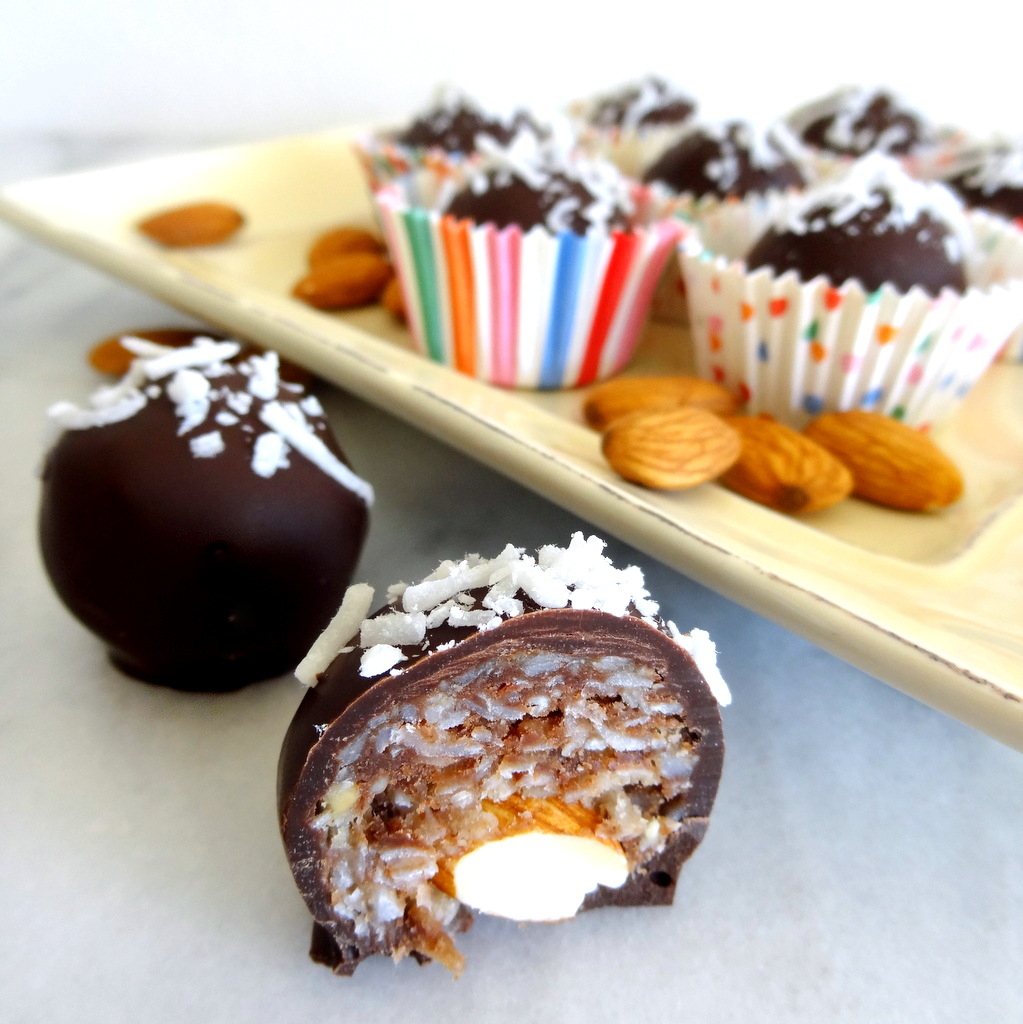 In fact, I like Almond Joys so much that last fall, when I brought in some candy for my students right before Halloween, they never even knew that that assortment had originally included Almond Joys…heh heh heh. It started when I told myself I could open the bag early just to take out one or two pieces for myself, but then things just sort of snowballed from there and I decided that what they didn't know [had once existed] wouldn't hurt them, right?! Almond Joys = my kryptonite, apparently.
What are your favorite candies? Have your favorites changed since childhood?
These truffles are inspired by Almond Joy flavors – chocolate, almonds, and lots of coconut! – but are a bit richer and more more chocolate-y than the actual candy bars. They make a great little homemade gift, perhaps for a housewarming gift or a host(ess) gift, or any sort of gift, really!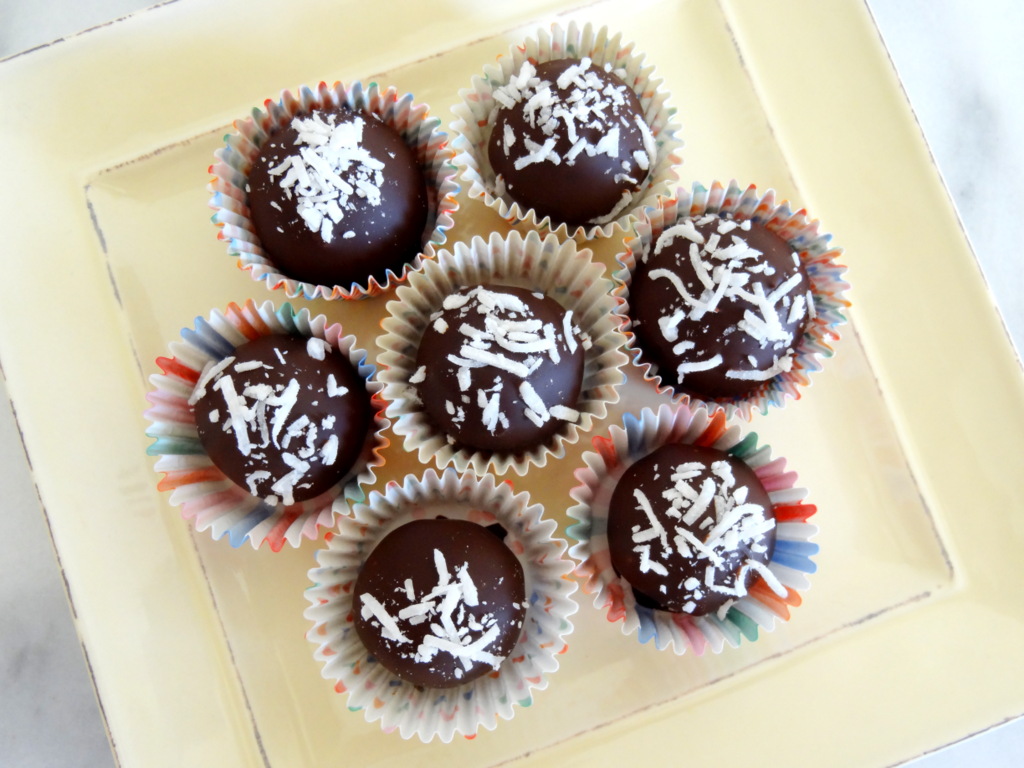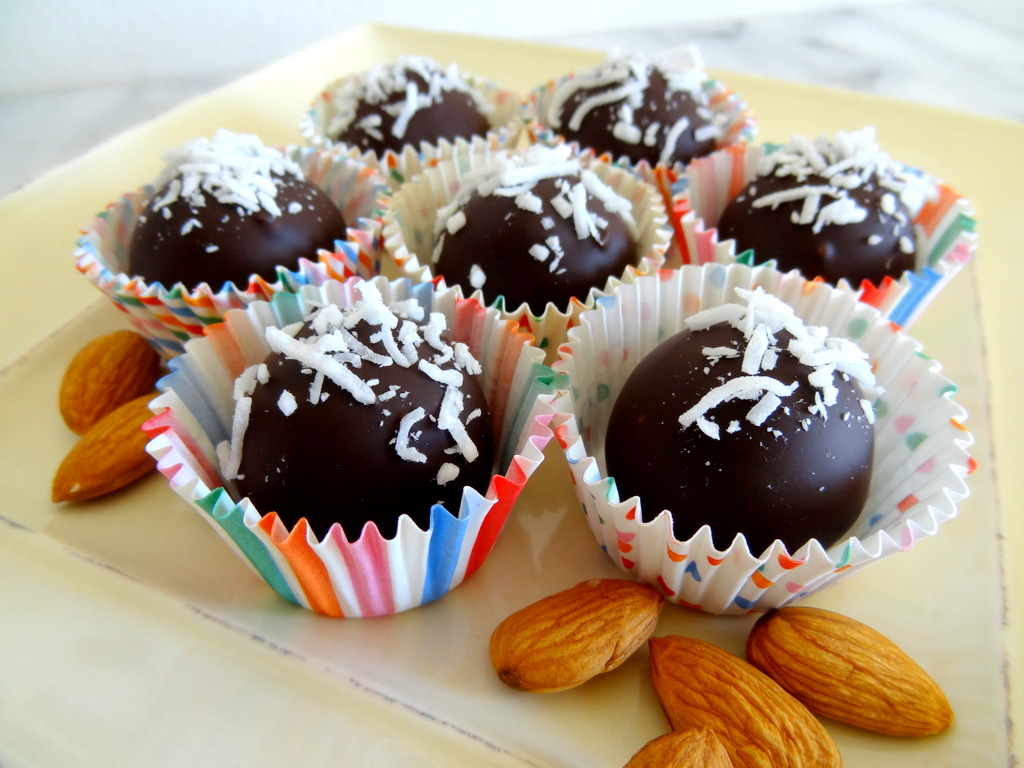 Coconut Almond Truffles
Servings: makes about 32 truffles
Time: 1 hour
Ingredients
Filling
3 cups sweetened shredded coconut
1/2 teaspoon vanilla extract
2 tablespoons sweetened condensed milk*
1/2 tablespoon amaretto (optional)
1/2 cup chocolate chips, melted
1/2 cup almond butter
Coating
1 3/4 cups chocolate chips
1 teaspoon vegetable oil
1/4 cup sweetened shredded coconut (optional)
Instructions
1. In a large bowl, stir together coconut, vanilla extract, sweetened condensed milk, and amaretto (if using). Add melted chocolate and almond butter, and mix until thoroughly combined.
2. Use a spoon to scoop out 1-2 teaspoon portions of the filling and roll into balls with your palms. Set on a baking sheet lined with parchment paper or a silicone mat and place the baking sheet in the freezer for 15 minutes.
3. While the balls of truffle filling are in the freezer, melt remaining 1 3/4 cups chocolate (mixed with 1 teaspoon oil). I recommend doing this not in the microwave, but by simmering water in a saucepan and placing a heat-proof glass bowl on top. This way, the chocolate will be heated continuously and stay melted as you coat the truffles; if the chocolate is removed from the heat, it will gradually cool and make things much messier and more difficult.
4. To coat truffles, drop each ball individually into the melted chocolate and spoon chocolate over the top (do not swirl the truffle around!). Pick up with a fork and gently tap your fingers against the hand holding the fork to shake off excess chocolate. Use a toothpick or cake-tester to slide the truffle onto a baking sheet lined with parchment paper or a silicone mat. Sprinkle with coconut (if desired).
5. Once all the truffles are coated, refrigerate for 10-15 minutes to allow the chocolate to harden.
* If you're trying to go dairy-free, you can probably omit the sweetened condensed milk, but you may want to add a little bit more almond butter if the filling isn't sticking together.