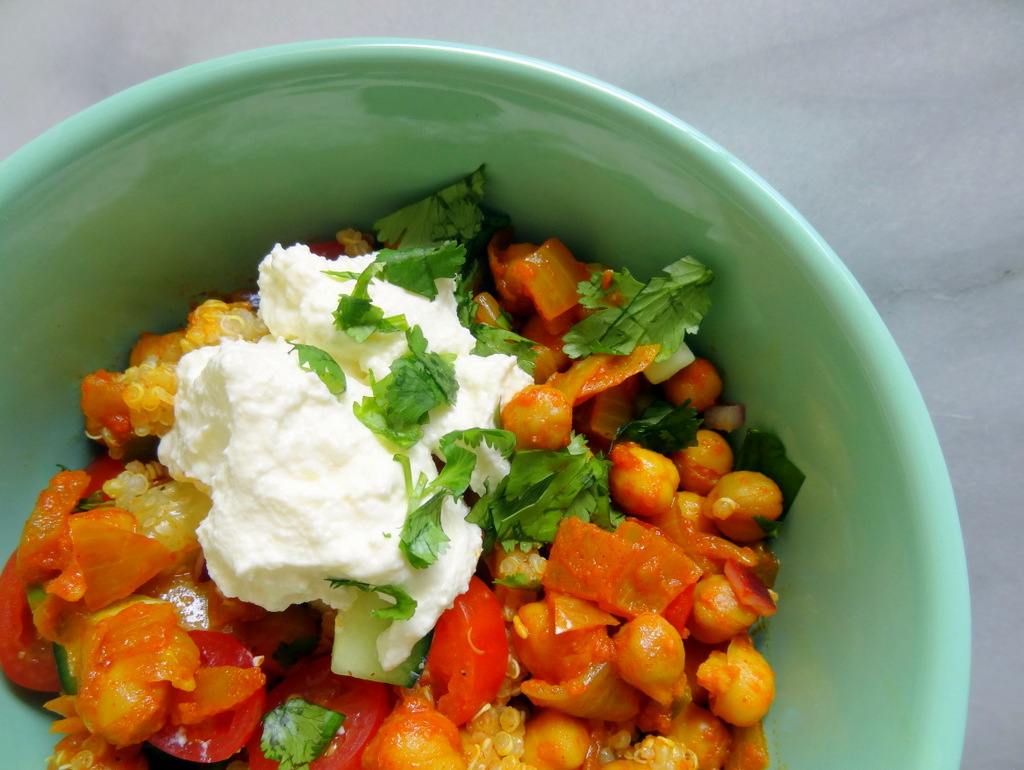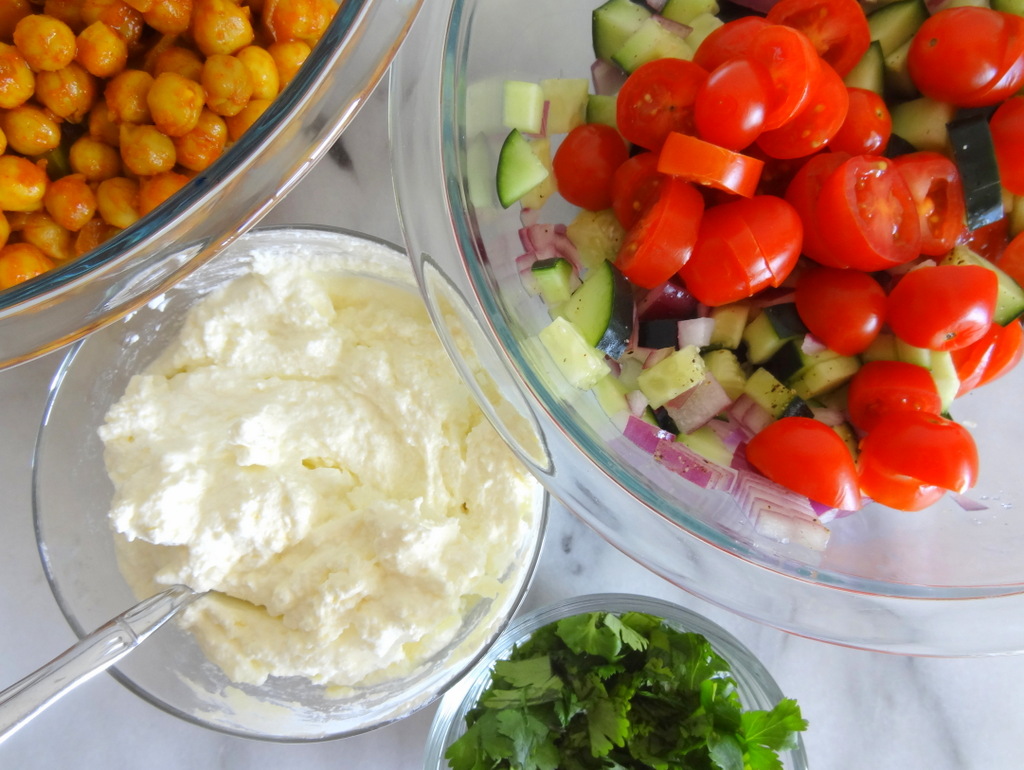 I can't believe that in the eight months that I've been writing this blog, I have yet to post any recipes for Indian food! Indian is one of my favorite cuisines, but of course, given the picky eater I was growing up, this wasn't always the case. Sometime when I was in late elementary school or early middle school, my dad bought a few Indian cookbooks and would try out recipes on the weekends. I was…not a fan of this. It involved far too many spices for my liking, as well as other things that I found repulsive, like chickpeas and cauliflower and, well, just about all vegetables besides carrots, tomatoes, corn, or broccoli. There was a recipe for rajma that I tolerated, but that was about it.* I was secretly rather relieved when my dad went back to cooking more traditional fare. To this day, I'm not sure what changed, but one day during my senior year in high school, I decided that I'd like to go with my parents to their favorite Indian restaurant, which they had taken to visiting only on nights when extracurriculars kept me busy during dinnertime. So we went, and I liked it. It was like a switch had been flipped.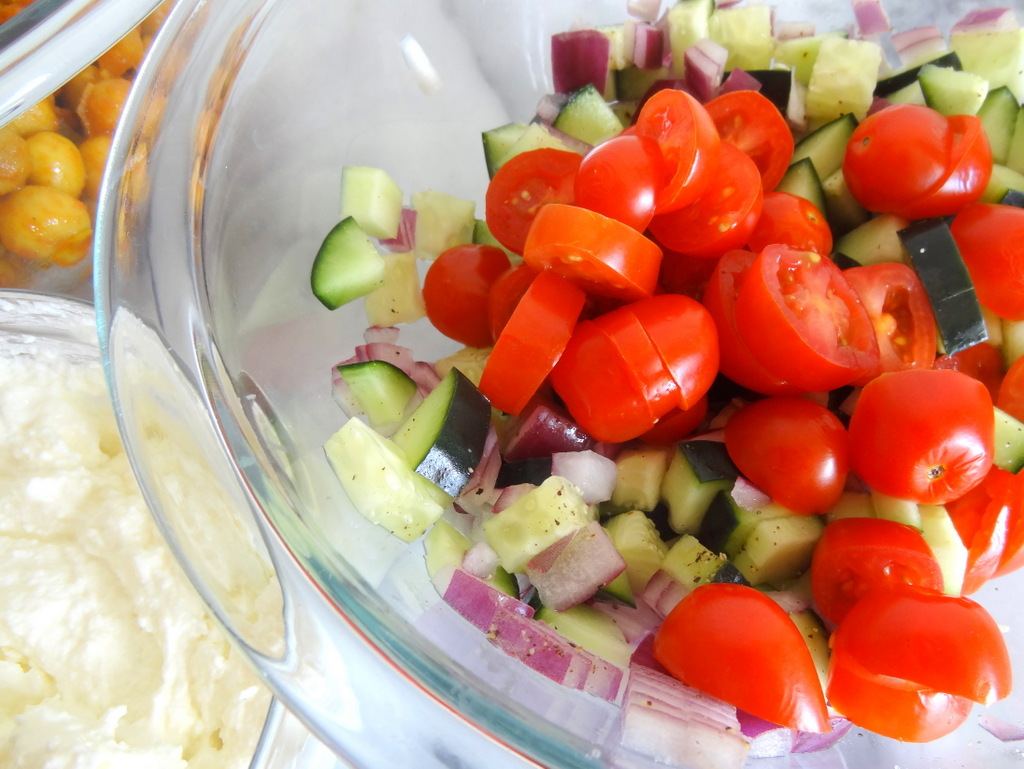 My brother gave me Vij's At Home cookbook a few years ago for Christmas, and since then I've enjoyed trying my hand at making various Indian dishes. This recipe is based on a curry from that book, but I can probably only call the end result "Indian-inspired," since I've never seen quinoa incorporated into a dish at an Indian restaurant. These chickpea and cucumber curry bowls actually remind me a bit of Mediterranean cuisine as well, with the cucumber, onion, and tomato combination (Greek salad, anyone?).
The first time I made this recipe (exactly as it appeared in the book, sans quinoa), it was as a side dish for a dinner party I was hosting – I was cooking butter chicken for most of the guests, and was concerned that there wouldn't be filling enough food for my vegetarian friend. Side note: does that make me a bad host, if I serve something that not everyone can eat? On the flip side, if I had tried to feed some of the other guests a meatless meal, they probably would have be ransacking my fridge later on in the evening and complaining of a lack of sustenance. Who knows. I kind of feel that if you're hosting a dinner party on a student budget and in a studio apartment, you should get a free pass on certain items of decorum. Like having enough chairs for everyone. And matching cups. Oops. ANYHOW, what I was getting at was that this curry is actually quite filling, especially when served with quinoa, as I now know. It's absolutely packed with a variety of flavors – some tangy (cilantro, paprika), some cooling (chickpeas, ricotta) – and so colorful and healthy!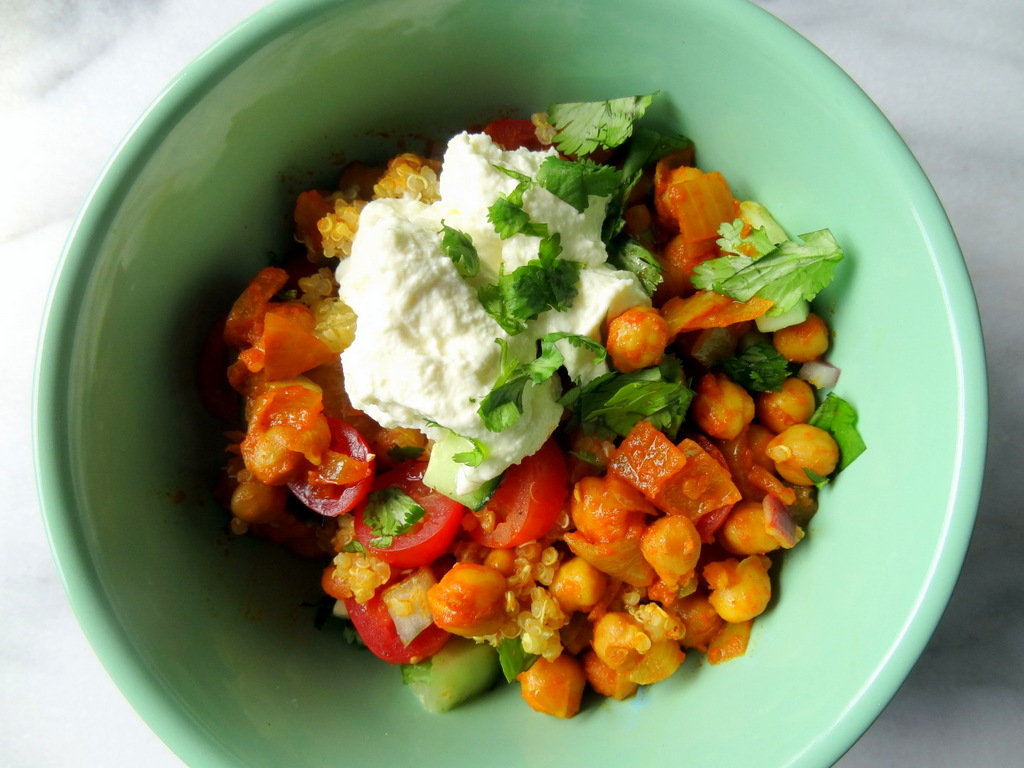 *Sometimes I like to play the game "What on this plate would I have eaten fifteen years ago?" when I'm eating dinner. The answer in this case: the tomatoes. I would have eaten the tomatoes, and pretty much only the tomatoes. My, how things change.