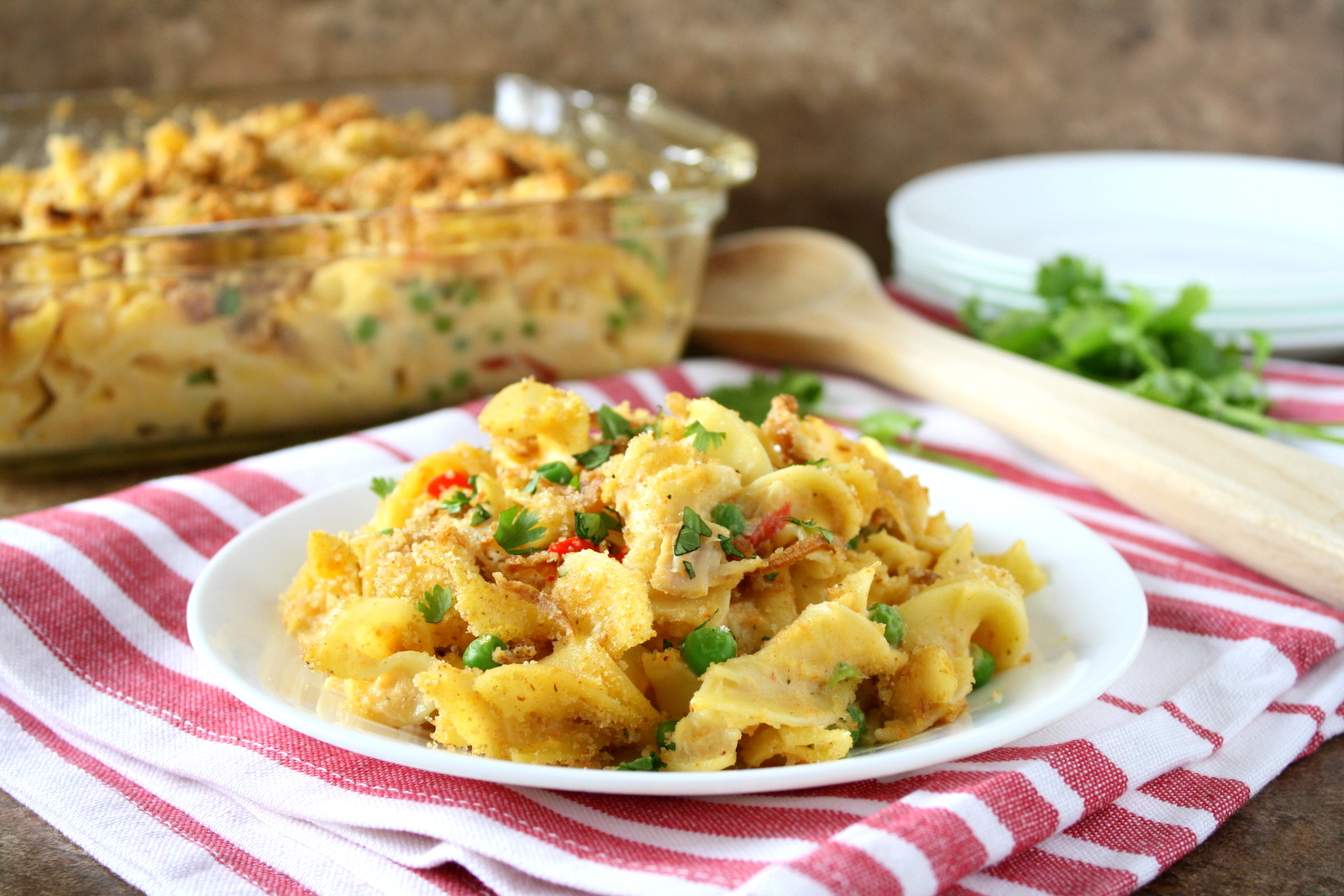 After I moved away for college, my parents gradually started eating more vegetarian and vegan meals. I'm on board with vegetarian and vegan dishes up to a certain point (and you can find a number of them on my blog), but I generally draw the line at fake cheese. I still remember a phone conversation with my dad in which he told me that they had made Philly cheesesteaks for dinner…but that they were vegetarian. Already slightly horrified—I had spent the previous two years living in Philly—I asked, "Please tell me you at least used real cheese?" My dad replied, "Actually, no! We made a vegan 'cheeze' sauce." I started to wonder whether their dietary preferences were an intended method of ensuring that I never moved back in with them.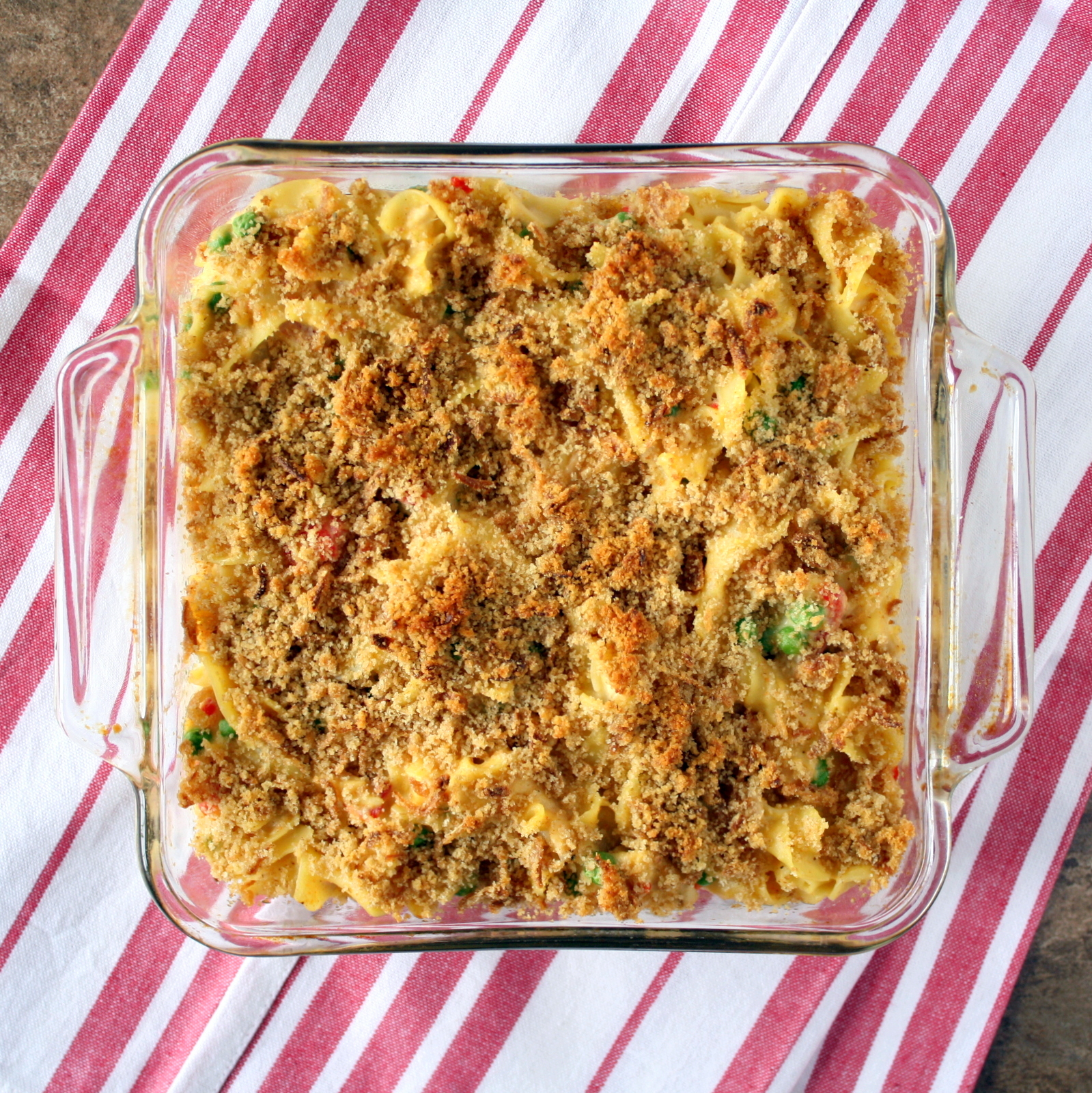 If my parents were in fact trying to deter me from moving back home, that "cheeze" sauce would have actually had the opposite effect, as it turned out. They served mac and "cheeze" the next time I was home on break, and it was by far the best vegan approximation of the dish I've ever had. True story: I have requested that mac and "cheeze" for my birthday dinner…twice. I've always been wary of fake cheese products (you know, the ones where you know what it's not made of, but you don't know what it is made of), but what convinced me that this sauce was worth trying was the fact that it's made from completely ordinary ingredients: potatoes, carrots, onions, and cashews. Not scary at all, right?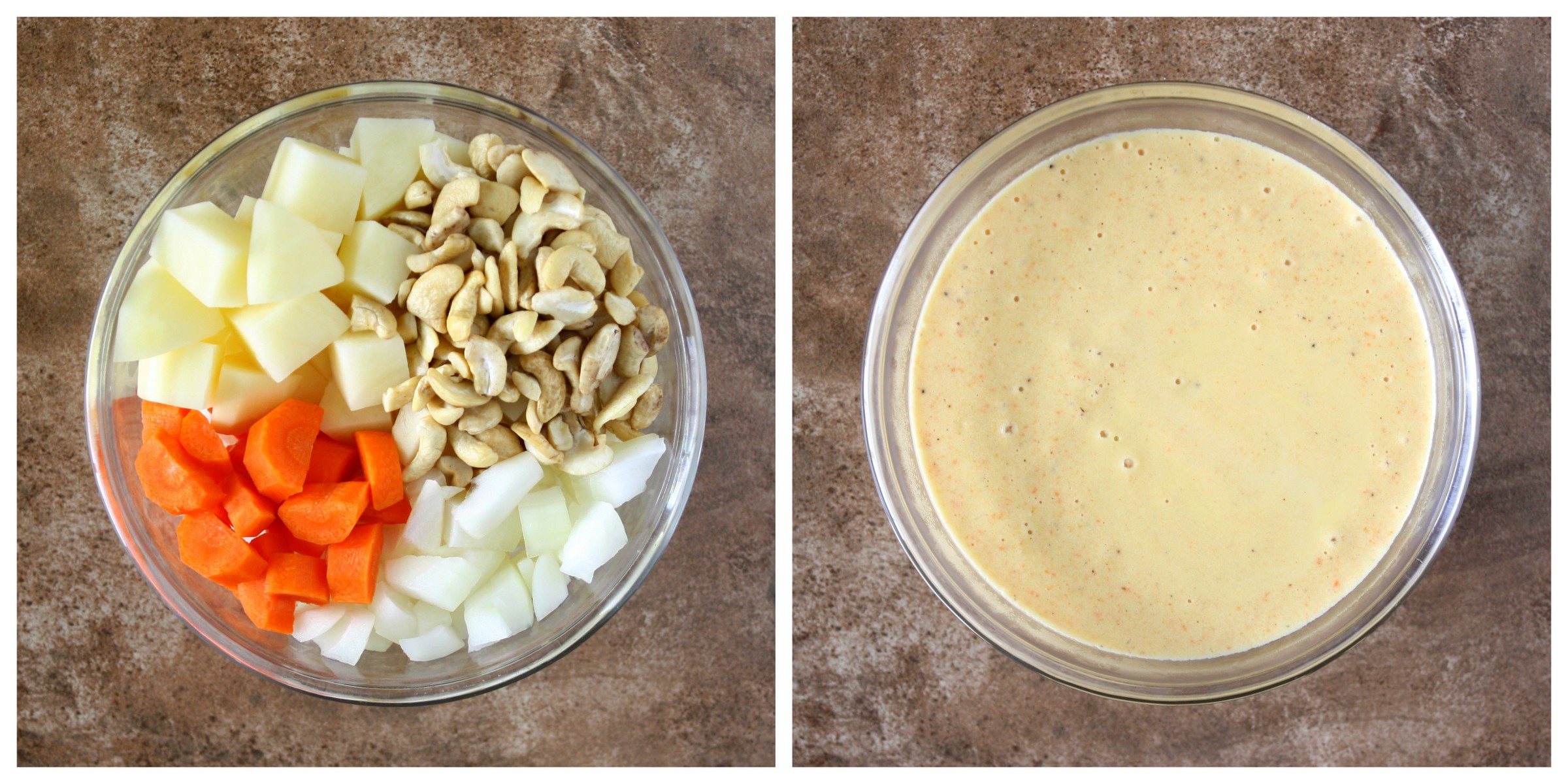 I used this "cheeze" sauce to make a wonderfully creamy dairy-free tuna noodle casserole that is rich in flavor and that totally still feels like comfort food. This is pretty much the best of both worlds as far as I'm concerned, and I'm sure some of you can relate: at times I find myself really craving a comforting, home-y (read: cheesy) dish for dinner, but, because I'm lactose intolerant, if I choose to indulge my hankering, I may end up feeling bloated and icky the next day. Which is obviously super un-fun, but especially if it's a weekday and I have to be an adult and put on real pants. BUT thanks to "cheeze" sauce and this dairy-free tuna noodle casserole, I don't have to choose between comfort food and pants that fit!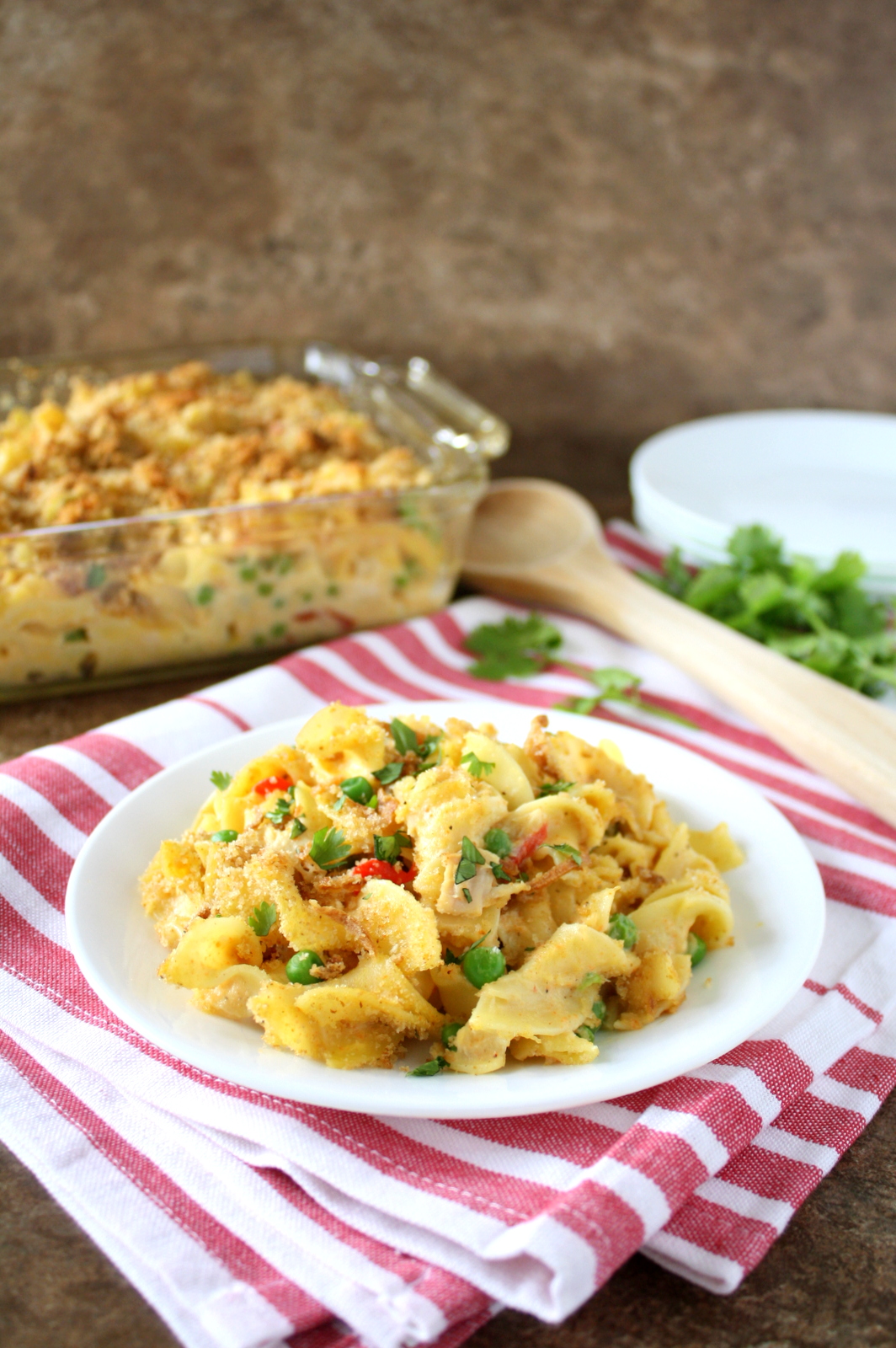 I first posted this recipe in August 2013, but since the original photos did not do the dish justice, I decided it was time to take some new ones. The recipe is the same, except that I added some crispy fried onions and chopped cilantro on top.
How do you feel about non-dairy cheese? What about vegan Philly cheesesteaks?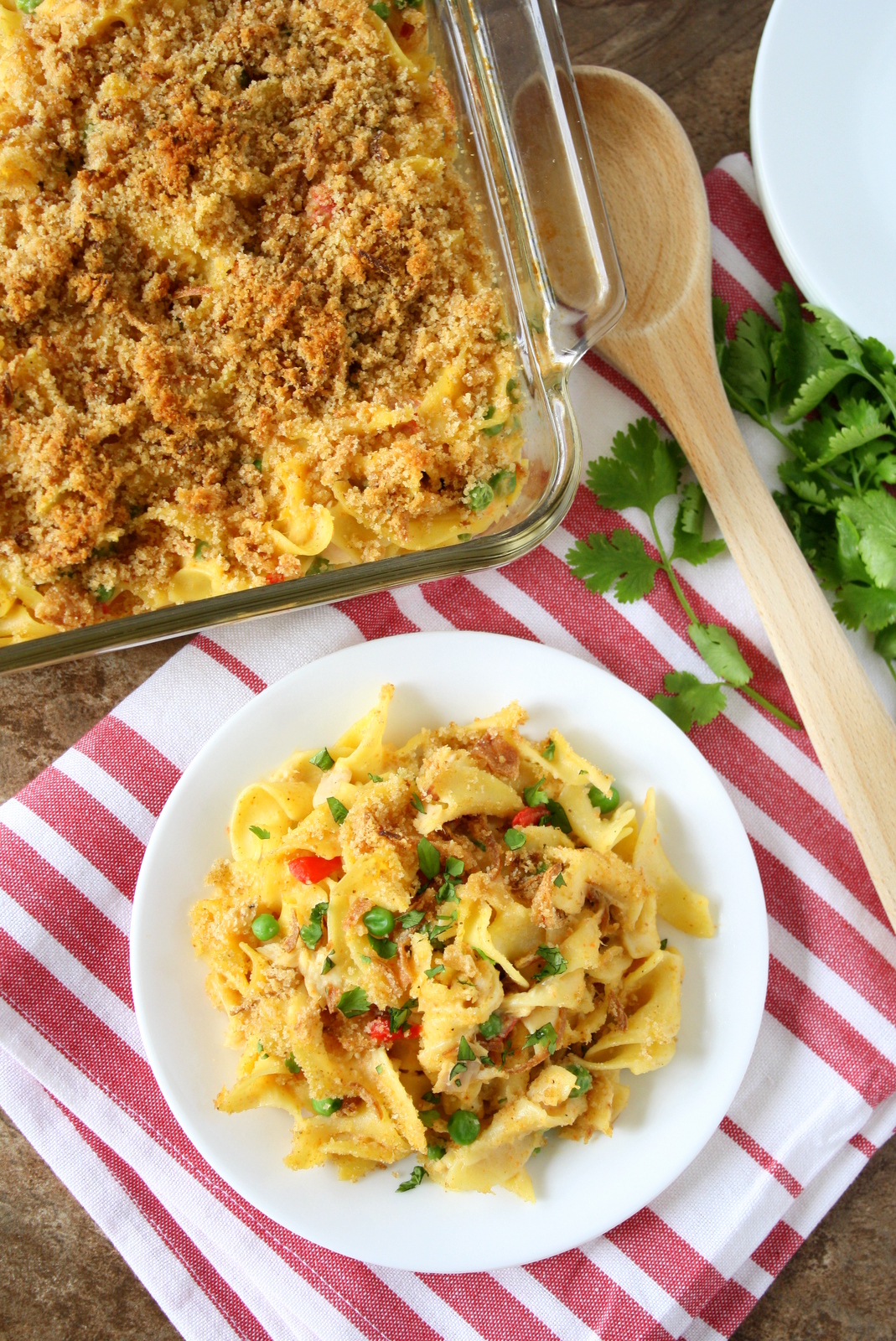 Recipe of the Week
,
The Wednesday Showcase
,
Foodie FriDIY
, and
Fiesta Friday
.