While I'm not a fan of fake cheese products, I'm fine with cheese-like sauces that are comprised of all-natural ingredients. This recipe uses a combination of cashews, potatoes, carrots, onions, and oil to make a surprisingly savory and creamy cheese-sauce approximation. Tuna noodle casserole is a classic American comfort food, and those who can't have dairy shouldn't have to miss out!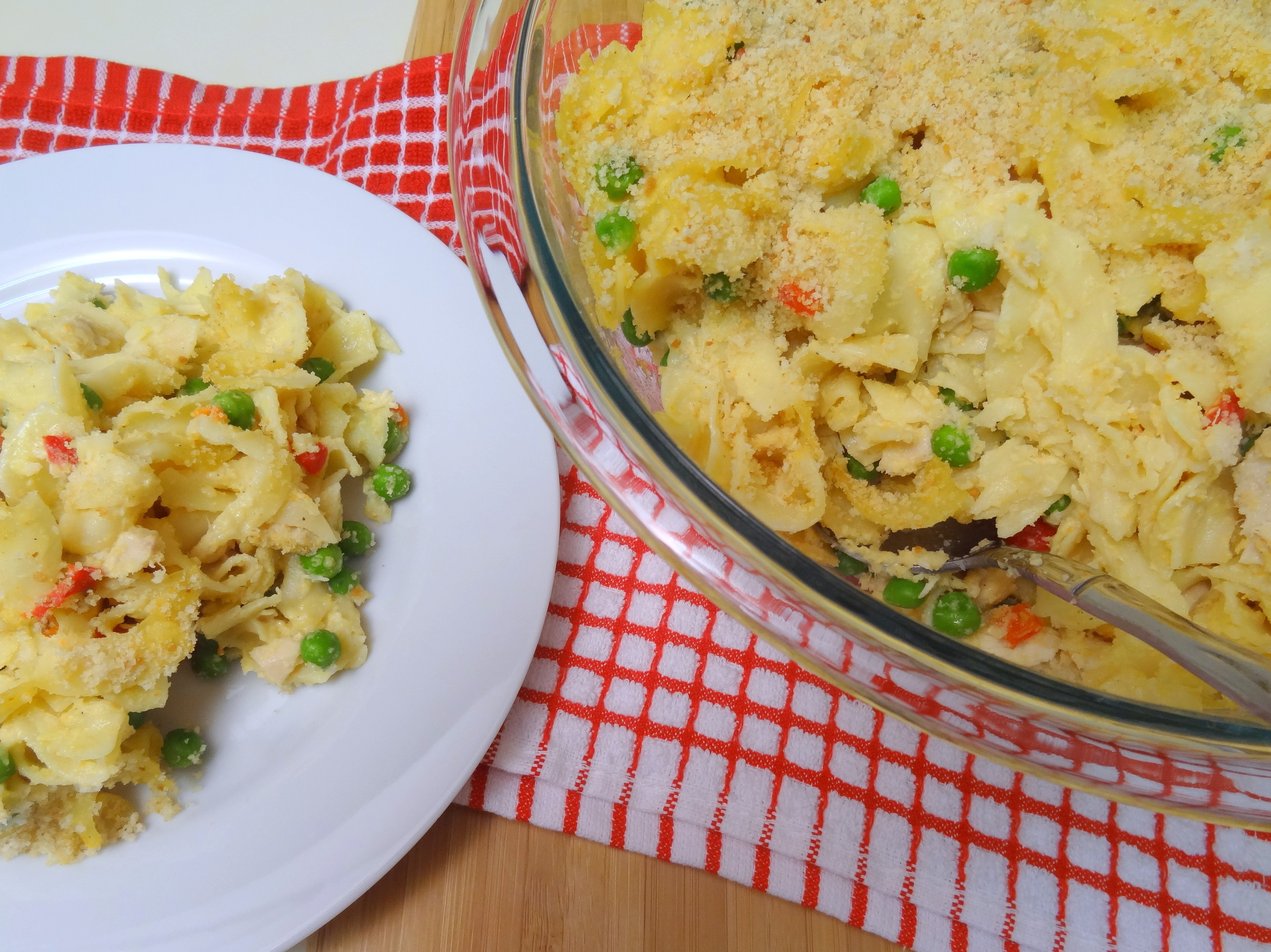 Dairy-free Tuna Noodle Casserole
Servings: 4-6
Time: 50 minutes
Sauce adapted from 
Quick and Easy Vegan Comfort Food
Ingredients
8 ounces egg noodles
6 ounces canned tuna, drained
1 cup peas
1/4 cup diced pimentos
1/4 cup plain bread crumbs
2 teaspoons olive oil
Sauce
1 medium Yukon Gold potato, peeled and diced
1/2 medium carrot, peeled and diced
1/3 cup onion, diced
1 1/4 cups water
1/3 cup vegetable oil
1/3 cup raw cashews
1 teaspoon salt
1 clove garlic, minced
1/2 teaspoon mustard
1 tablespoon lemon juice
1/4 teaspoon pepper
1/8 teaspoon cayenne
Instructions
1. Preheat oven to 350 degrees. Lightly oil a 2-quart casserole dish.
2. Prepare egg noodles according to directions on package. Set aside.
3. While noodles are cooking, dice and combine potato, carrot, and onion in a small saucepan. Add water and bring to a boil, then turn down heat and simmer, covered, for 10 minutes or until vegetables can be easily pierced with a fork.
4. Combine 1/3 cup vegetable oil and cashews in a blender. Blend until completely smooth. Add salt, garlic, mustard, lemon juice, pepper, and cayenne. Blend until smooth. Carefully transfer cooked vegetables and their cooking water to blender. Blend until smooth.
5. Mix sauce with cooked pasta. Stir in drained tuna, peas, and pimentos. Pour into casserole dish.
6. In a small bowl, mix bread crumbs with 2 teaspoons olive oil. Scatter over pasta.
7. Bake for 20 minutes or until sauce is bubbling.