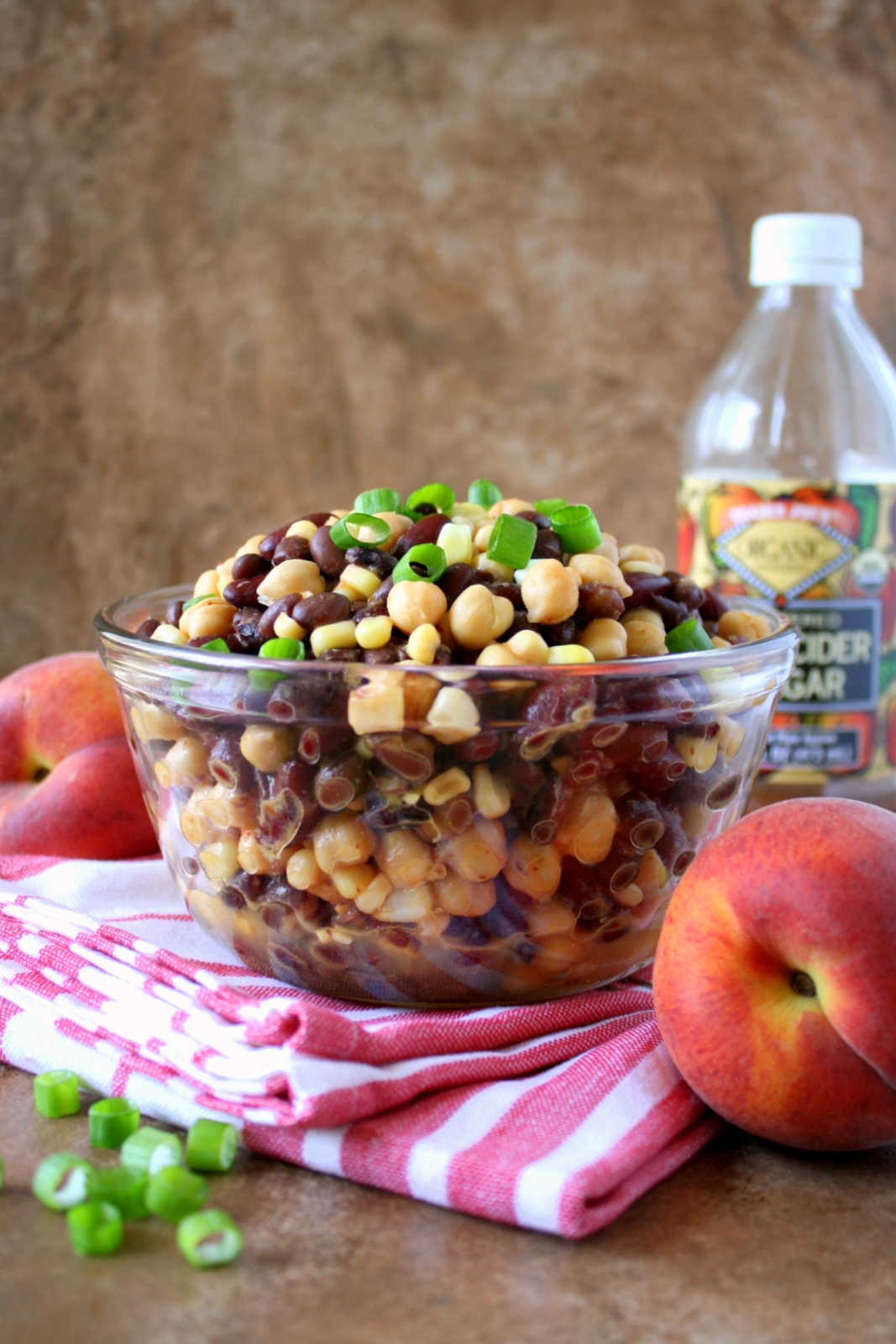 Meals right before and right after trips are generally far from ideal. Before a trip, I usually end up stuffing myself silly with various fruits and vegetables in an effort to use up all the fresh produce in the house. A dinner salad with two whole bell peppers, an apple, a crown of broccoli, and three tomatoes? Pretty typical. When I return from a trip, however, the situation is often much bleaker. Once in college, I came back from winter break and found myself with no frozen convenience foods, no produce to speak of (save a bunch of questionably hairy carrots), and very slim pickens in the pantry department. In what I can only describe as an ultimate low point in my culinary endeavors, I resorted to mixing together a can of beans and a can of corn and drizzling some salad dressing on top.*
Conceptually, this chipotle-peach three-bean salad is not so different from that sad, sad college "meal," although it feels far more gourmet and, well, intentional. The basic premise is the same (beans + corn + dressing), but the chipotle-peach vinaigrette really takes this bean salad to the next level. Two weeks ago, I shared a recipe for chipotle-peach quinoa salad, and that dressing was simply too amazing to resist repurposing it for other recipes—and stay tuned, because I've got at least one more chipotle-peach recipe coming your way soon! If you haven't already tried this vinaigrette, I cannot recommend it enough. It's simultaneously fruity, smoky, sweet, and spicy…basically, if you could capture the essence of summer and put it in a bottle, this would be it.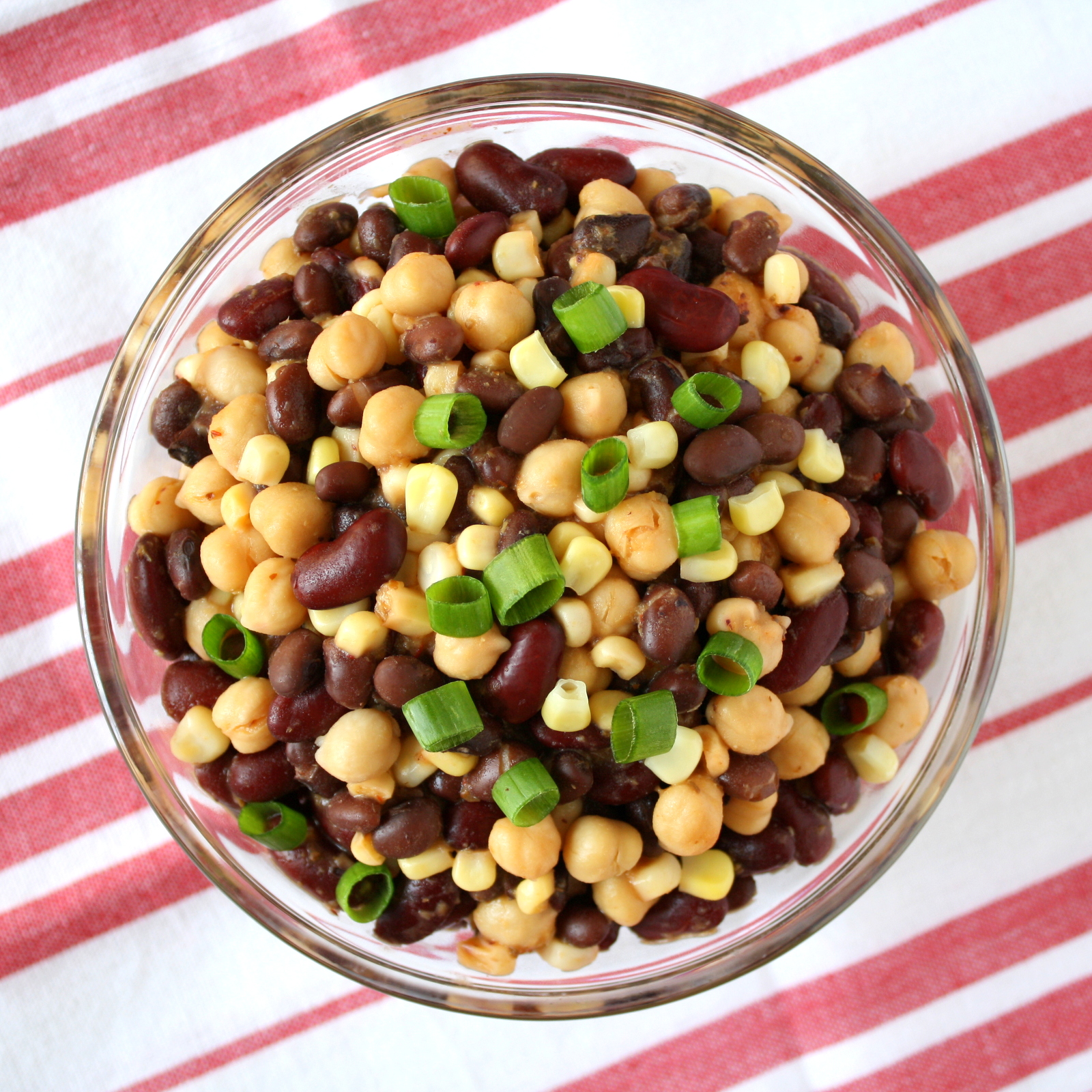 If fresh peaches haven't yet appeared in stores near you or if it's not even the right time of year for peaches, fear not! You can still make this vinaigrette with canned or jarred peaches. And given that chipotles also come in cans…that means that I could have been enjoying this delectable chipotle-peach three-bean salad that sad, sad January day in college, if only I had been a little more creative in the kitchen!
While this three-bean salad is undoubtedly a great option for when you're just getting back into town and haven't had a chance to go grocery shopping, it obviously has much more potential than that. It's a fantastic side dish for any summertime meal, whether you need something to bring to a barbecue or you're looking for something to accompany a simple meal at home.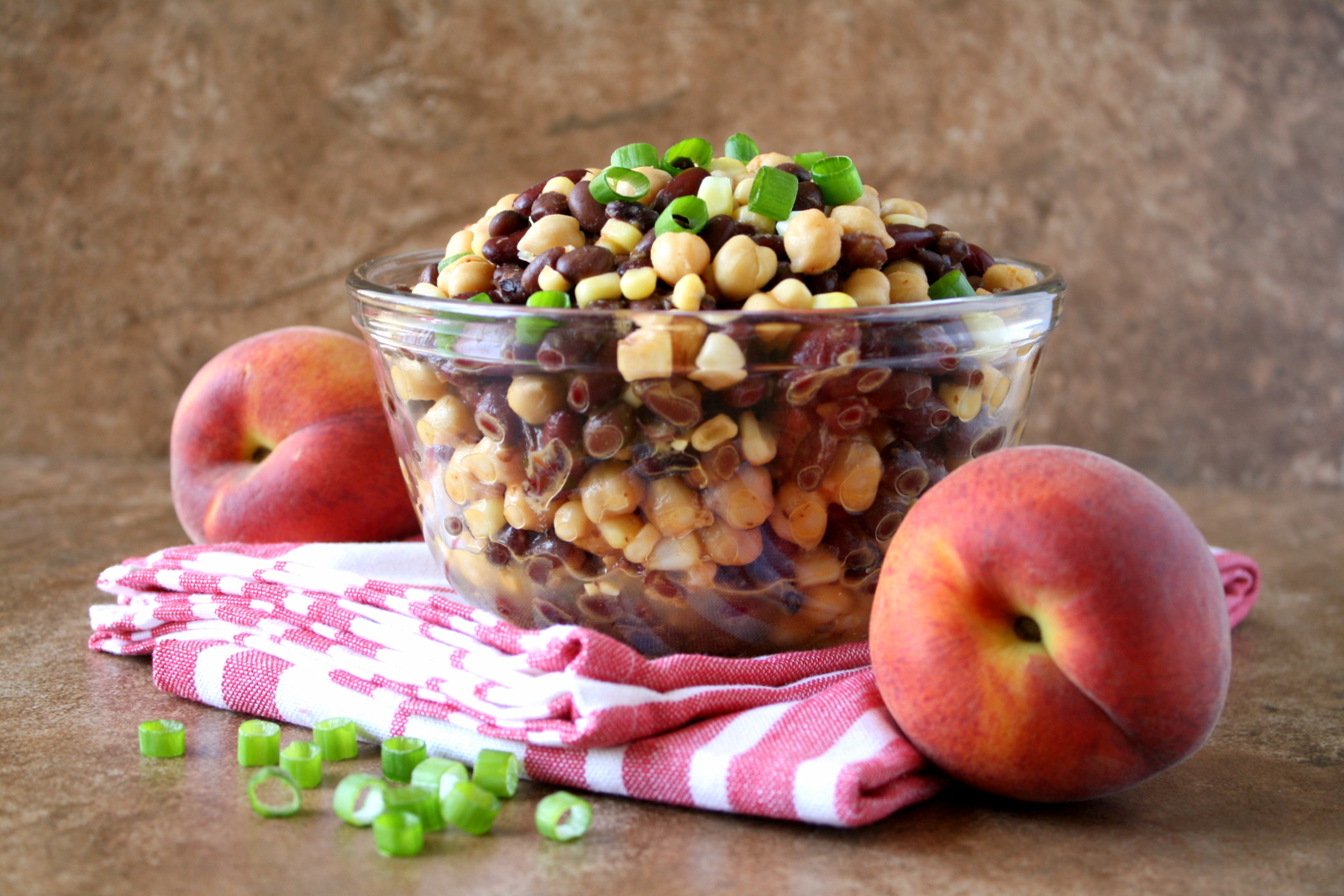 What are some of the weirdest pre- or post-trip meals you've concocted?
*Since college, I've learned to plan ahead a little better and not put my future self in such a bind. I try to make sure there is a least one (relatively balanced) meal's worth of food on hand before I go out of town (e.g. pasta, spaghetti sauce, and frozen veggies). And if I'm super on top of things, I'll leave future me some chocolate as well!
Recipe of the Week
,
The Wednesday Showcase
,
Foodie FriDIY
, and
Fiesta Friday
.