It has been almost five years since I moved from California, and you know what I'm still not used to? Summer rainstorms and the staggering attendant humidity. Snow and the bitter cold I can handle – although I'll gripe about it along with everyone else, for sure! At least I was mentally prepared for the cold. I mean, it's all anyone talks about when you say that you're moving to Michigan.
But the heat and humidity and rain and thunderstorms? No one warned me that it wasn't enough to check the hourly weather report, that you have to check the fifteen-minute weather report if you want to avoid those abrupt, torrential downpours that, if they catch you unawares, can put a damper on your entire day (pun very much intended). You see, it doesn't rain during the summer in California (to be fair, it pretty much doesn't rain at all in California anymore). I think it rained during the summer once the whole time I lived there, which (naturally) was when my parents were having the roof re-done.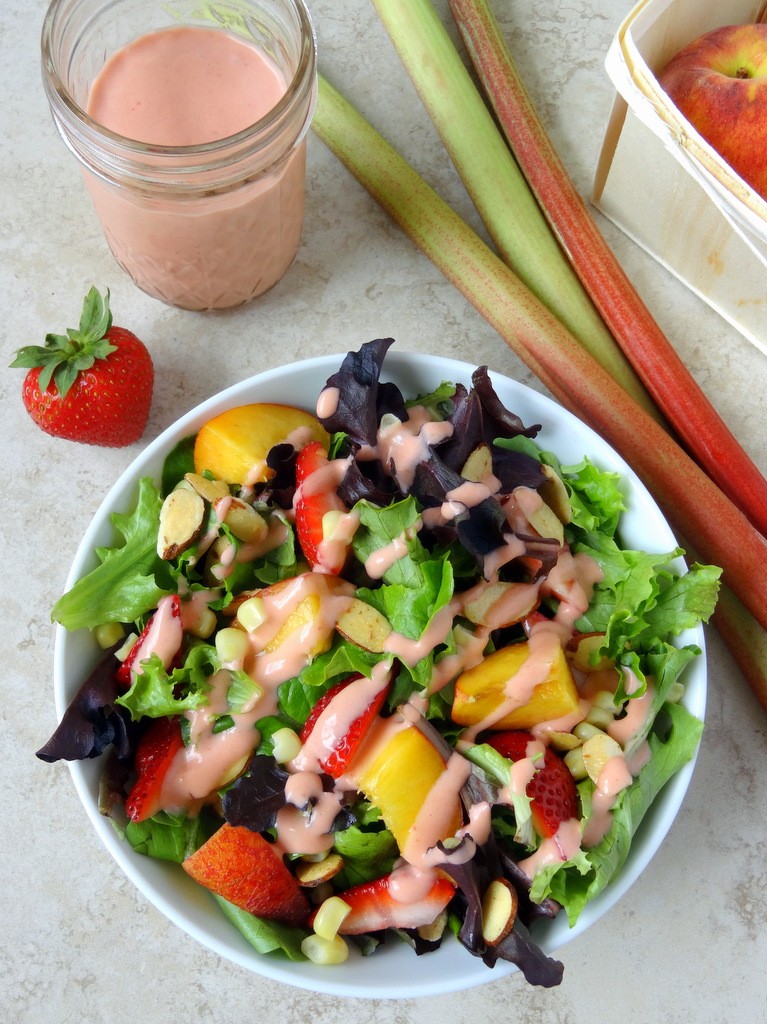 So when I was planning to make this strawberry rhubarb vinaigrette, I found myself torn between wanting to use up the produce that was begging to be eaten immediately and wanting to wait for a day that would be suitable (e.g. not dark and thunderstorm-y) to take pictures of the salad. In the end, the produce won out and I found myself rushing to take photos in between waves of menacingly dark clouds. In my haste, I completely forgot about the poppy seeds until juuust after I put the camera away, but you should be sure to include them – they add such a delightful element of texture and nuttiness!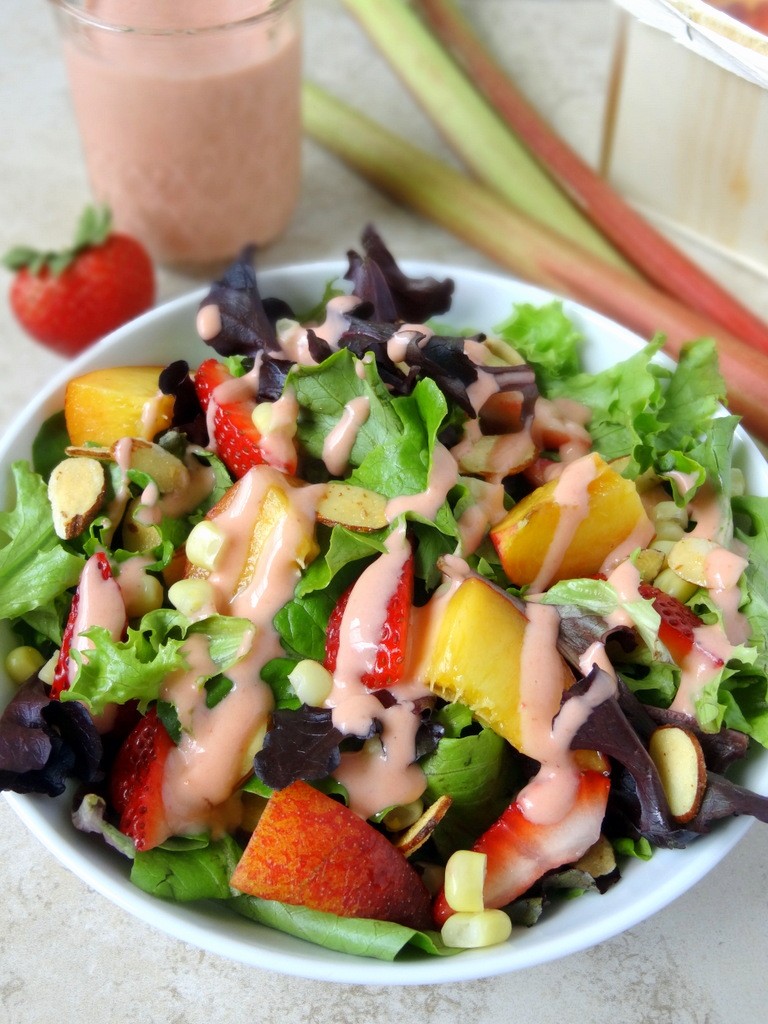 Now that I'm done kvetching about the weather (for now, at least), let's talk about this strawberry rhubarb vinaigrette! Strawberry and rhubarb make for a classic combination, most often featured in desserts; I wanted to switch things up a bit, so I used them to create a salad dressing that is positively bursting with juicy tartness, aptly suited for a fruity, summery salad such as this one. This salad practically screams summer, with its vibrant colors and its sheer simplicity – the vinaigrette comes together in under ten minutes! Plus, it only takes about one stalk of rhubarb, so if you're got a bit left over from making a crumble, a galette, or cocktails, you're good to go.
Trust me, this is one recipe you don't want to miss: perhaps I was still in a hurried state of mind from taking photos, but once I sat down to eat, this salad was gone in a flash!