Confession: I feel a little silly adding "easy" to this recipe title, because I'm of the opinion that if you're making spiced nuts that are anything but easy, you're probably doing it wrong. But having a recipe title with only two words seemed weirdly skimpy to me, so here you have it: "easy spiced nuts"!
These spiced nuts only became a part of my family's holiday traditions a few years ago, but we latched onto them immediately. Crispy-crunchy, sweet, and mildly spicy, they're practically impossible to resist! They make a great gift (bonus: they travel extremely well!), they're the perfect nibbles to offer before or after a dinner party, you can toss 'em on top of a salad or into a bowl of granola…the list goes on and on! And did I mention they're super duper almost ridiculously easy? Once you make them and see how simple they are, you'll never buy sugared nuts from the store again.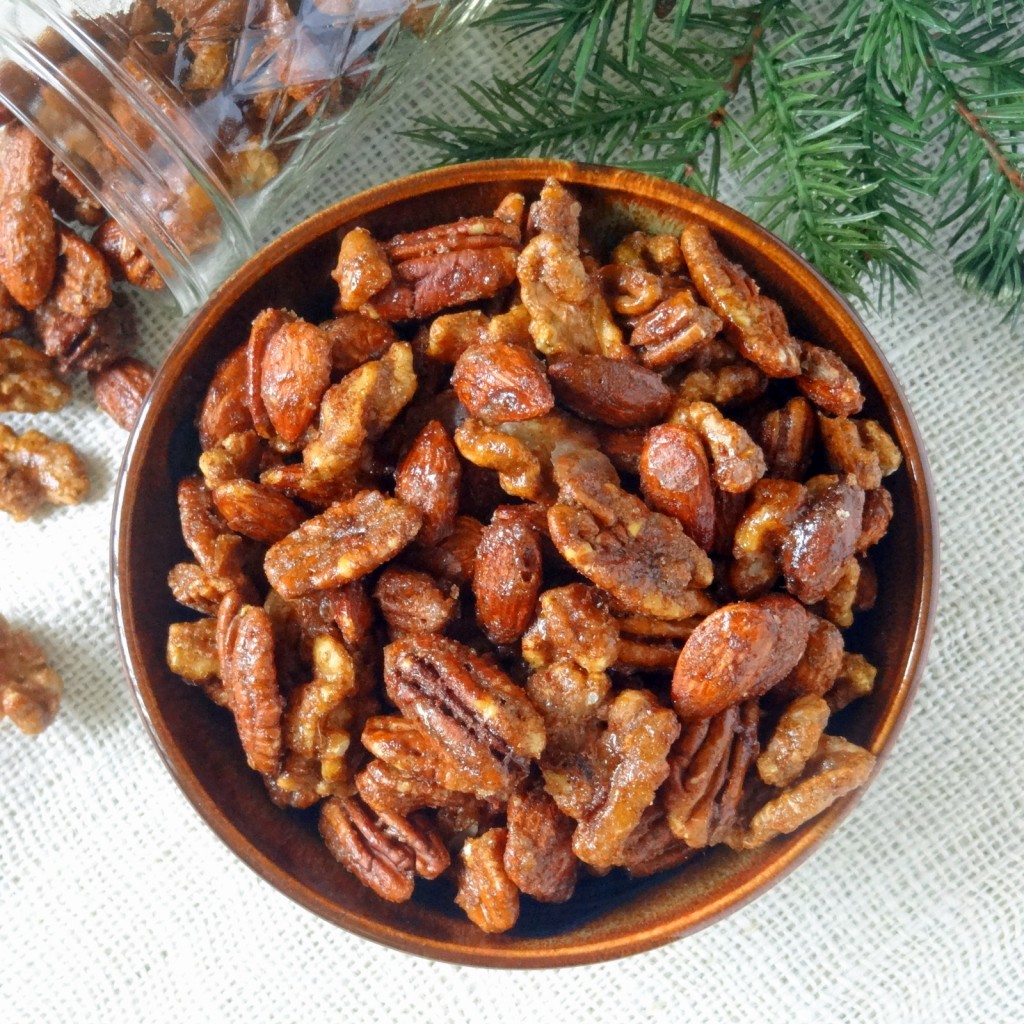 In case you're worried these easy spiced nuts might have too much heat, fear not! My mom is as much a fan of these as anyone, and this is saying something: a self-proclaimed champion of "bland food," my mom has long been protesting the spiciness of my dad's cooking and theorizing that his taste buds must be dead from excessive amounts of red pepper flakes and hot sauce. Once she even asked us whether we thought the milk tasted spicy, perhaps suspecting that someone had added something to it as a practical joke.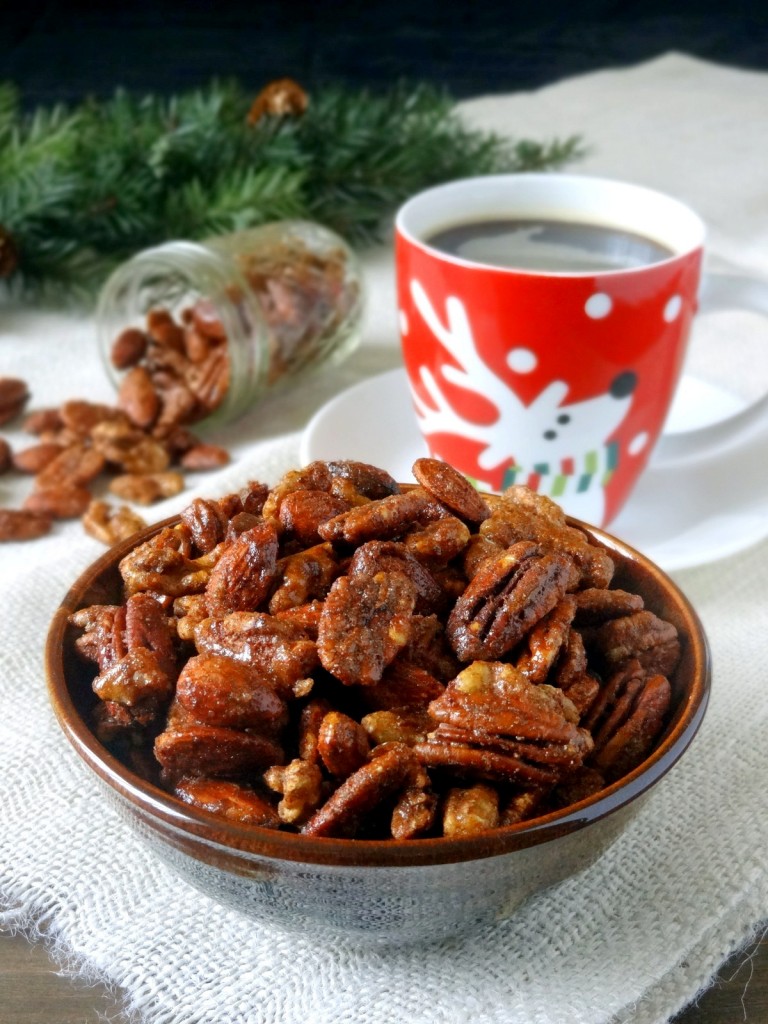 So it actually turned out that she was allergic to the latex rubber bands her orthodontist had her using, which caused a constant level of discomfort in her mouth that she mistook for irritation from spicy foods. Ouch, right?! Even discounting the "spicy milk" incident, though, my mom still has by far the lowest spice threshold in our family, yet she happily whips up batch after batch of these spiced nuts every holiday season. Of course, you can always reduce the amount of cayenne and/or chili powder if you're still concerned about overloading sensitive taste buds.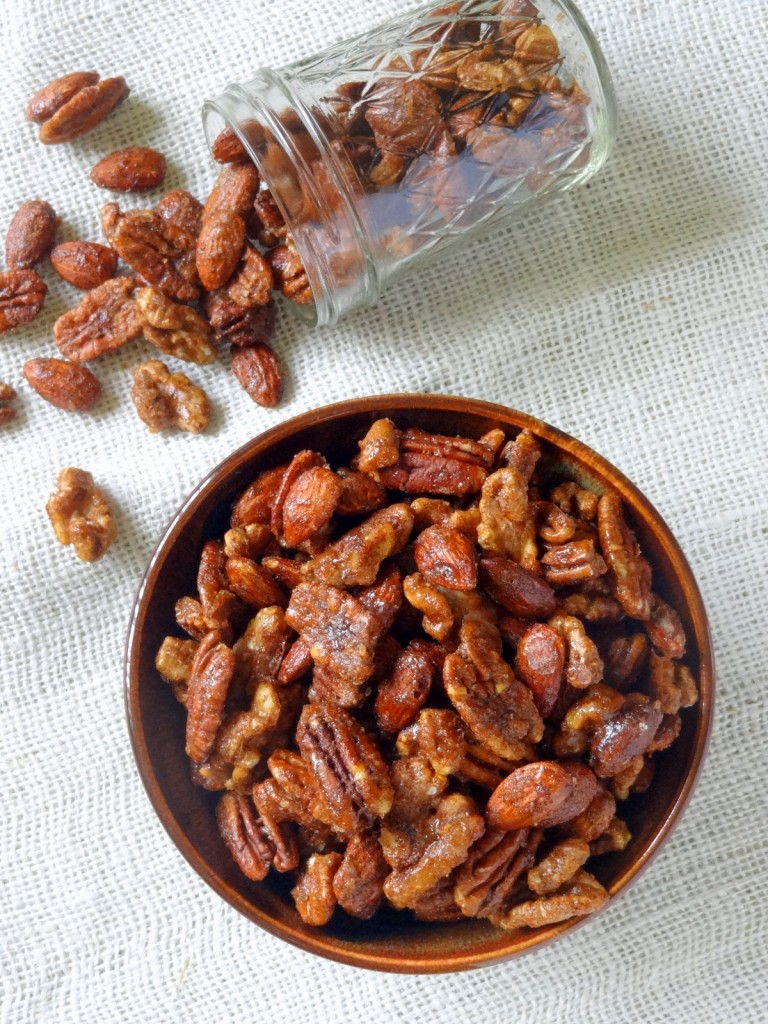 TL; DR? If you've got even a few minutes to spare, you should definitely make these easy spiced nuts! You and your friends and family will love their subtle sugary sparkle and festive flavors.
Christmas is only two weeks away! What is left on your to-do list? Has the wintry weather arrived yet? It has been unusually moderate in Michigan so far…not that I'm complaining!
Fiesta Friday
,
Recipe of the Week
, and
Tell 'em Tuesday
.