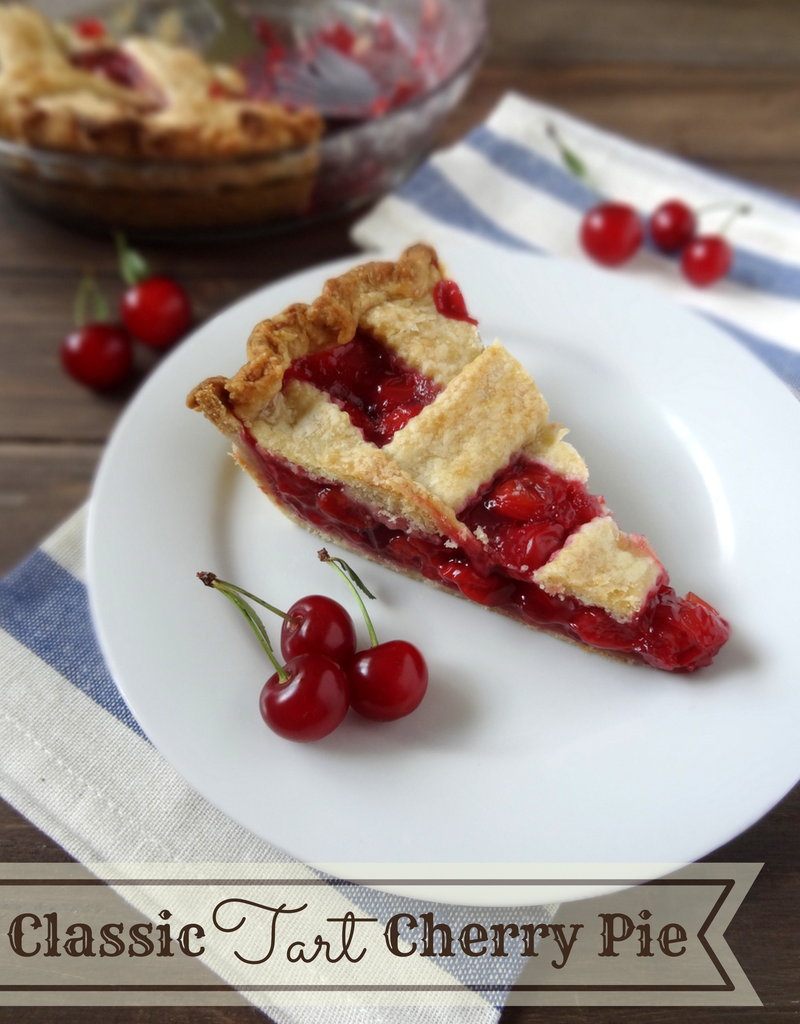 Last week, my parents came to visit and we took a short trip up to northern Michigan. We spent some time on Mackinaw Island (more on that later!) and in Traverse City, and before heading back south, we stopped by King Orchards to do some cherry picking! I've always wanted to bake a pie with fruit I picked from the tree myself, so I was elated to find that our trip coincided with the short two-week window for picking tart cherries (which are what typically go into cherry pies, rather than sweet varieties). King Orchards is a truly beautiful place, and if you're in the Traverse City area during the summer or fall, I highly recommend making a visit!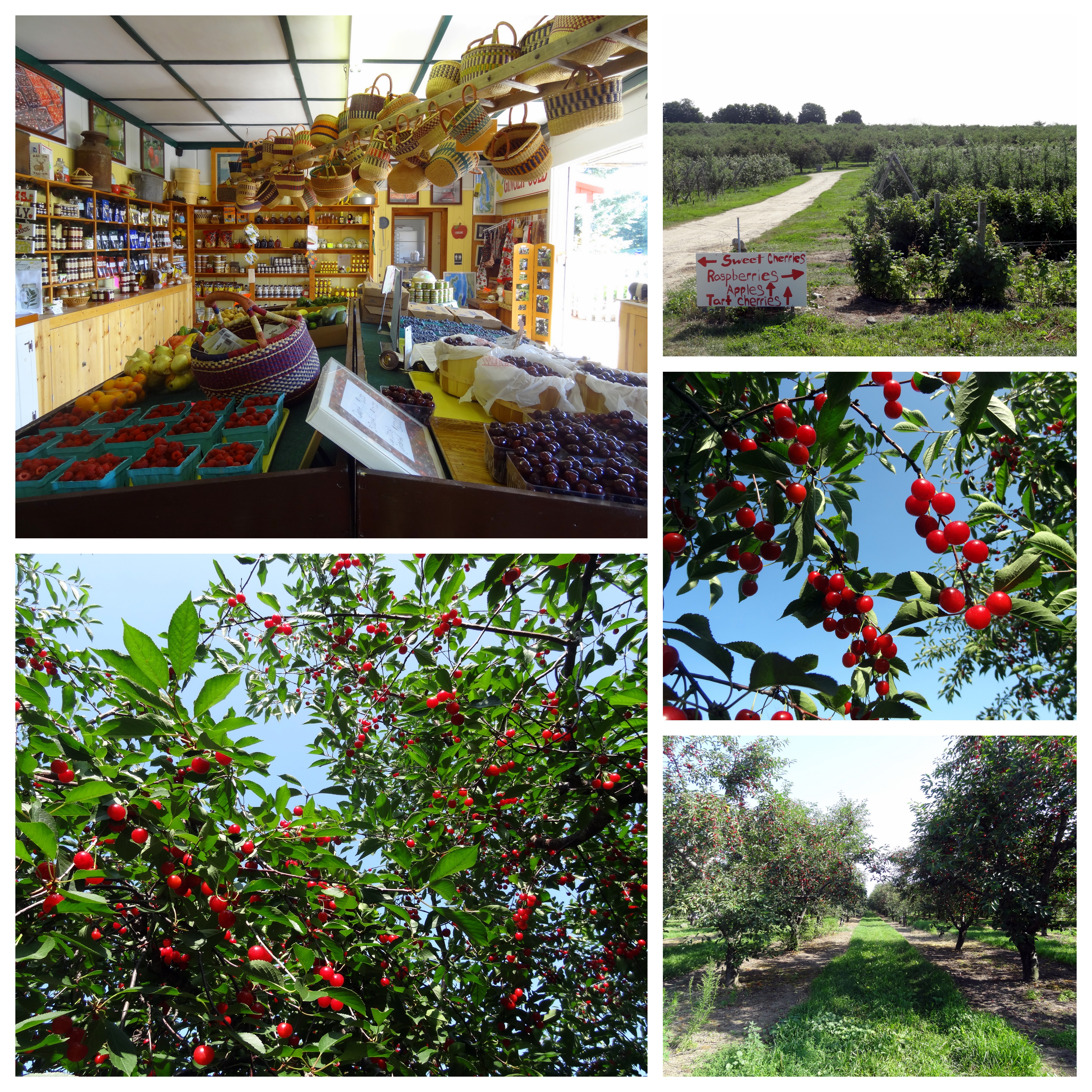 The cherries we picked (well, some of them anyway – with so many hands, we gathered six pounds of cherries in no time at all) were quickly turned into pie…which was then also quickly devoured. Because really, this pie was the most mouth-watering, drool-worthy, gorgeous pie I have ever made. The tartness of the cherries melds wonderfully with the cinnamon and almond flavors, and the fruity filling strikes the perfect balance between too runny and too sticky – cooking the fruit on the stove before putting it in the oven helps activate the cornstarch in order to achieve this consistency.
My parents had never had a fresh cherry pie before; my mom was amazed to see that tart cherries can produce such a vibrant hue all on their own (isn't the color stunning?), and my dad said it was the best cherry pie he's ever had. Can't say I disagree!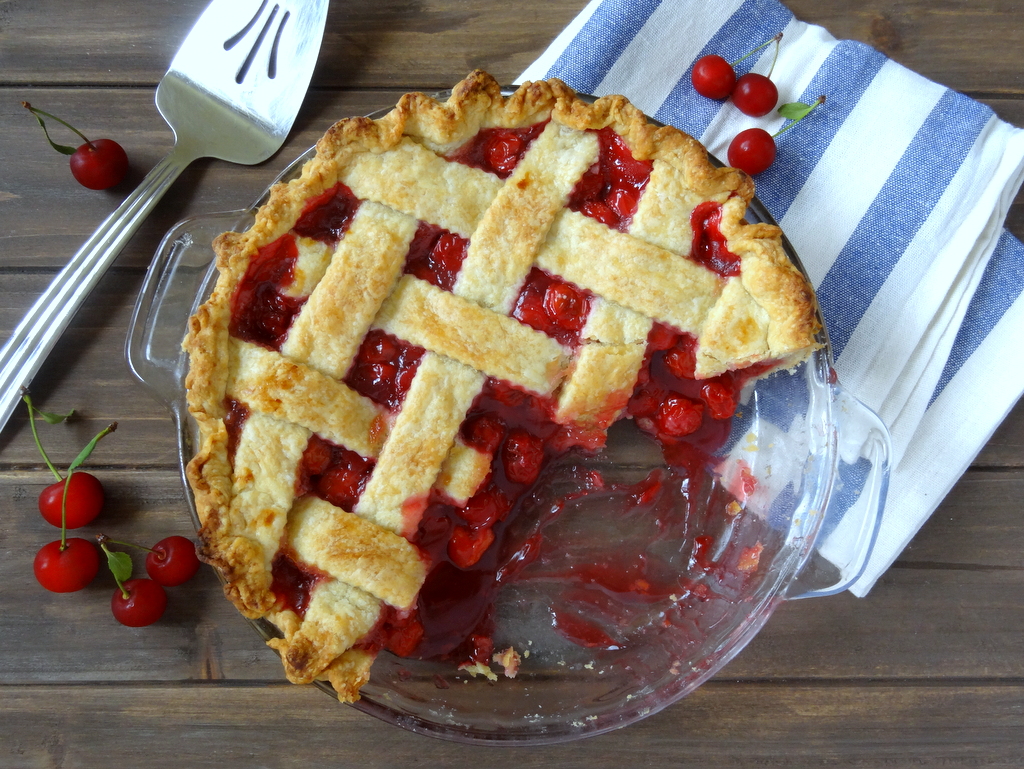 Since I've now got a boatload of cherries in my freezer, I'll hopefully be posting another tart cherry recipe or two…unless I give in to temptation and just bake more pies with them! What are your favorite recipes to make with cherries (sweet or tart)?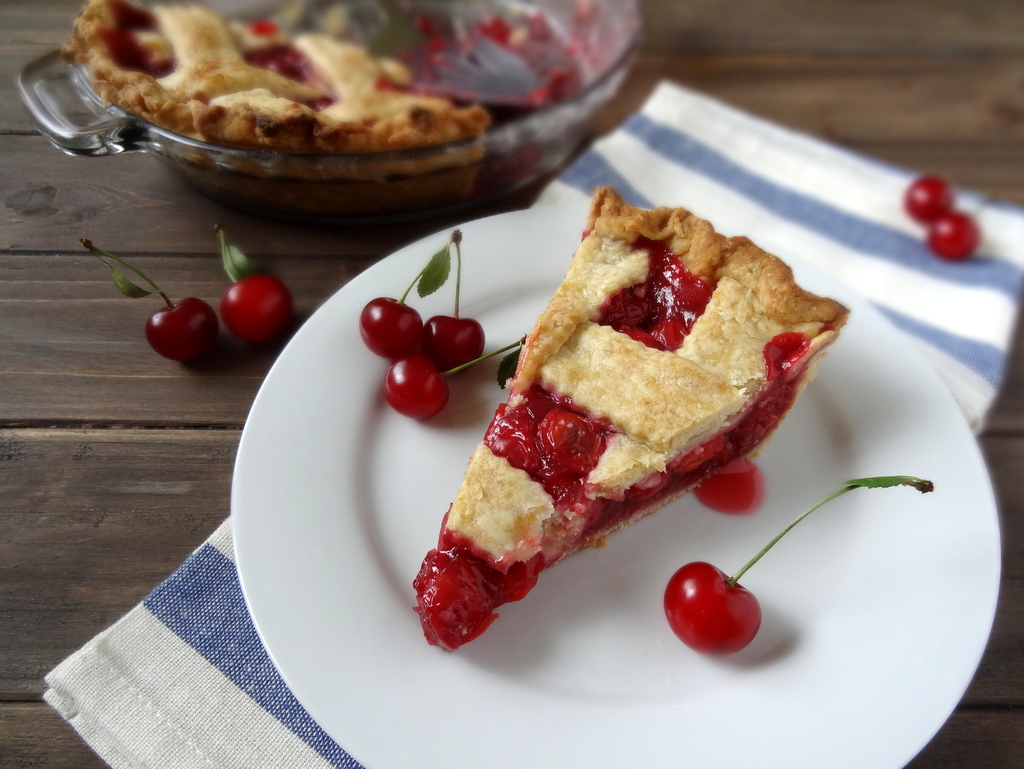 Classic Tart Cherry Pie
2016-01-13 23:04:05
Serves 10
Lattice-top pie crust (9-inch)
2 1/2 cups all-purpose flour
1 teaspoon salt
2 tablespoons sugar
3/4 cup (1 1/2 sticks) unsalted butter (vegan butter is fine), chilled
1/2 cup shortening, chilled
4 tablespoons vodka, chilled
4 tablespoons cold water
Pie filling
6 cups tart cherries, pitted (fresh or frozen – if using frozen, you do not need to thaw them)
1 cup sugar
1/4 cup cornstarch
1/4 teaspoon ground cinnamon
1/4 teaspoon almond extract
Instructions
Note: You can make the pie dough in one or two batches, depending on the capacity of your food processor and on your preference for precision (to make certain that the dough is divided evenly in half, do two batches – if you're good at eyeballing the division, you can do it in one batch). Since I did it in two batches, these are the instructions for two batches, even though the ingredient list gives the amount totals.
Place 3/4 cup flour, 1/2 teaspoon salt, and 1 tablespoon sugar in the bowl of a food processor, and process until combined (a couple of quick pulses). Cut 3/8 cup butter (3/4 stick) and 1/4 cup shortening into cubes and place in the food processor. Pulse until a crumbly dough forms (there will be little pieces the size of small peas still intact). Scrape the sides of the bowl with a rubber spatula. Add 1/2 cup flour and pulse until incorporated.
Place the dough mixture in a medium bowl, and drizzle 2 tablespoons vodka and 2 tablespoons water over it. Mix the liquid into the dough until it sticks together. Flatten the dough into a 3×4-inch rectangle. Wrap with plastic wrap and place in the refrigerator for 1 hour.
Repeat steps 2 & 3 with the remaining crust ingredients, but flatten the dough into a round disk, about 4 inches in diameter. Refrigerate for 45 minutes – 1 hour.
In a small bowl, combine the sugar, cornstarch, and ground cinnamon. Mix the dry ingredients together with the pitted cherries. Heat the cherries in a non-stick skillet over medium-low heat until the white coating of sugar and cornstarch has turned completely translucent and small bubbles are forming in the liquid. Continue cooking until the sauce has thickened slightly. Let the filling cool while you roll out the pie dough.
On a piece of well-floured wax or parchment paper, roll out the rectangle of dough into a rectangle of about 10 by 13 inches. Using a pizza cutter or knife, cut the rectangle into 8 long strips (discard any uneven side scraps). Separate the strips slightly, then place the whole piece of wax paper on a baking sheet and freeze for 30 minutes. This will make the strips much easier to weave.
Set an oven rack on the lowest position and place a rimmed baking sheet on it. Preheat the oven to 500 degrees.
On a well-floured surface, roll out the round disk of dough to a circle 12 inches in diameter. Pick up and rotate the dough every couple of rolls to keep it from sticking, adding more flour as needed. Once the dough reaches 12 inches in diameter, transfer to the pie plate.
Stir the almond extract into the cherry filling, and transfer the filling into the pie plate.
Remove the dough strips from the freezer and weave into a lattice pattern on top of the cherry filling, placing four strips in each direction. Using a knife or scissors, trim the excess dough from the strips and the bottom crust, leaving an edge of about 1/2 inch. Wait 5 minutes to allow the frozen strips to thaw slightly before pressing the top and bottom edges together and folding them under. Use a fork or your fingers to crimp the edges.
Remove the baking sheet from the preheated oven, place the pie on top, and reduce the oven temperature to 425 degrees. Bake for 25 minutes. Rotate the baking sheet, reduce the temperature to 375 and bake for an additional 25 minutes, until the crust is golden and the filling is bubbling. Let cool on a wire rack.
Notes
Pie crust recipe from Cook's Illustrated
Pie filling recipe adapted from The America's Test Kitchen Family Cookbook
Put on Your Cake Pants http://putonyourcakepants.com/
2/9/17 edit: It's super easy to customize the decoration for various holidays. Here are two examples that I've done for the Fourth of July and for Valentine's Day! Make the bottom crust as directed, and then use the dough for the top crust to cut out shapes and/or lattice strips as you see fit.