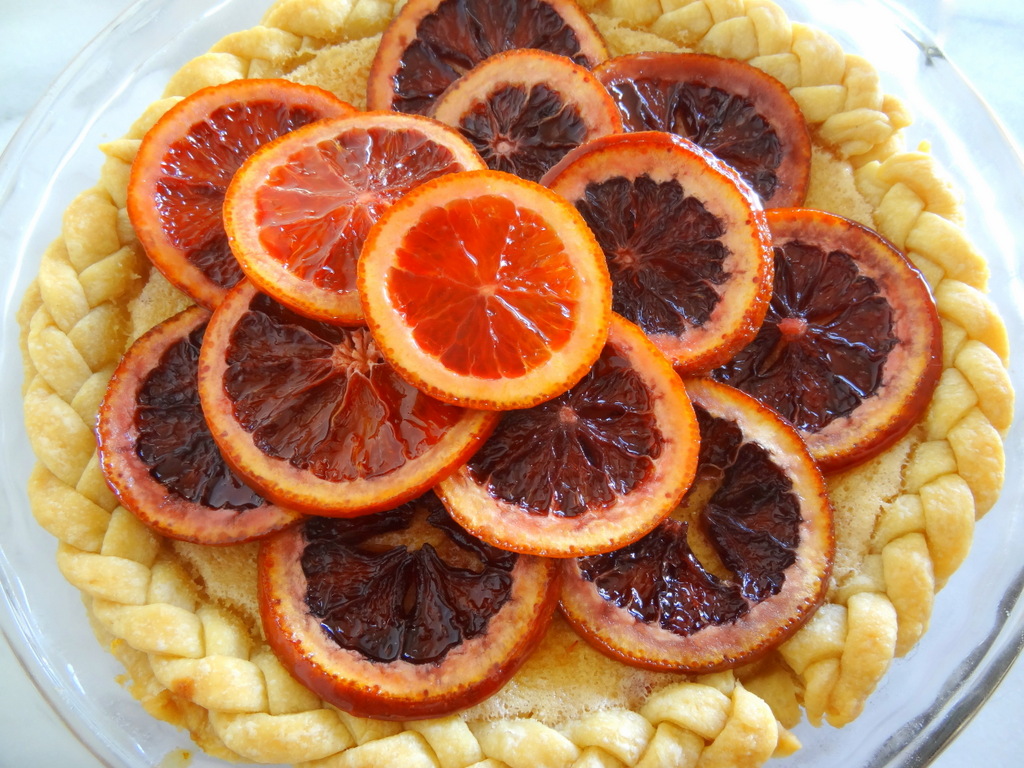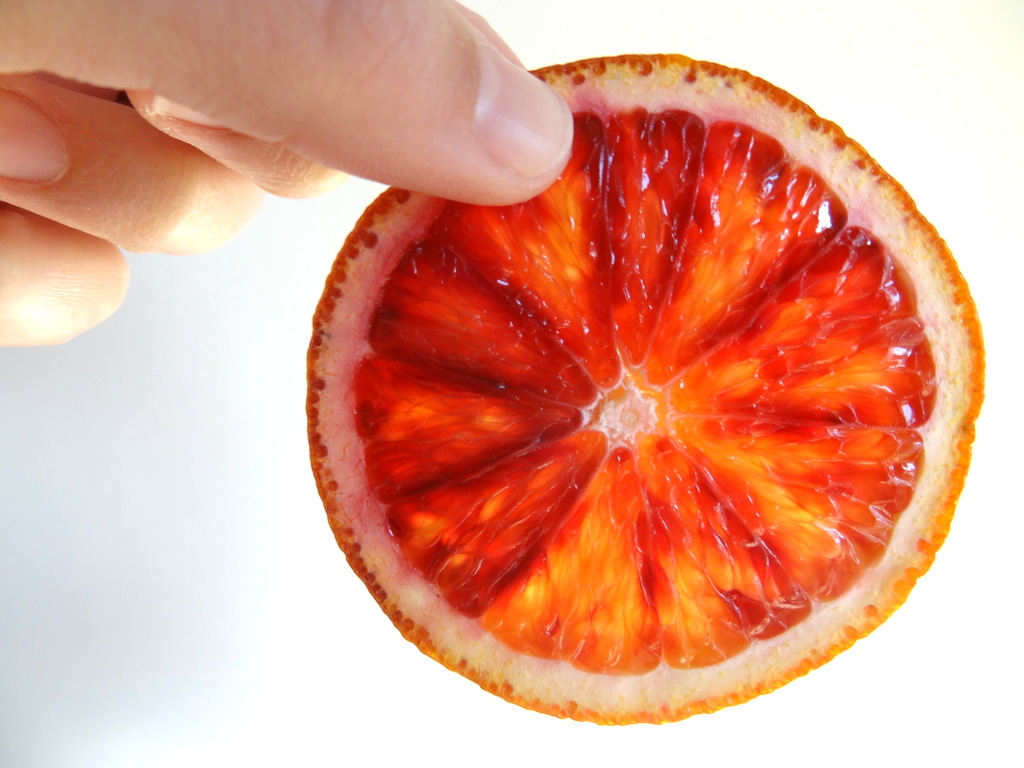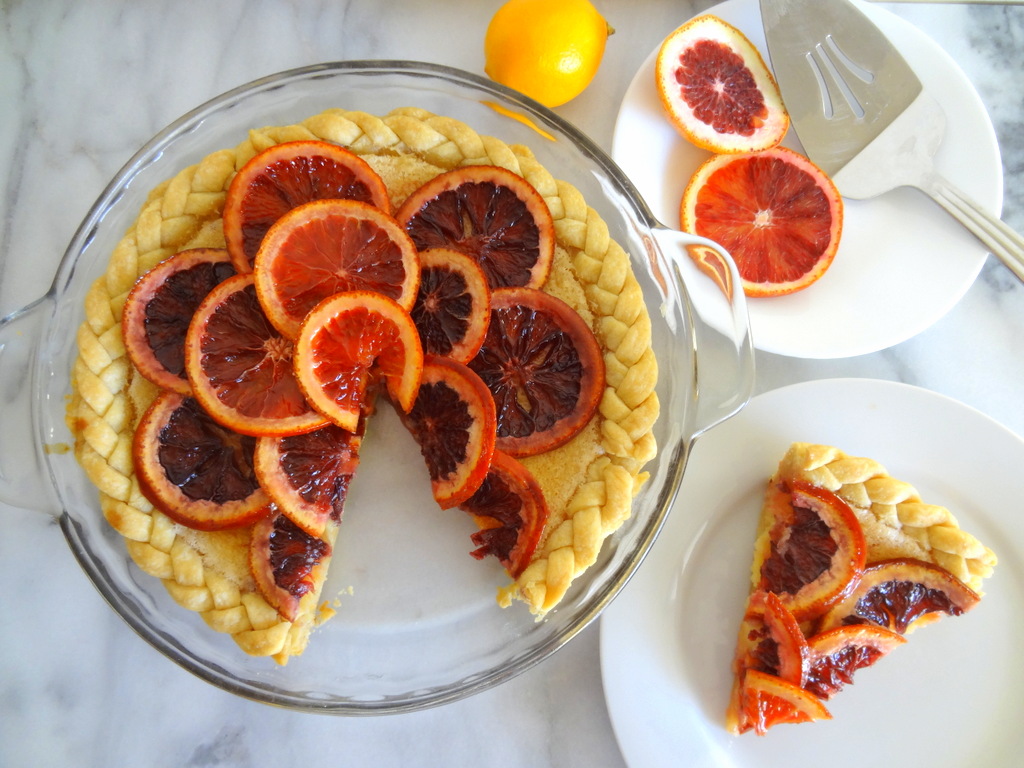 Earlier this week, I heard birds chirping outside my window for the first time this year! The sun was shining and the temperature had finally risen above freezing, and (dare I say it?) it felt like spring might actually be on its way! Hopefully spring has started to materialize for the rest of you as well, but even if it hasn't, this lemon chess pie with candied blood oranges can help make up for the wintery weather.
Chess pie is traditionally a southern dessert, and although there are various stories to account for the name (none of which I personally find very compelling – if you know of a good backstory, please tell me! I'd love to hear it), one thing most people seem to agree about is that chess pie typically involves a bit of cornmeal, which distinguishes it from other types of custard pies. The fresh lemony flavor and beautiful, bright appearance of candied blood oranges makes this chess pie feel like a sunny slice of warmer weather – never mind that blood oranges are best and most plentiful in the winter! It just so happens that Pi Day (3/14) falls about six weeks after Groundhog Day—darn you, Punxsutawney Phil and your six more weeks of winter—so you can simultaneously celebrate Pi Day and the end of winter with this cheery chess pie!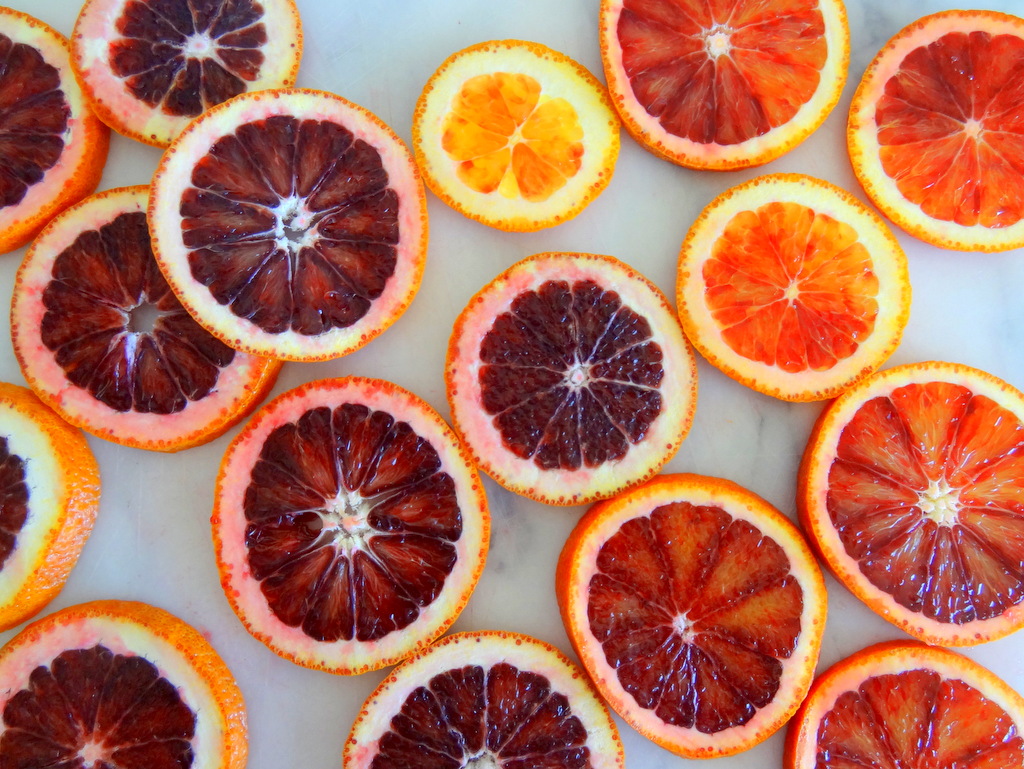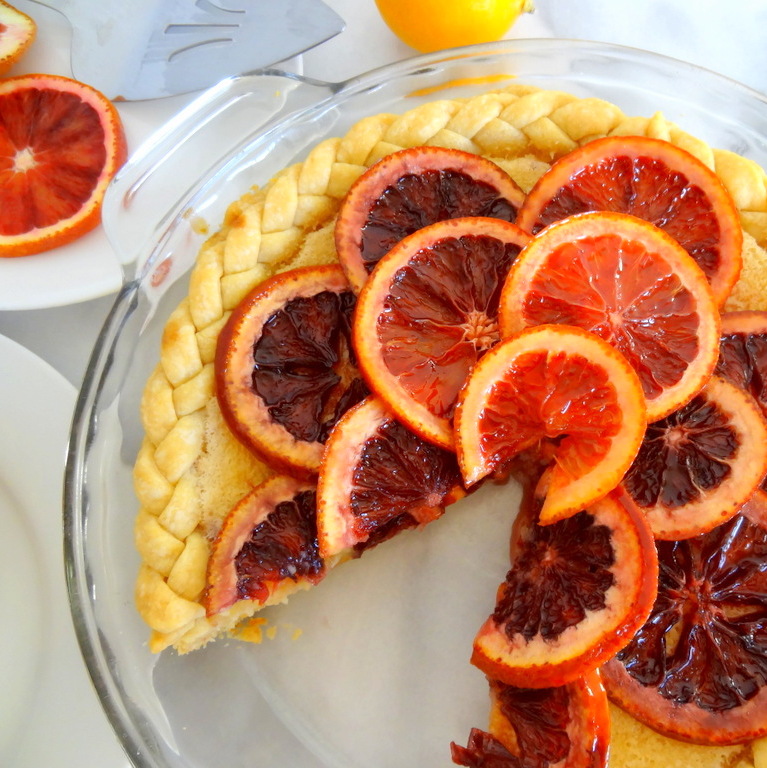 Lemon Chess Pie with Candied Blood Oranges
2016-01-18 16:08:59
Serves 10
Pie dough (for a 9.5-inch pie)
1 1/2 cups + 1 tablespoon flour
1 tablespoon + 1 teaspoon sugar
3/4 teaspoon salt
7.5 tablespoons chilled unsalted butter, cut into 1/2-inch cubes
1/3 cup chilled vegetable shortening, cut into 1/2-inch cubes
2 1/2 tablespoons vodka
2 1/2 tablespoons water
Custard filling
zest of 1 lemon
1 2/3 cups sugar
1 tablespoon cornmeal
1 tablespoon flour
1/2 teaspoon salt
5 tablespoons butter, melted
5 eggs
2/3 cup heavy cream
7 tablespoons lemon juice
3 tablespoons orange juice (I use juice from a blood orange, but any kind will do)
1/2 teaspoon vanilla
Candied blood oranges
2 blood oranges
1 cup water
3/4 cup sugar
Pie dough
Place salt, sugar, and 1 cup of flour in the bowl of a food processor, and pulse until combined, about 5 seconds. Pulse until the texture resembles coarse cornmeal, about ten seconds. Scrape down the sides of the bowl with a rubber spatula as needed. Add remaining flour and pulse until incorporated, about 5 seconds.
Place the contents of the food processor in a large bowl. Pour vodka and water over the mixture, and with a rubber spatula, mix until dough is smooth and slightly sticky. With your hands, form the dough into a disk about 1-inch thick. Wrap with plastic wrap and refrigerate at least 45 minutes.
Preheat the oven to 425 degrees. On a well-floured surface, roll the chilled dough into a circle with a 12-inch diameter, about 1/8th of an inch thick. To transfer to the pie plate, gently and loosely roll the dough back around the rolling pin. After fitting the dough into the pie plate, trim the excess dough so that there is no more than 1/2 inch beyond the rim. Fold remaining excess underneath. Use a fork to flatten and crimp the edges.
For a braided crust, roll out remaining excess dough into a long rectangle. Using a knife or pizza cutter, cut dough into strips about 1/2-inch wide. Braid strips and place on top of the pie plate rim.
Weight down the dough with pie weights or washed pennies. Bake for 15 minutes. Once cool enough to touch, remove the pie weights.
Custard filling
Reduce the oven temperature to 325 degrees.
In a large bowl, combine lemon zest, sugar, cornmeal, flour, and salt. Stir in melted butter, and once combined, add eggs, stirring to incorporate fully between each egg. Stir vigorously until mixture is homogenous and light-colored in appearance.
Stir in heavy cream, lemon and orange juices, and vanilla extract.
Pour the filling into the pie crust – be careful not to overfill it. If you have extra filling, you can bake it in a separate pie plate (I added some frozen cranberries to the leftover filling and made a decently-sized custard). Place pie plate on a rimmed baking sheet and bake for 45-50 minutes. The pie is done baking when the center is slightly puffed-up and faintly golden. Don't worry if the custard is still slightly wiggly – it will set more as it cools. Set aside to cool.
Candied blood oranges
Once the pie has cooled, prepare the candied blood oranges to place on top: wash and dry the blood oranges, and cut into thin slices, cutting so that the cross-section of the segments is visible.
In a wide saucepan or skillet, heat water and sugar on medium heat until all the sugar granules have dissolved. Add orange slices in a single layer (without any overlapping) and simmer for 10 minutes. Flip the slices over and simmer for another 10 minutes. Remove from heat.
Once slightly cooled, layer orange slices on top of the pie. Optional: you can use a sharp knife to trim the rinds off the orange slices before placing them on the pie. The rinds are slightly bitter, but certainly still edible. I find the slices to be more fragile with the rinds removed, so I leave them intact.
Notes
Blood oranges are in season for only a short time, so feel free to substitute navel oranges if you can't find blood oranges.
Pie crust recipe scaled up (for a 9.5-inch pie) from Cook's Illustrated.
Filling recipe adapted from ElsenEM.
Put on Your Cake Pants http://putonyourcakepants.com/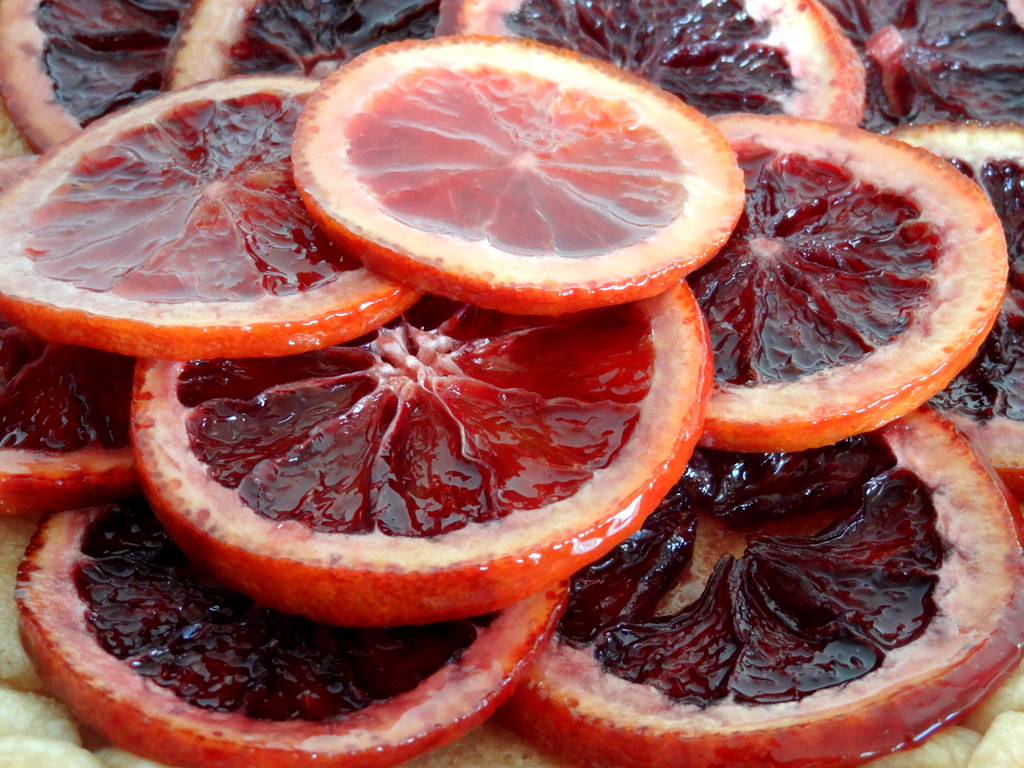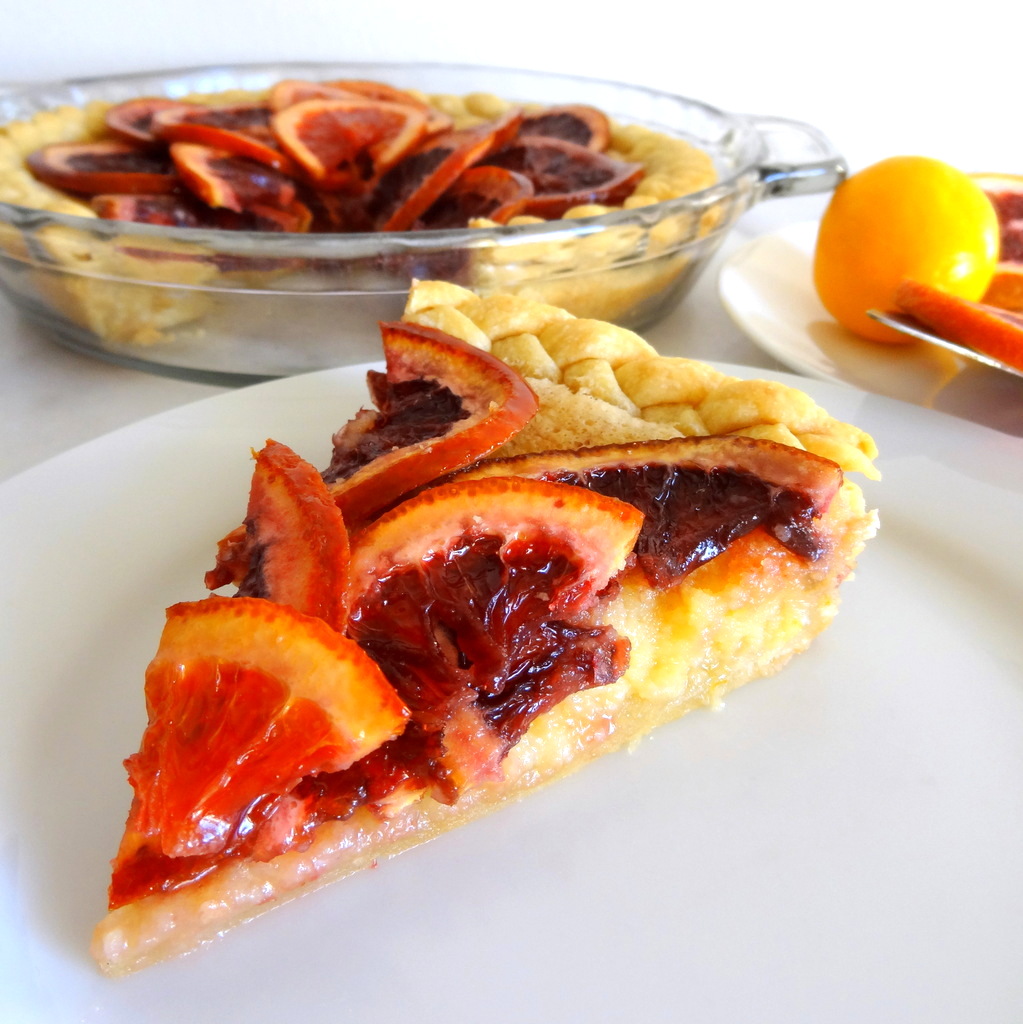 [May 2015 update: I'm sharing this post with the Celebrate Southern Soiree linkup. Check it out!]