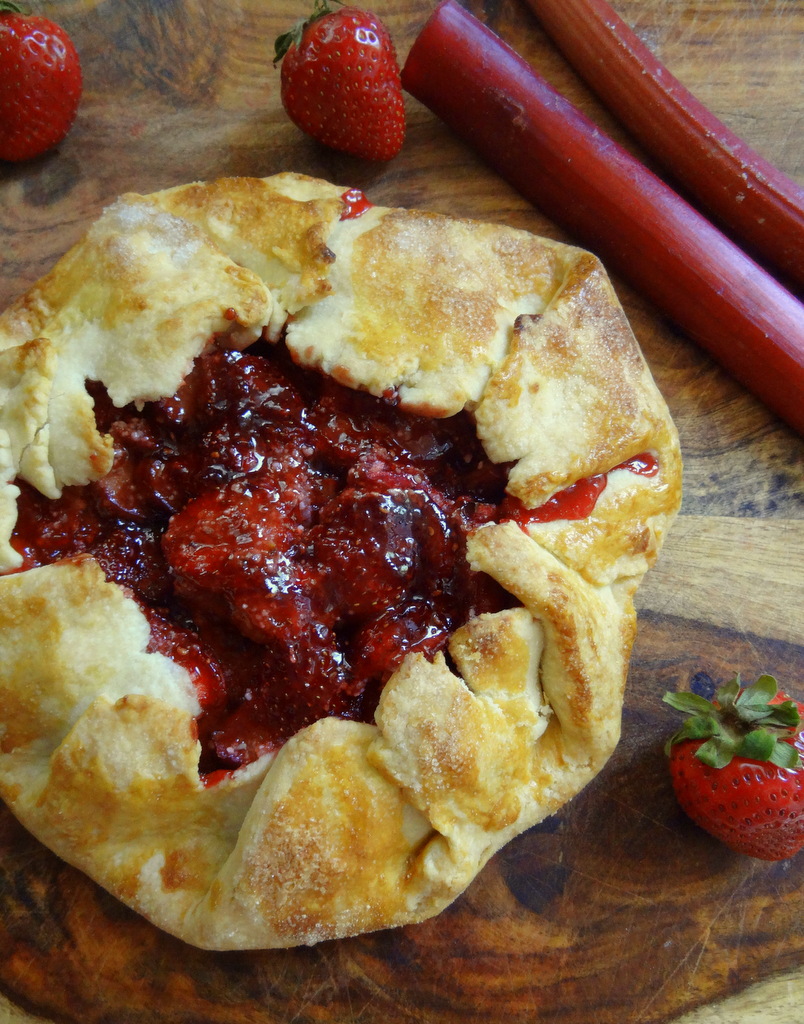 For me, fruit pies and tarts are the quintessential summer dessert. While ice cream is a great treat when the temperatures are soaring, ice cream is available year-round. But summer fruits? If only they were available year-round! Last week my boyfriend and I were visiting his family and I wanted to bake something special, since it's always more fun to bake for a bunch of people than just for two.
I was eager to take advantage of rhubarb being in season, not to mention the super-sweet strawberries I had spotted, so I decided to make this strawberry rhubarb galette! A galette is basically like a pie, but in a more rustic, less fussy form: you fold the extra dough in toward the center with whatever imperfect, asymmetrical edges naturally occur and bake it on a regular baking sheet. I love a good fruit pie as much as the next person, but sometimes you want something a bit rougher around the edges (literally!), you know? Enter…the galette.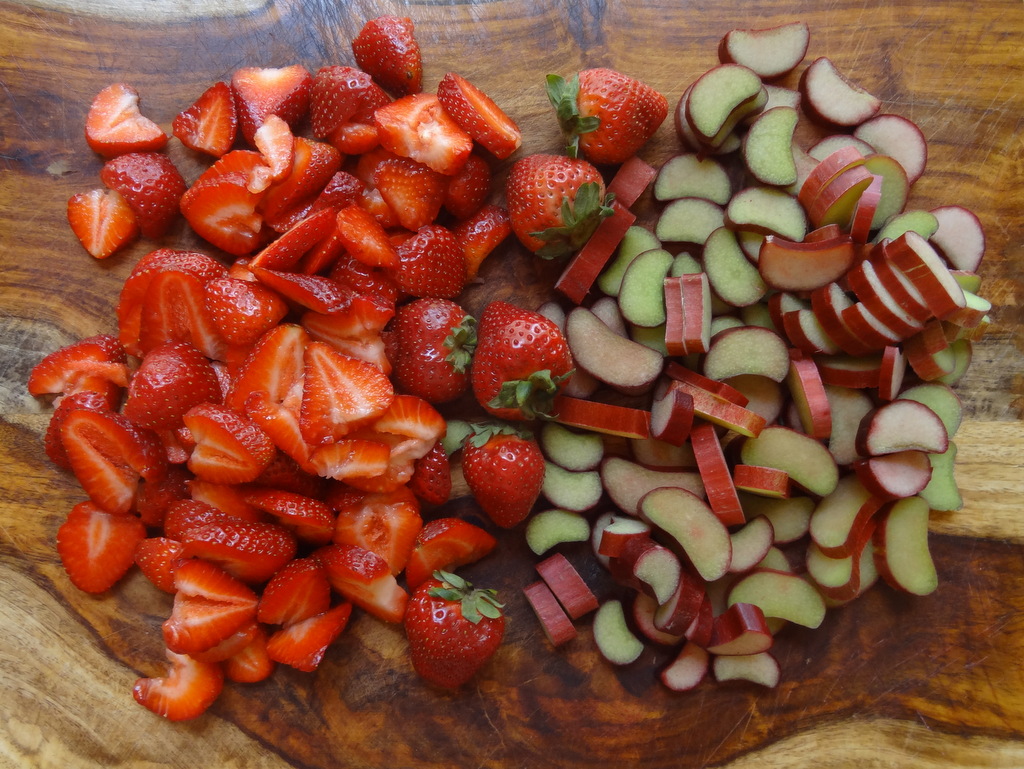 This strawberry rhubarb galette is the perfect ending to a spring or summer meal. The crust is an adaptation of the French pâte brisée, which is a pastry crust made from five ingredients: flour, butter*, salt, sugar, and water. This version incorporates a little bit of vodka as well. The vodka adds moisture to the dough, making it easier to work with, but without rendering the end product too heavy or tough. The result is a lovely flaky crust with a rich buttery flavor, which, when combined with fragrant strawberries and tangy rhubarb, makes for a divinely refreshing and deeply satisfying dessert. Enjoy!
* You can use dairy-free margarine in lieu of butter. It will yield a satisfactory crust but the flavor won't be quite as exquisite. Of course, for some (myself included), that's a perfectly acceptable trade-off in order to make this dessert dairy-free.
Strawberry Rhubarb Galette
Servings: Makes 2 9-inch galettes (serves 12)
Time: 2 hours, 15 minutes (30 minutes active time)
Pâte brisée recipe adapted from
Smitten Kitchen
Ingredients
Pâte brisée
2 1/2 cups flour
2 tablespoons sugar
1/4 teaspoon salt
1 cup (2 sticks) unsalted butter, chilled
1/4 cup ice water
1-2 tablespoons vodka
Fruit filling
1 pound strawberries, hulled and sliced
4 stalks rhubarb (about 2/3 pound), ends trimmed and cut into 1/3-inch pieces
1 teaspoon cinnamon
1/2 teaspoon cardamom
1/2 cup sugar
1/4 cup tapioca
Finishing touches
1 egg, beaten
1-2 tablespoons sugar
1-2 tablespoons strawberry jam, melted
Instructions
1. Combine flour, 2 tablespoons sugar, and salt in the bowl of a food processor and pulse until combined. Cut butter into cubes and add to the food processor. Pulse until the mixture is coarsely crumbly.
2. Add the ice water, processing until the mixture holds together when pressed – it should not be overly sticky or moist. If you have already added a full 1/4 cup of water and the mixture is still crumbly, add up to 2 tablespoons of vodka. Remove the dough from the food processor and divide in half. Shape each half into a flattened disk, wrap with plastic wrap, and refrigerate for at least 1 hour (or up to overnight).
3. Preheat the oven to 400 degrees.
4. In a large bowl, mix together sliced strawberries, rhubarb, cinnamon, cardamom, 1/2 cup sugar, and tapioca. Let sit 15 minutes.
5. On a well-floured piece of parchment paper, roll out each disk of dough into a circle about 12 inches in diameter. Slide the circles, along with the parchment paper, onto rimmed baking sheets.
6. Divide the fruit mixture in two and spoon half into the center of each dough circle, leaving about 1.5 inches on either side for folding. Fold the edges of the dough inward, pinching together as needed to form a seam.
7. Brush the outer edges of the dough with beaten egg and sprinkle up to 1 tablespoon of sugar on the dough of each galette.
8. Bake at 400 degrees for 15 minutes; after 15 minutes, reduce the oven temperature to 350 and bake for an additional 25 minutes. If the galettes are browning too much for your liking, cover with aluminum foil for the last 10 minutes of baking.
9. Remove galettes from the oven and let cool on a wire rack. As the galettes cool, brush the exposed fruit with melted jam to keep the fruit from appearing dried out. Serve warm.