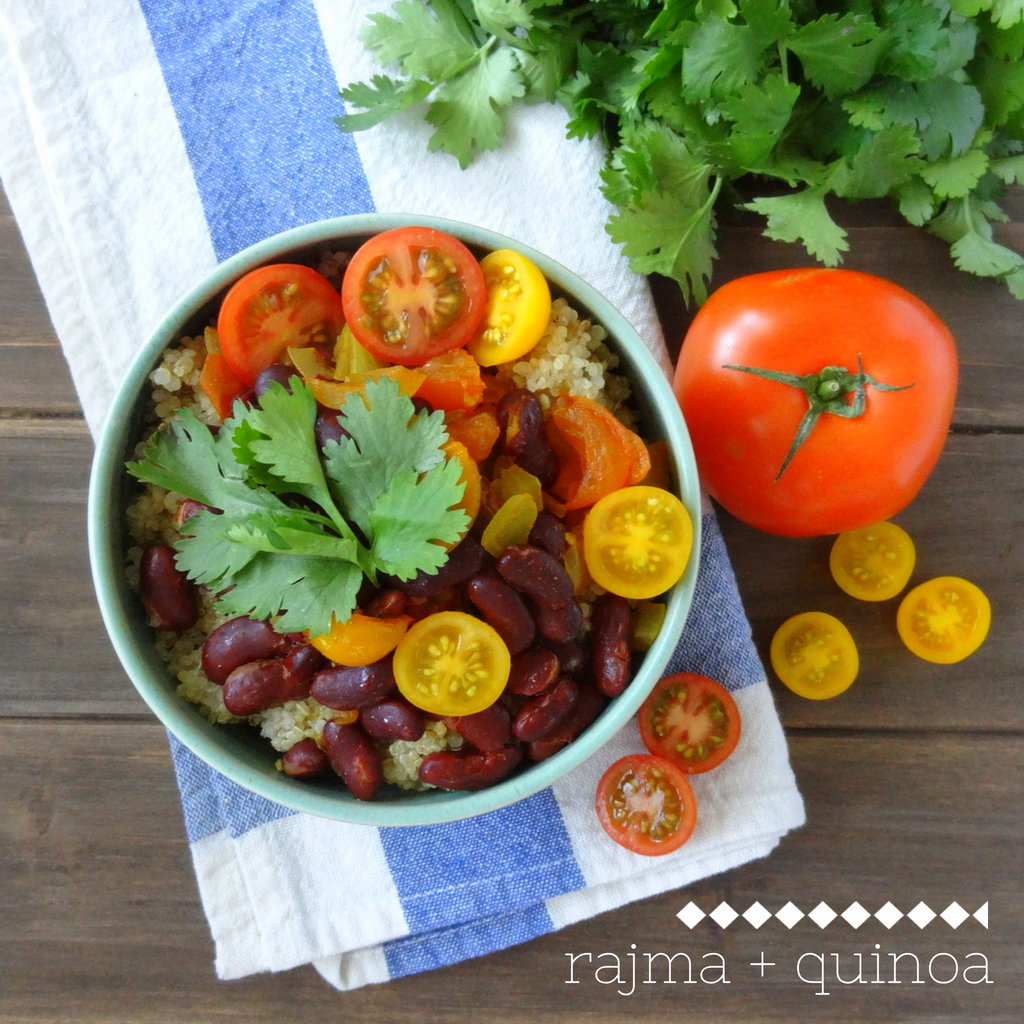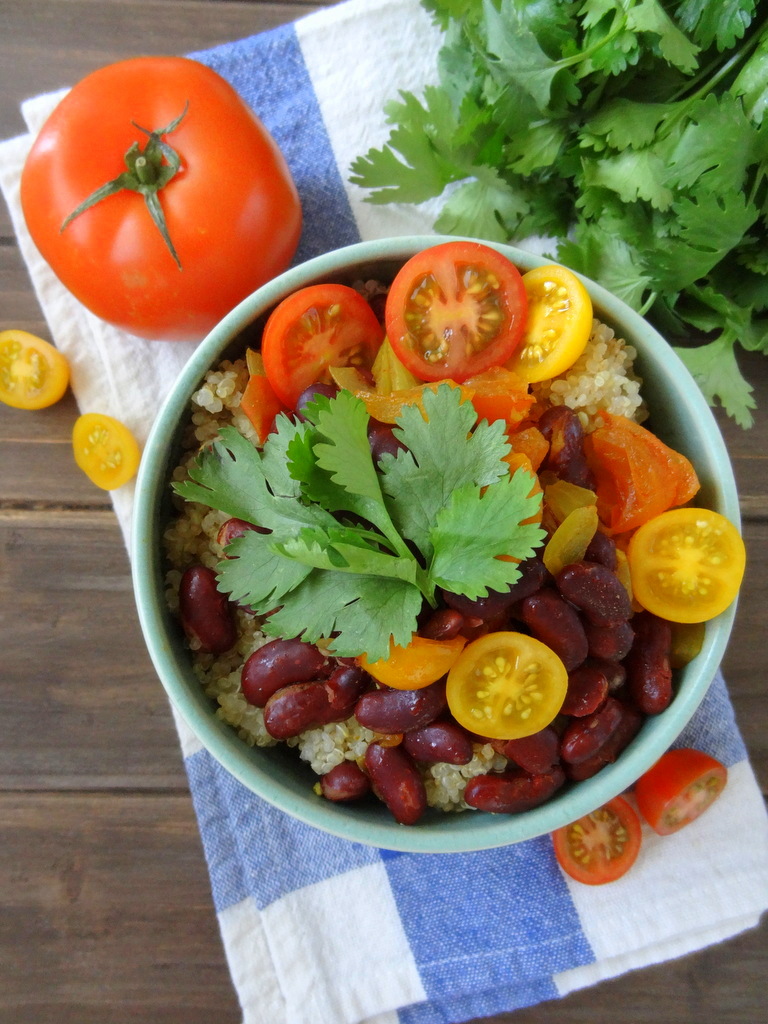 Hello there! I hope you all had a lovely holiday weekend! My apologies for the blog silence lately – I had actually wanted to post this recipe last week, but felt that it might not be very relevant to post an Indian food dish in the days leading up to the Fourth of July. Everyone else seemed to be posting traditional American recipes and fun red, white, and blue foods, and I'd be like, "Hey! Have some…rajma." So here we are. July 7th. That's as good a day as any for Indian food, right? Right. 
Rajma chawal is a popular and ubiquitous Indian dish consisting of kidney beans and rice, as common and beloved in India as macaroni and cheese is in North America, according to Meeru Dhalwala and Vikram Vij, a pair of renowned chefs, restaurateurs, and cookbook authors. A vegetarian meal, rajma is full of iron and protein thanks to the kidney beans, and even more so when served over quinoa – although it can't actually be called rajma chawal when served over quinoa, since chawal means "rice."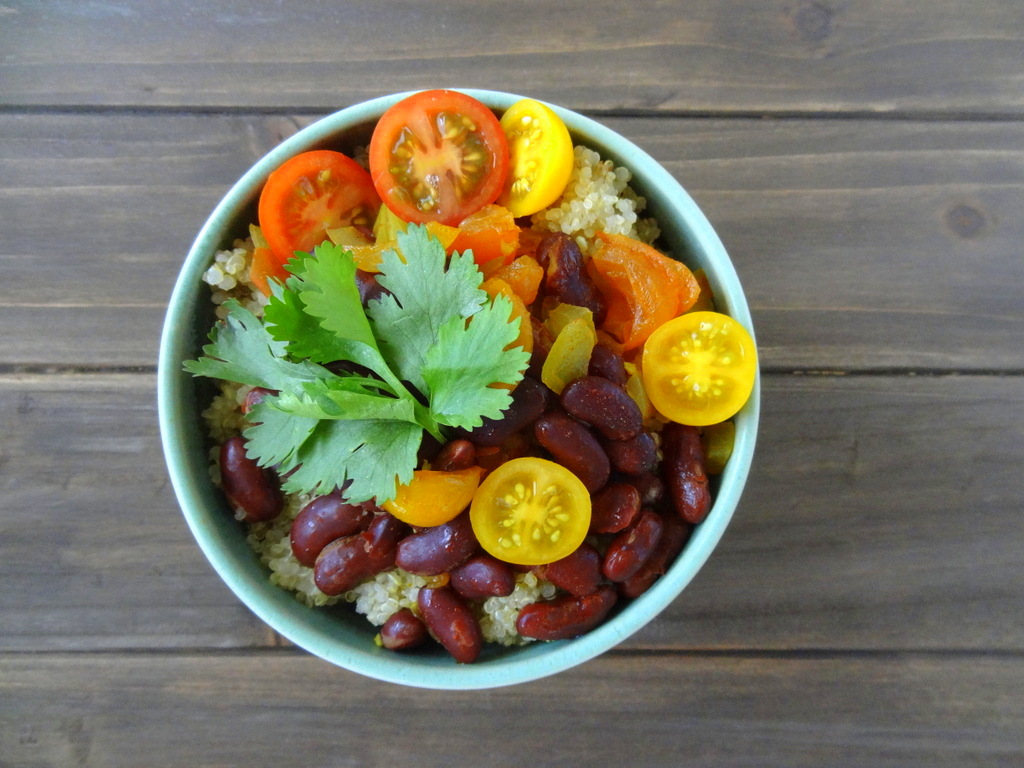 When I was younger and my dad took an interest in Indian cuisine, rajma was one of the few dishes I was completely on board with, since I've always had a fondness for kidney beans. In my view, rajma is a good introduction to Indian food for those who aren't familiar with the cuisine – it's essentially a spiced vegetarian chili! It's also a good introduction for those who are just starting to cook Indian food at home, since it's quite straightforward and doesn't take much time to make. Enjoy!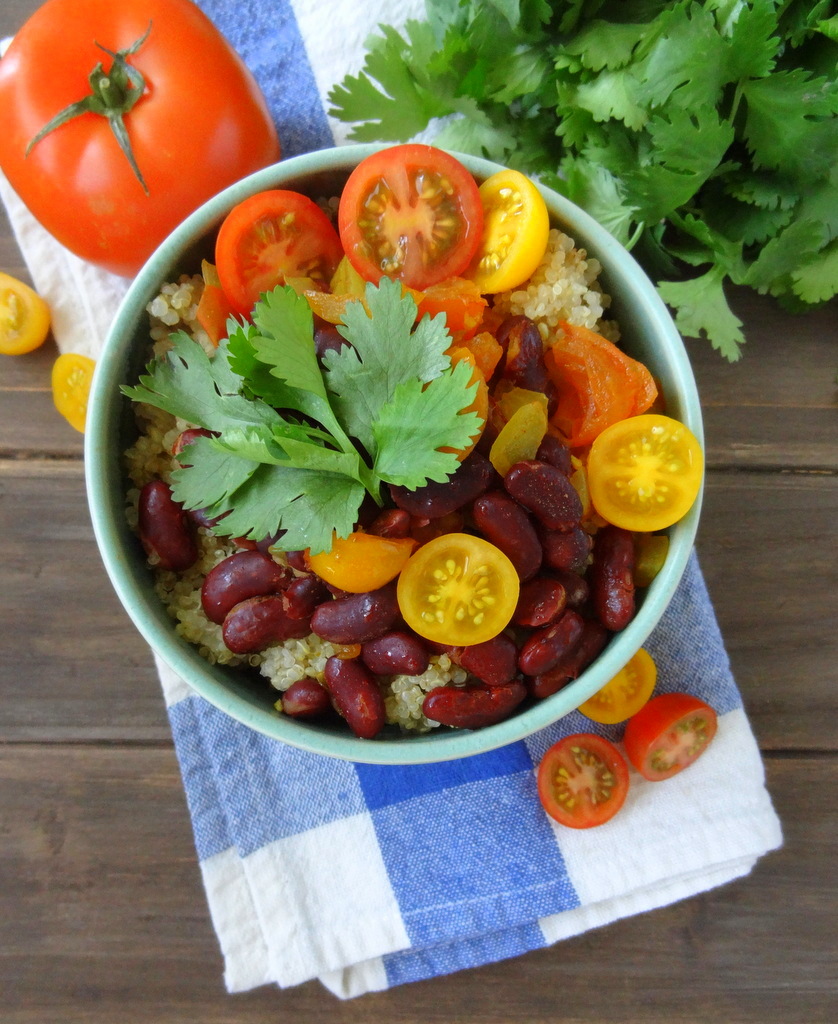 Rajma Quinoa
Servings: 6-8
Time: 35-40 minutes
Adapted from
Vij's At Home: Relax, Honey
Ingredients 
2 cups uncooked quinoa
1/4 cup vegetable oil
1 large onion, diced
3 large cloves garlic, minced
1 1/2 cups tomatoes, diced (any kind)
1 tablespoon chili powder
1 teaspoon turmeric
1 tablespoon ground cumin
1 tablespoon ground coriander
1 teaspoon ground cayenne pepper
1 1/2 teaspoons salt
3 cups water
3 14-ounce cans kidney beans, rinsed and drained
1/2 cup cilantro, chopped
Instructions
1. Cook the quinoa according to the directions on the package. This will most likely call for 2 parts water and 1 part quinoa.
2. Heat the oil in a saucepan (3-quart capacity or larger) on medium heat for 1-2 minutes. Add the onion and sauté for about 8 minutes, until softened and semi-translucent (you do not need to stir the onions much, so I suggest measuring out and mixing together all of the spices in a small bowl while the onions are cooking). Add the garlic and cook for 2 minutes, stirring frequently.
3. Add the tomatoes and all of the spices, stirring to combine. Cook for 5 minutes.
4. Add the water and bring the mixture to a boil. Once it boils, add the kidney beans and return to a boil, then cook for an additional 3-5 minutes.
5. Serve rajma over quinoa and garnish with chopped cilantro.