Warning: this apricot rhubarb crumble is not for the faint of heart – if you don't like tart desserts, this is not your cup of tea dish of crumble. If you do, keep reading! And if you're on the fence, serve it with a big scoop of vanilla ice cream! Actually, even if you're not on the fence, putting ice cream on top still sounds like a good idea…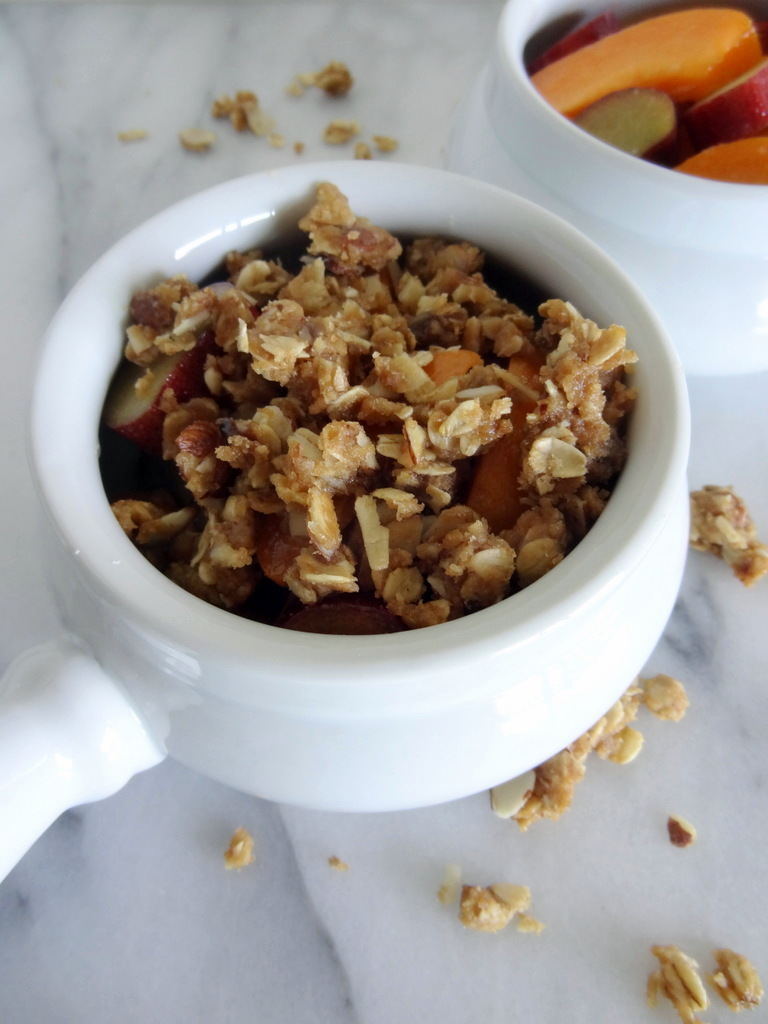 I often ate dried apricots when I was growing up, but it occurred to me last summer while making apricot compote that I didn't really know if I liked fresh apricots – I couldn't remember ever having eaten one. Earlier this week, while reading through The Flavor Bible, I found my explanation:
"Apricot is a fruit you need to cook to help unleash its flavors. A bite of raw apricot is kind of bland and doesn't excite very much. If you throw that same apricot into the oven and heat it up a bit, it turns into a whole different fruit." –Emily Luchetti, Farallon (San Francisco)
And there you have it! I often wonder about the first people who figured out things like these, like that cooked apricots are exponentially tastier than raw ones (or, "Hey! Let's see what happens if we grate this zucchini and stick it in a cake!") I like to imagine it goes something like this scene from Ratatouille.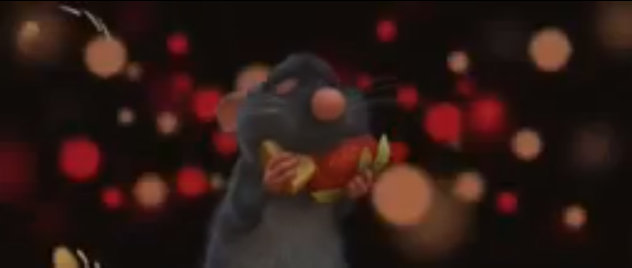 Ratatouille is one of my favorite animated films ever…no surprise there!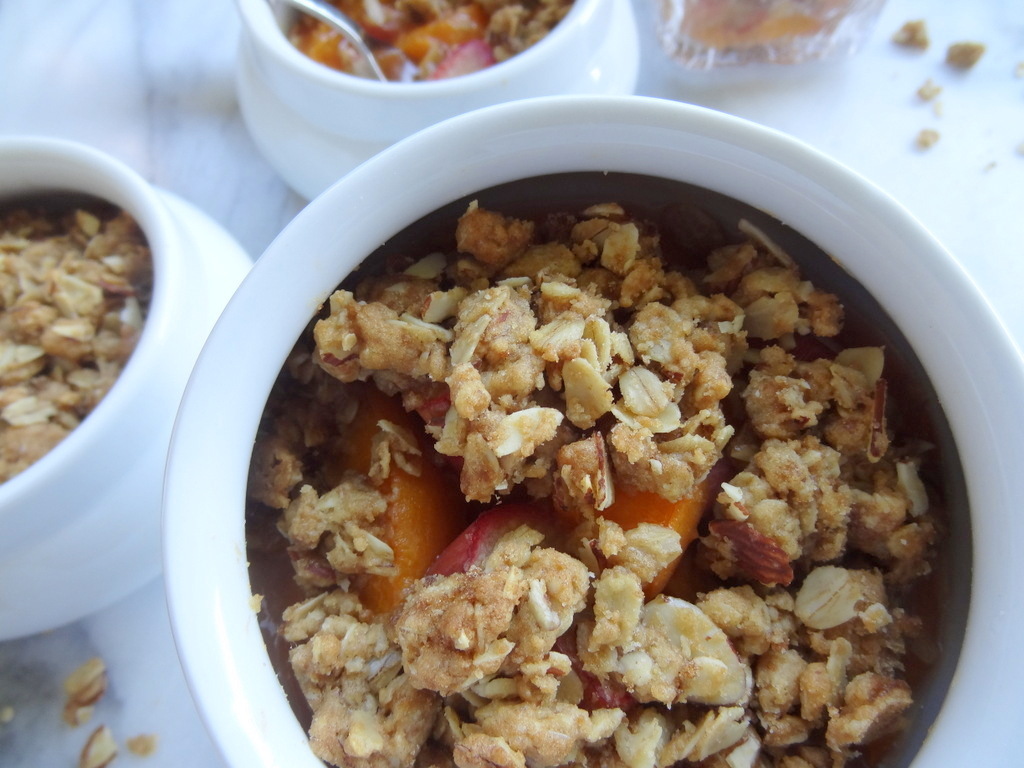 Anyway, back to this apricot rhubarb crumble. I had four apricots sitting around, begging to be made into something, and a few stalks of rhubarb left over from making rhubarb simple syrup for cocktails, so I decided to combine them into what I imagined I would bake in two individual soup crocks and call "apricot rhubarb crumble for two." Except the volume of fruit far exceeded my mental calculations, so a third crock was called into service, but then, as it turns out, a crock full of dessert is a bit much for one person, so this recipe really serves about four. Whoops. But hey, who ever complained about having extra dessert on hand? (Answer: no one I want to be friends with!)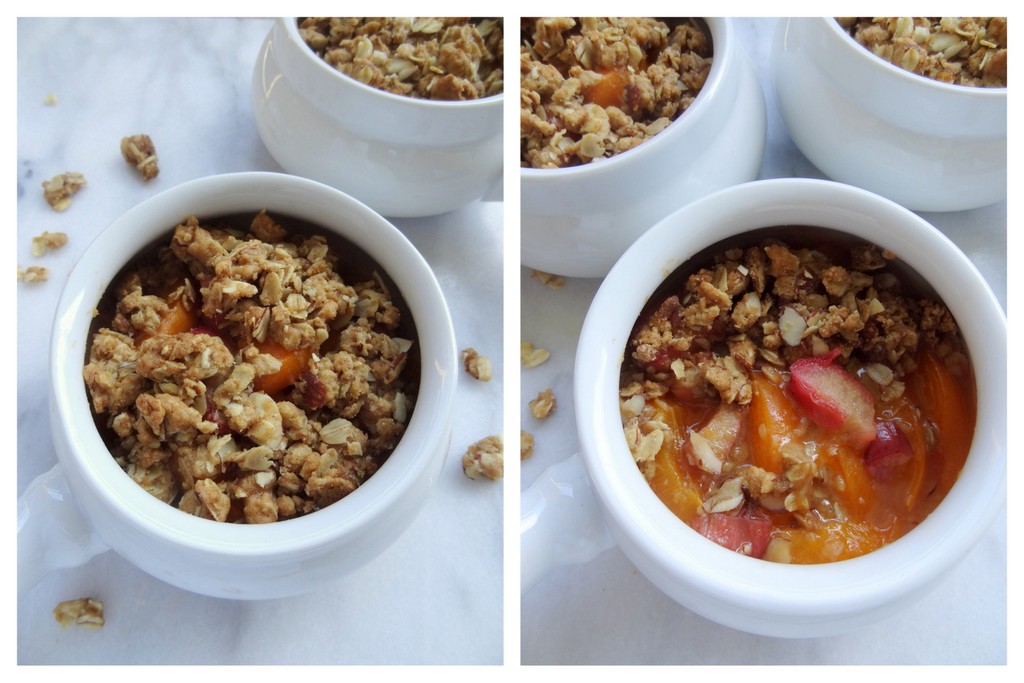 Apricot Rhubarb Crumble
Servings: 4
Time: 1 hour, 10 minutes (20 minutes active time)
Ingredients
Fruit mixture
4 apricots, cut into 1/2-inch thick slices
2 stalks (about 1/3 pound) rhubarb, ends trimmed, cut into 1/4 – 1/2-inch thick slices
2 tablespoons brandy
1 teaspoon vanilla extract
1/4 cup sugar
1 teaspoon cornstarch
Topping
1/3 cup oats
1/3 cup flour
1/3 cup brown sugar
1/8 teaspoon baking soda
1/8 teaspoon baking powder
3 tablespoons slivered almonds
1/4 cup butter or dairy-free margarine, melted
Instructions
1. Preheat the oven to 350 degrees. Coat the soup crocks (or ramekins or whatever you're using) with baking spray, and set aside.
2. In a large bowl, combine sliced apricots, sliced rhubarb, brandy, and vanilla extract. In a small, separate bowl, mix together the sugar and cornstarch before adding it to the fruit. Stir to combine, then set aside.
3. Prepare the topping: in a medium bowl, stir together all the ingredients except the melted butter. Once combined, pour in the melted butter and toss with a fork until all the dry ingredients are coated and small clusters form.
4. Portion out the fruit mixture into the soup crocks (you may want to use a slotted spoon to do this, if there is a lot of liquid), and spoon the topping on top.
5. Bake for 45-50 minutes*, until the rhubarb can be easily pierced with a knife. Serve warm.
* The time may have to be adjusted, depending on what you bake the crumble in. If you bake it in a casserole dish, it will take longer to bake than in individual portions.