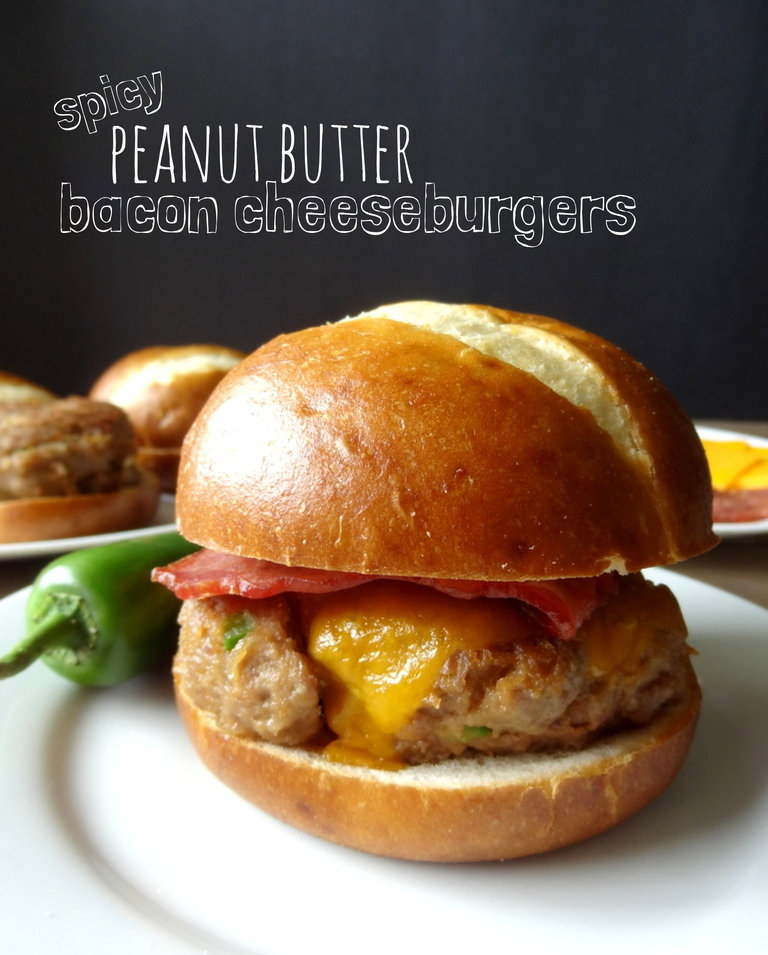 Happy first day of summer! In honor of the official start of summer, I thought I'd share my blog's first ever burger recipe with you all!
First, let's talk about these wonderful spicy peanut butter bacon cheeseburgers, and THEN I'll tell you about the fiasco that went down the day I made them, okay? Okay.
The first time* I heard of a burger with both cheese and peanut butter, I was pretty grossed out – those two things cannot possibly go together, right?! Well actually, they can, and quite nicely! While a lot of peanut butter burgers have a layer of peanut butter smeared on top of the burger, these burgers have peanut butter inside them, which makes for a slightly subtler flavor – the peanut butter adds a hint of sweetness, while also boosting the robust taste and richness that some people claim turkey burgers lack. As for the bacon and cheese, well, I don't really need to convince anyone on that front, right?!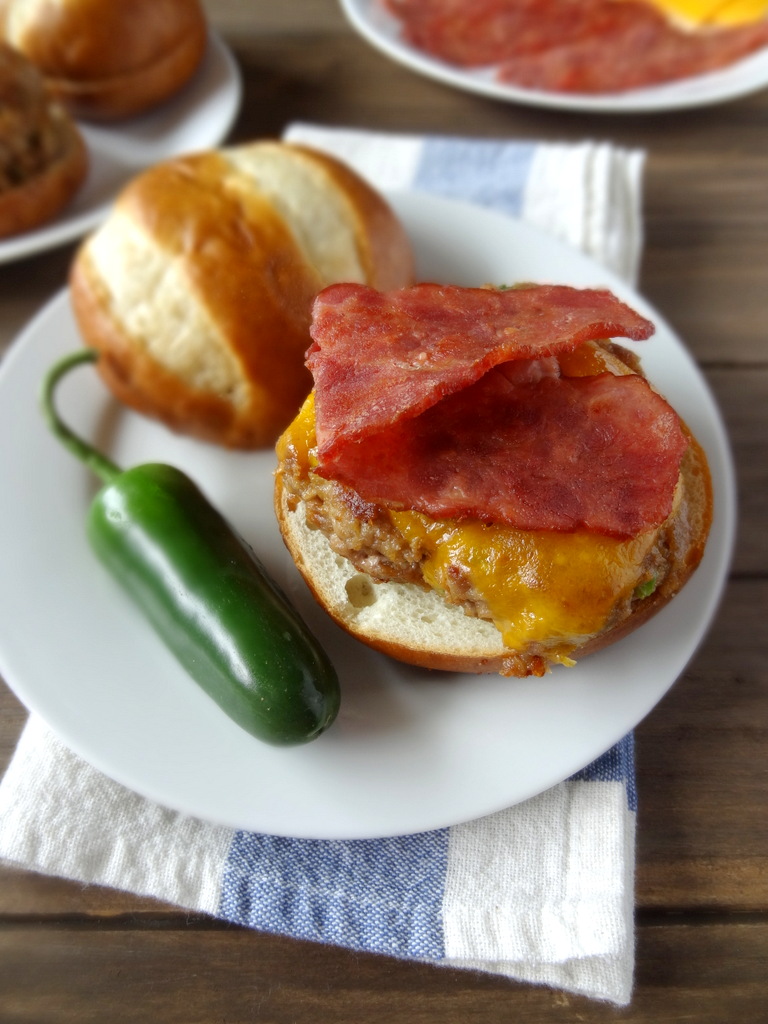 Now, story time: the day I made these burgers was not my day.
While the burgers were finishing up on the stove, I started preparing my photography set-up, and in doing so, I realized that the dog I'm dog-sitting had peed all over the bottom of my bookshelf. Lovely.
As I scramble to clean up the bookshelf and surrounding area, there comes a knock at the door. It's the maintenance guy, who has come to fix the oven. My dog goes bonkers (an otherwise amicable dog, she harbors an intense and unremitting hatred of the maintenance guy, and I'm really not sure why), and when I try to stop her from lunging at him, she completely shreds the skin on my feet and shins with her nails. Cool.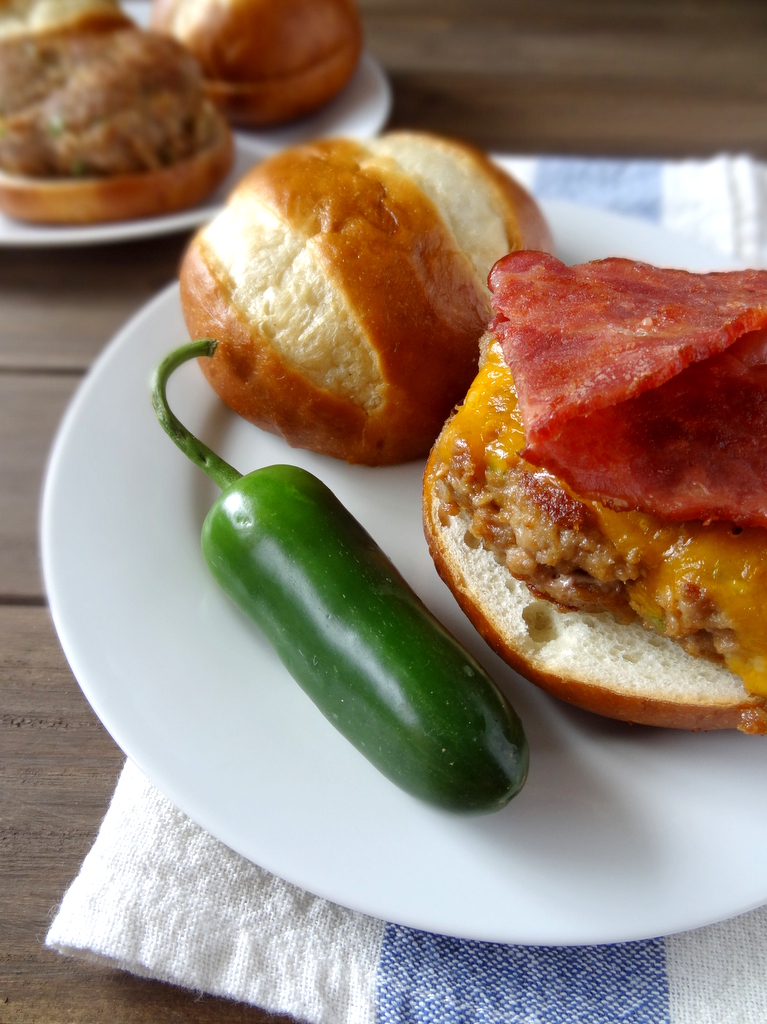 So I toss her in the bedroom with the other dog and the maintenance guy starts about his work on the oven; unfortunately for him (and much to my embarrassment), the kitchen is a steamy mess since I'm not exactly the tidiest cook in the world and I took the burgers off the stove about ninety seconds before he arrived. Meanwhile, I awkwardly debate whether to wait until he's gone to start taking photos, because let's be honest, it's not exactly normal to be crawling around on the floor taking pictures of food in the middle of the living room.
…except it soon becomes clear that this is not going to be a quick job, and I've got melted cheese turning rubbery, so I end up doing a hasty photo shoot – as the dogs in the background continue barking their heads off and the maintenance guy comes and goes four more times to retrieve different parts and tools (and of course, each time he knocks, it sets off a renewed frenzy of barking).
Totally not stressful at all, right?!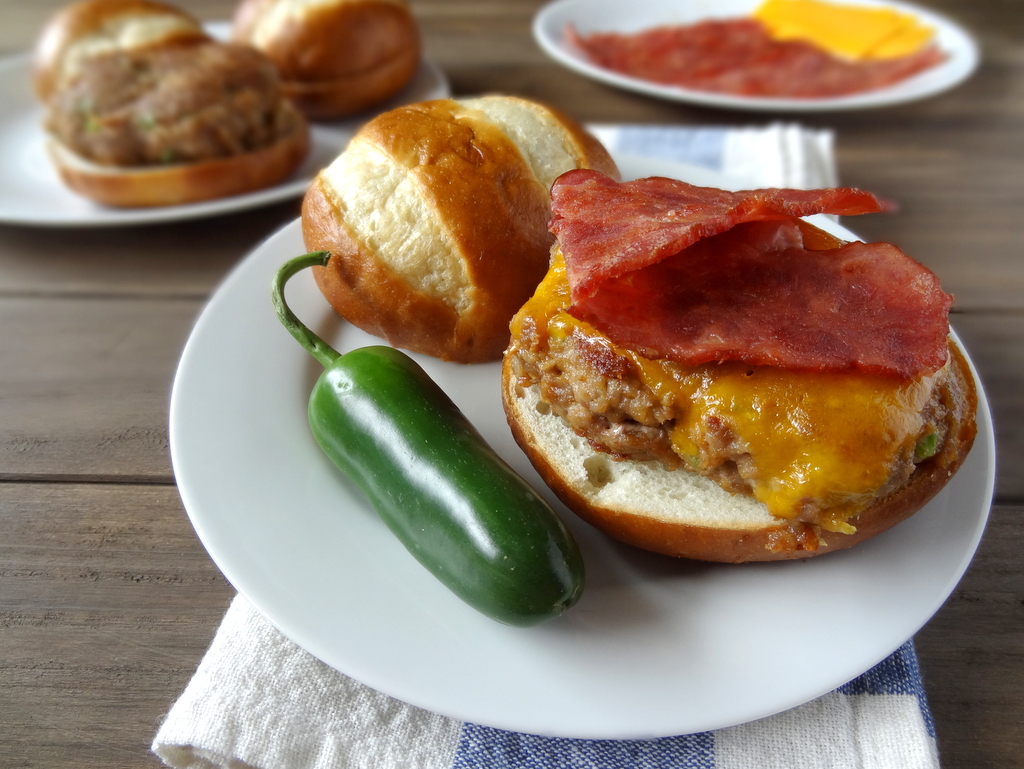 So, in brief, it was not my day. BUT, at least I got to have these awesome spicy peanut butter bacon cheeseburgers for dinner! Let me tell you, these babies can really help make up for a not-so-stellar day.
What's your favorite kind of burger? What's the most bizarre combination of ingredients you've ever tried (or seen) in a burger?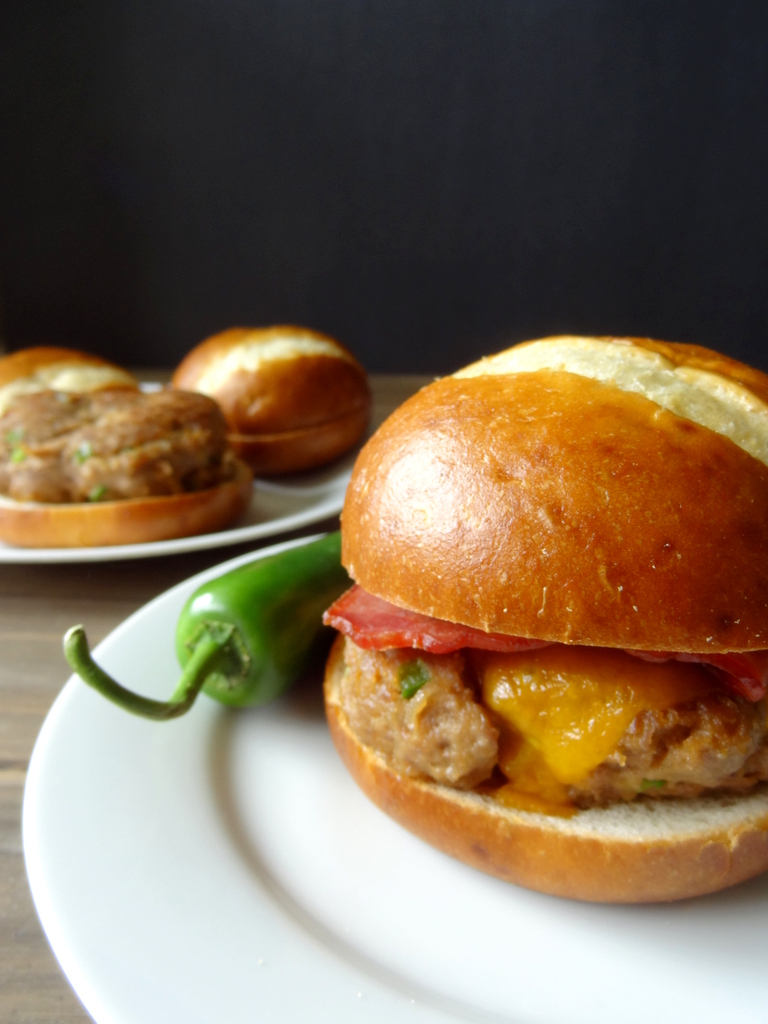 * To give inspiration credit where inspiration credit is due, I'm pretty sure this was at the Burger Lounge in South Lake Tahoe. I say "pretty sure" because it was about six years ago that I was there, and I myself didn't actually try the burger at the time. Apparently, it took me six years to work up the gastronomical courage.
Spicy Peanut Butter Bacon Cheeseburgers
2016-01-18 13:55:01
Ingredients
1 pound ground turkey
1/2 teaspoon salt
1 jalapeño, seeded and finely chopped
1/3 cup creamy peanut butter
1 tablespoon vegetable oil
4 strips bacon (I use turkey bacon)
4 slices cheddar cheese
4 buns or rolls
lettuce (optional)
tomato slices (optional)
Instructions
In a large bowl, mix together the ground turkey, salt, chopped jalapeño, and peanut butter. Once combined, separate into 4 equal portions. Form each portion into a patty about 3/4-1 inch thick, and press an indentation into the center of each with your fingers (this will help the burger keep its shape as it cooks).
Heat the vegetable oil in a skillet over medium heat for 2-3 minutes. Place the patties in the skillet and cook for 3-4 minutes on each side. While the patties are cooking, in a separate pan, cook the bacon according to the directions on the package (alternatively, to minimize the number of pans used, you can cook the bacon beforehand in the same skillet while you prepare the patties). You can, of course, grill the burgers instead. I didn't because I didn't have access to a grill.
Reduce the heat on the patties to low. Flip the patties back over to the original side, top with cheese, cover the skillet with a lid, and cook for an additional 3 minutes.
Place the patties in the buns, top with bacon, lettuce, and tomato slices (if desired).
Notes
Makes 4 medium burgers or 3 large burgers.
Put on Your Cake Pants http://putonyourcakepants.com/