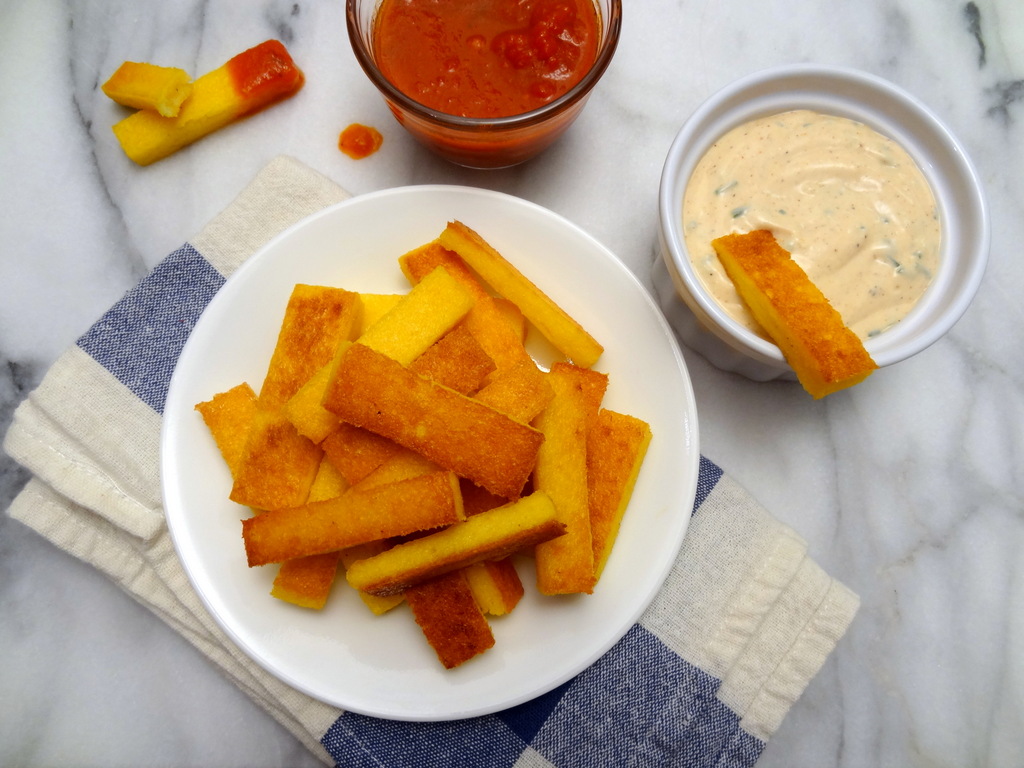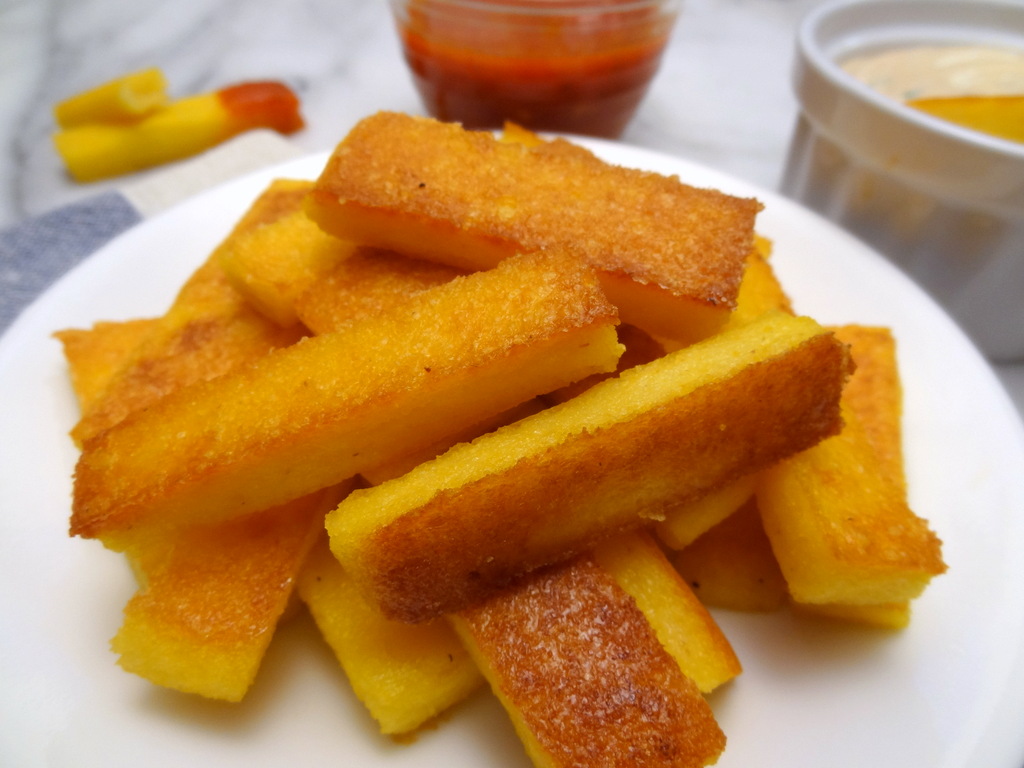 I've been to one Super Bowl party in my life. I've watched my fair share of college football, but that was because I was in the marching band, so I wasn't tailgating or watching the game with a spread of snack foods and beer and such. Consequently, I don't have much experience with football food, but even so, I KNOW these polenta fries would fit right in at a football party! They're cheesy, salty, a tad crispy, perfect for dipping in various sauces, and they're even easy to make! Heck, forget football, I'd come to the party just for the fries.
I whipped up some homemade chili BBQ ranch dressing to go along with the polenta fries, but there are tons of other options for dipping – guacamole, salsa verde, queso dip (if you're feeling particularly cheese-y)…even regular marinara sauce! Polenta has been one of my go-to quick comfort foods for a long time (a bowl of polenta, a fried egg or two, and some veggies is a simple but tasty dinner), and this is great a way to snazz things up a bit and make some crowd-pleasin' polenta! Enjoy!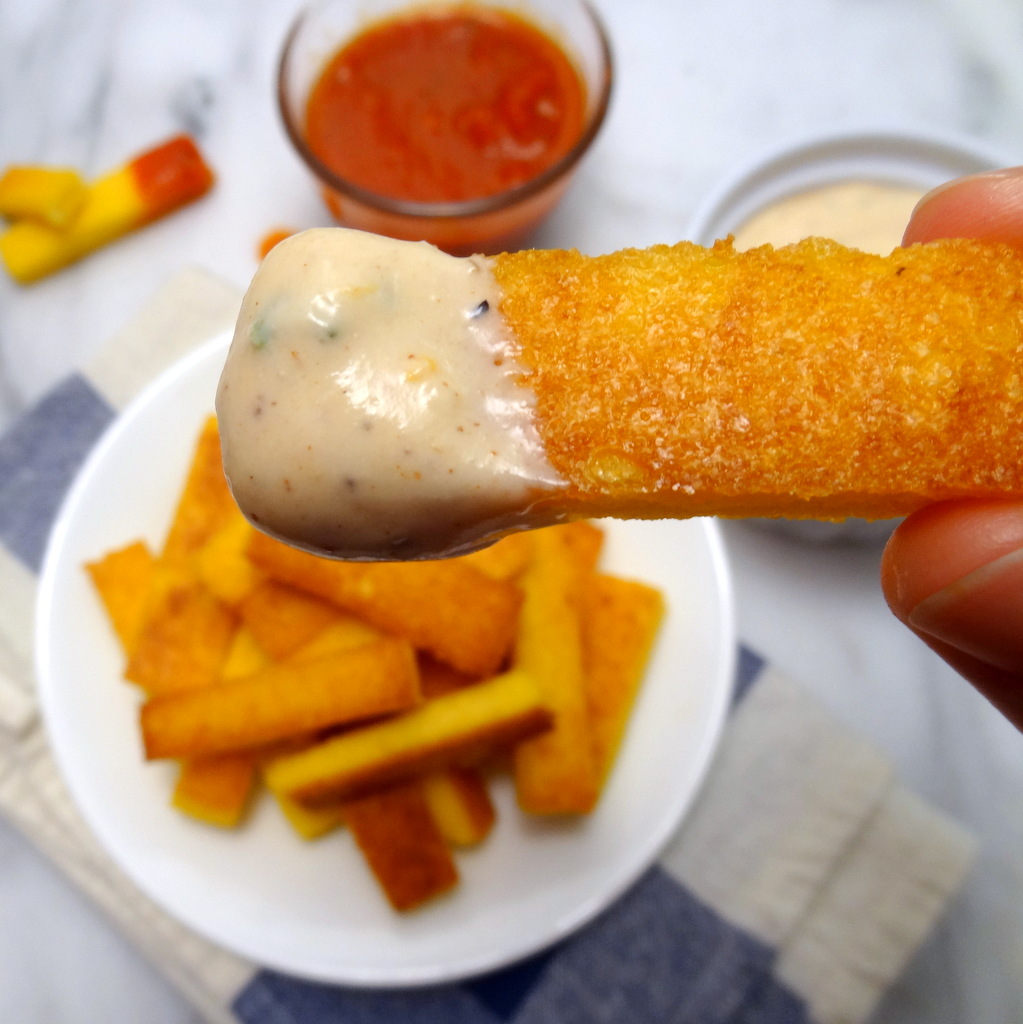 Baked Polenta Fries with Chili BBQ Ranch Dressing
2016-01-19 21:42:12
Serves 4
Ranch dressing
2 cloves garlic, minced
1/2 teaspoon sea salt
1 cup low-fat sour cream
1/2 cup light mayonnaise
1/2 teaspoon chili powder
1/4 cup chives, finely chopped
2 tablespoons BBQ sauce
2 tablespoons chili sauce
1/2 cup buttermilk (or 1/2 tablespoon lemon juice + a scant 1/2 cup milk)
Polenta fries
4 cups chicken broth
1 1/4 cups cornmeal
1/4 teaspoon salt
2 tablespoons butter or margarine
2/3 cup Fontina cheese, grated
1/3 cup cheddar cheese, grated
olive oil
Ranch dressing
With a fork, mix together minced garlic and 1/2 teaspoon sea salt. In a medium bowl, combine garlic and salt with remaining ingredients (except buttermilk). Stir until smooth.
Add buttermilk, starting with just a few tablespoons. Stir and keep adding until the ranch dressing has attained the consistency you like. Refrigerate in an airtight container for at least 4 hours before serving, to allow the flavors to marinate.
Polenta fries
In a medium saucepan, bring chicken broth to a simmer. Add cornmeal slowly – be sure to whisk constantly, as this will prevent lumps from forming.
Once the cornmeal has been incorporated, remove the saucepan from the stove. Add salt, butter/margarine, and cheese. Stir until smooth.
Coat the surface of a rimmed baking sheet with olive oil. Pour the polenta onto the baking sheet, and use an offset spatula to smooth the polenta into a rectangle such that it is about 1/2-inch thick. Place the baking sheet in the refrigerator to cool for 45 minutes to 1 hour.
Preheat the oven to 450 degrees.
Transfer the polenta to a cutting board. Cut the polenta into fries, about 1/2-inch wide. Place fries back on the baking sheet and coat with a little bit of olive oil (I just dip my fingers in oil and lightly brush the fries).
Bake for 20 minutes or until golden brown. Remove the fries from the oven and turn them over with a spatula 10 minutes into the baking time (or skip this, if you're feeling lazy, like I sometimes do – you'll get crispier sides if you flip them, though). Let cool for 4-5 minutes and serve with ranch dressing.
Notes
The amounts listed for the ranch dressing will likely yield more than you need for dipping.
For best results, you should refrigerate the ranch dressing for at least 4 hours before serving, but note that this is NOT factored into the total time as listed.
Ranch dressing recipe adapted from Joy the Baker.
Put on Your Cake Pants http://putonyourcakepants.com/
This is my submission for this month's
Cheese Recipe Blog Challenge
. Check out some of the recipes from other bloggers
here
!