A couple weeks back, Jhuls over at thenotsocreativecook nominated me for the Sunshine Award – thanks so much Jhuls! It always brightens my day to hear that someone enjoys reading my blog. The rules for the award are as follows:
1. Include the Sunshine Award icon in your post.
2. Link back to the blogger who nominated you.
3. Answer 10 questions about yourself.
4. Nominate 10 other bloggers to receive the award.
5. Link to your nominees and let them know you nominated them.
6. Create 10 questions for your nominees to answer.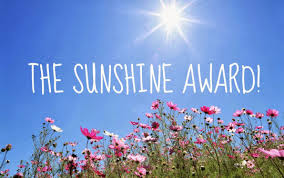 So without further ado, here are my answers to the ten questions!
1. Why did you start blogging?
I started blogging because I felt like I was lacking an artistic outlet – I wanted something completely separate from my work into which I could channel my creative energy.
2. Sweet or Savoury?
Lately, I've actually been more into savory foods (perhaps it's all the cold wintery weather that is making me crave hearty, savory foods), but my blog's name is Put On Your Cake Pants after all…
3. If you were to go on any reality TV programme, what would it be and why?
I really can't see myself ever applying to be on a reality TV show, but I do watch the Bachelor and Bachelorette – it's one of those shows that I can't tell if I love to hate it or hate to love it. As far as this current season is concerned, however, it's definitely a case of "love to hate it."
4. What was the last thing you Googled?
Other than tax-related questions or driving directions, the last thing I Googled was Amy Adams' dance moves during Pharrell's Oscar performance. I never found a good video clip, come to think of it…
5. Night In or Night Out?
Night in, typically. It's fun to go out every now and then, and certainly for special occasions, but I'm a homebody at heart.
6. What has been your favourite blog post to write?
It's hard to pick a favorite, but two in particular stand out to me: grapefruit pistachio French macarons and chocolate hazelnut truffles. These were fun to write because previous attempts at similar recipes turned out to be spectacular flops, and as much as I love when a recipe turns out right the first time, it's even more rewarding when a success comes after some, er, non-successes.
7. What's the one thing you never leave home without?
Besides the usual things like keys, my wallet, and my phone, I try to always have hand lotion with me. Having dry hands makes me extremely and weirdly uncomfortable.
8. Where would you most like to travel to?
That's a tough question too, since there are SO many places I'd love to visit, but right now I'd have to say that Peru is at the top of my list.
9. If you could have any super power, what would it be?
When I received a nomination for the Liebster Award in December, I said that I'd like the ability to slow down or speed up time. After experiencing this year's dreadfully awful (and still ongoing) winter, I'd like to change my answer: either teleportation (since this would preclude any sort of need to drive in the snow and ice) or the ability to change the weather at will.
10. What can we expect to find from your blog in the future?
I'm hoping to include recipes that are more seasonal (based on whatever fruits and veggies are in season – I especially can't wait for summer fruits!), and to improve my photography skills! I'm also working on making the blog more user-friendly. I'm currently going through old posts and making it easier to print out recipes, which is something I hadn't even thought about until my mom asked me about it! I sometimes forget that not everyone precariously perches a laptop on top of random heaps of junk in the kitchen to be able to read recipes while cooking.
I'll pose the same set of questions to my nominees – and my apologies for failing to follow directions and only nominating four!
Frosting and a Smile – Laurie's got some seriously delicious-looking desserts and gorgeous photos!
Two Peas and a Wad – Jennifer offers tasty, imaginative recipes that are organic and easy on the wallet!
Sugar and Cinnamon – Lillian's desserts have got you covered, whether you're looking for gluten-free, dairy-free, or vegan recipes!
Dorm Room Baker – Rebecca provides mouth-watering recipes that she whips up in her dorm kitchen! I rarely managed anything more complex than Easy Mac in the dorms, so I never cease to be impressed.
Speaking of sunshine…I'll leave you with this photo of a puppy who is very much enjoying her sunny spot on a cold winter afternoon.