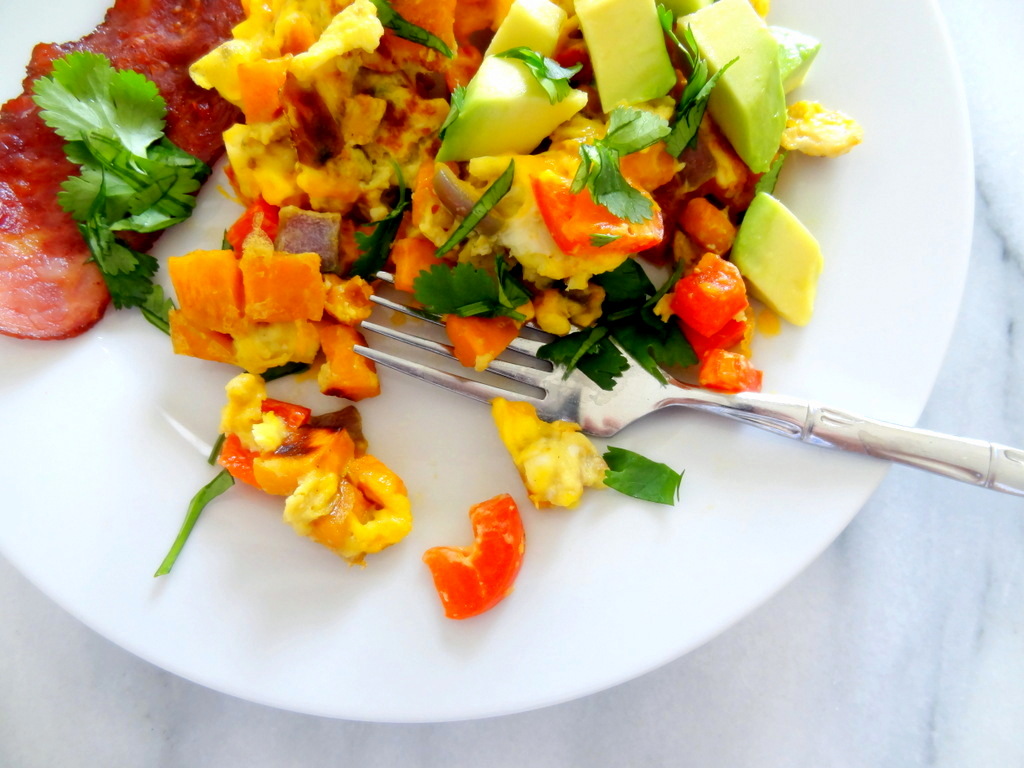 Some mornings, you just need an extra little push to get going, you know? Last Sunday was one of those mornings for me. It was late February yet the temperatures resembled those of January, the insides of my nose kept freezing every time I had to take the dog outside, I had papers to grade and a midterm of my own to study for, and I was just not feeling motivated. So naturally, I decided to take a little extra time (i.e. "procrasti-cooking") to fix a nice and very colorful breakfast to give me the energy I needed to tackle the day! This breakfast scramble combines a bunch of different veggies for a filling and flavor-packed meal with a vibrant, fiesta-like feel. It's also super easy to customize – just throw in whatever veggies you have on hand!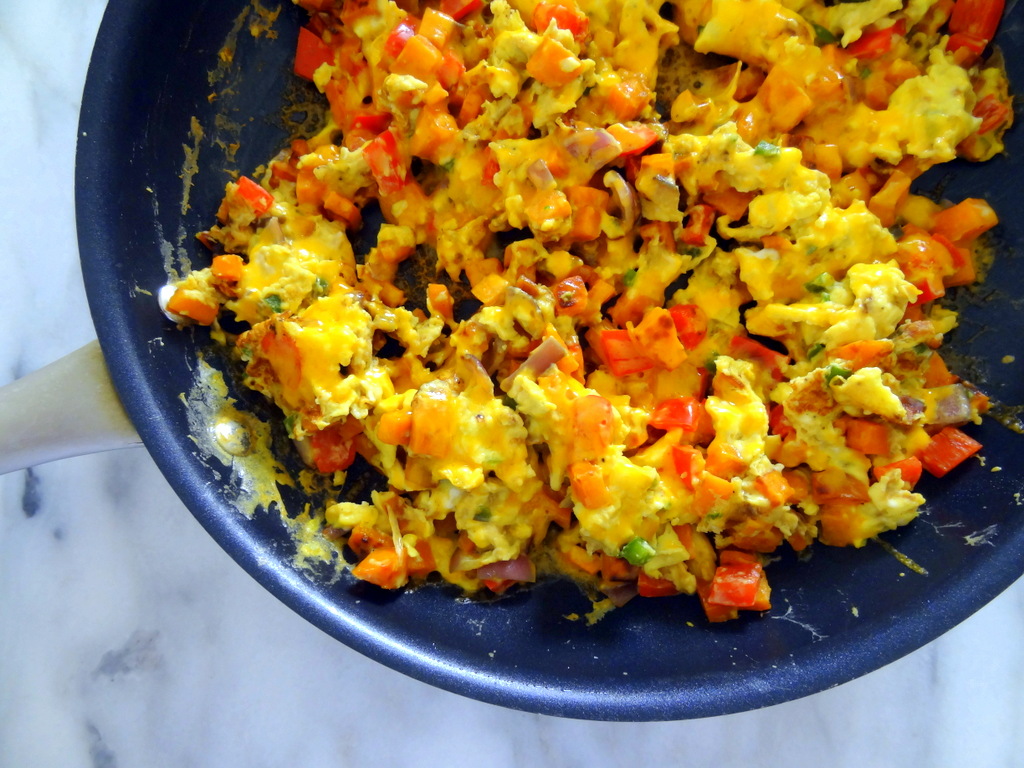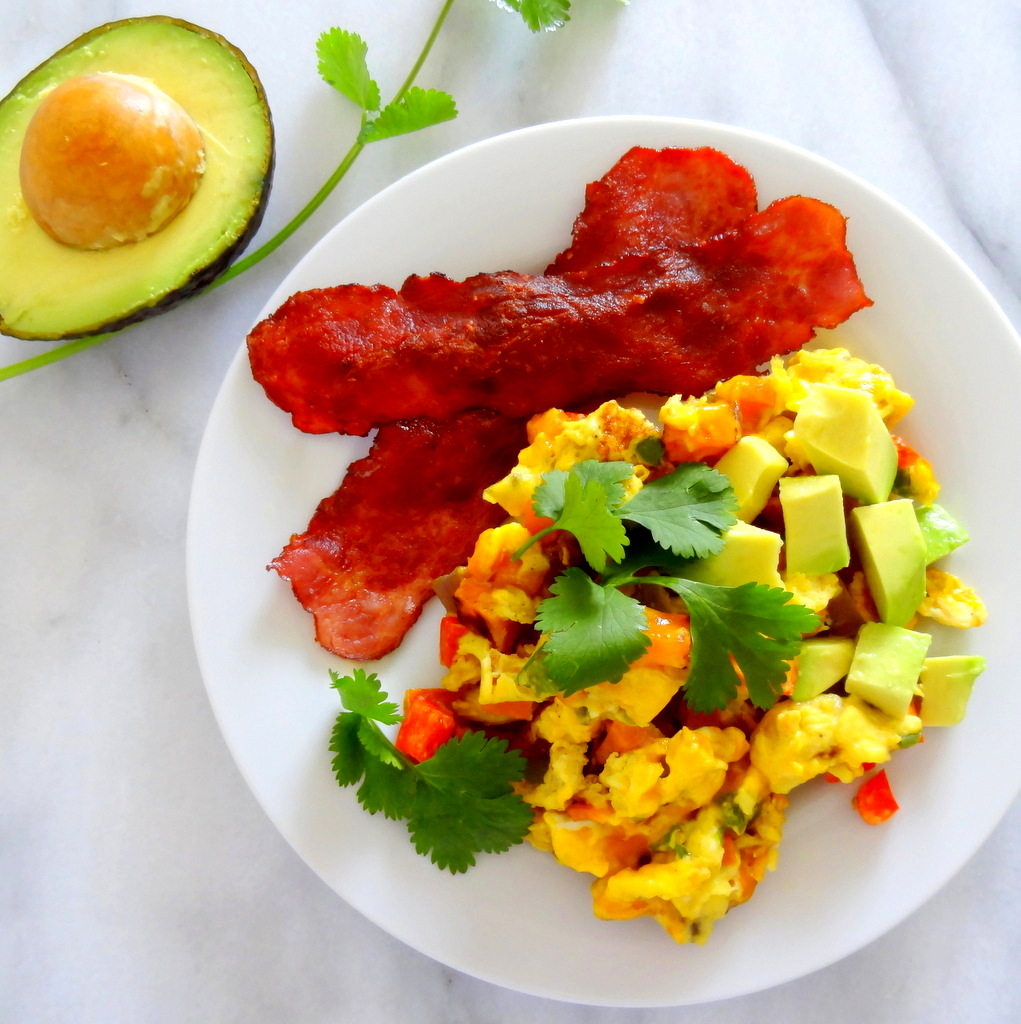 Mexican Fiesta Breakfast Scramble
Servings: 2-3
Time: 30 minutes
Ingredients
1 tablespoon vegetable oil
1 large sweet potato (about 10 ounces), cut into 1/4-1/3-inch cubes
1 small onion (yellow or red), diced
1/2 red bell pepper, diced
1 jalapeño, seeded and diced
6 eggs
1/4 cup milk
1/2 cup cheddar cheese, grated
1 avocado, diced
cilantro
salt and pepper
Instructions
1. Heat the oil in a non-stick skillet over medium heat for 1-2 minutes. Add the cubed sweet potatoes and cook for 5 minutes, until slightly softened. Add onion, bell pepper, and jalapeño and cook until onions are tender and translucent, about 8-10 minutes.
2. Whisk together eggs and milk, adding salt and pepper as desired.
3. Once the sweet potatoes are soft enough that you can easily pierce them with a fork, pour the beaten eggs over the vegetables in the skillet. Cook, swirling a spatula around periodically to ensure all the eggs come into contact with the skillet surface.
4. When the eggs are nearly cooked (they should still have a slightly shiny, wet appearance), sprinkle grated cheese on top and place a lid on top of the skillet. Cook for 1-2 minutes, until cheese has melted.
5. Serve topped with diced avocado and cilantro.