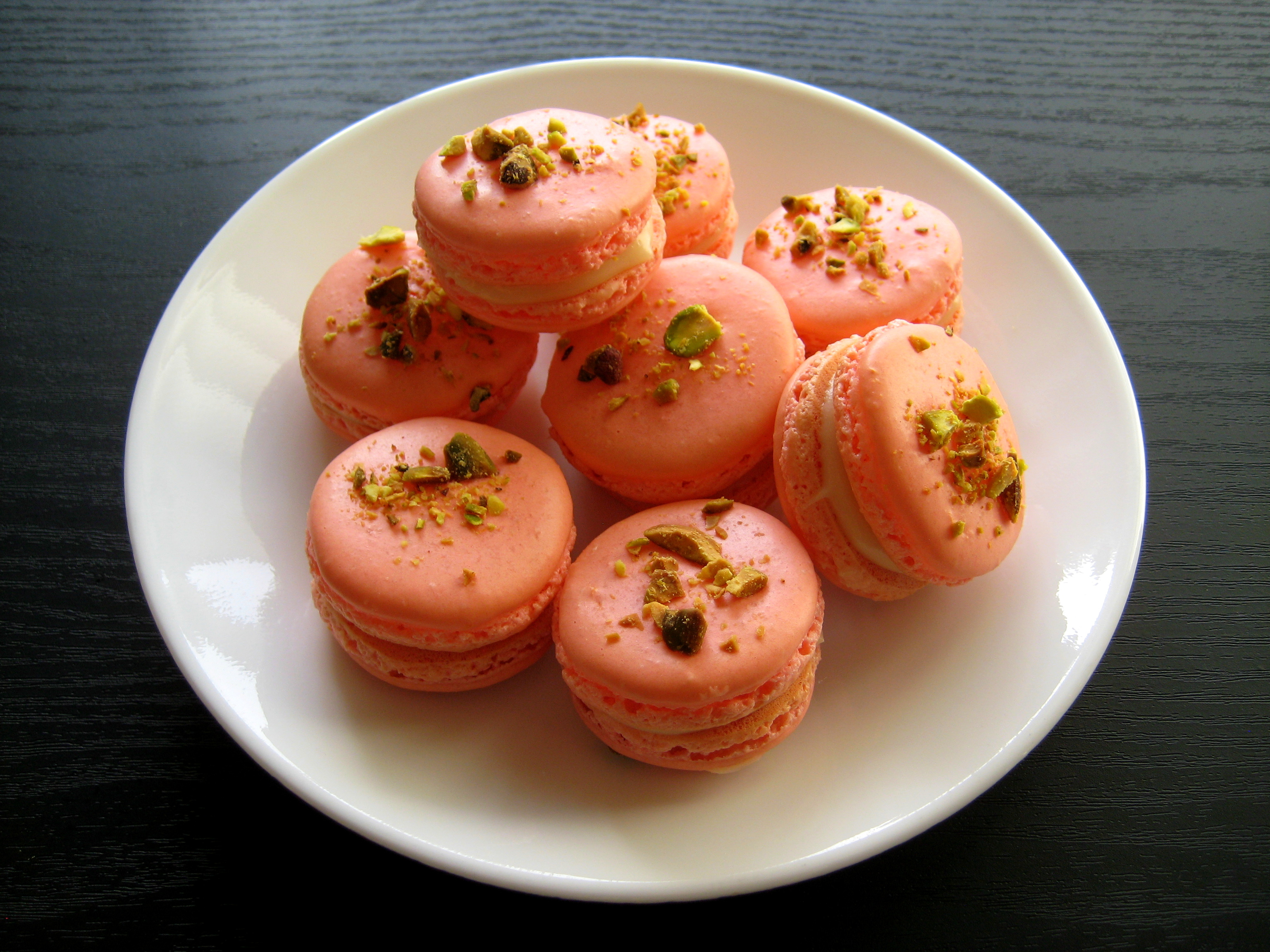 Confession: it wasn't until several months after I started making French macarons that I actually ate a French macaron from a bakery (and I still have yet to try one made in France!), so I can't say that it was due to a craving that I decided to try making them. Well, I suppose it was a craving of sorts. A craving for a challenge, that is. I had read multiple accounts of how difficult and finicky they are, and so I wanted to see what all the fuss was about. My first batch (vanilla shells filled with lemon curd) turned out amazingly well! I was stoked. Then my next batch (raspberry with chocolate ganache), though still delicious, didn't yield the prettiest results. The next batches (vanilla and blueberry; chocolate and mint) were even worse. I had shells that still showed the piping spirals, shells without feet, and one unfortunate incident in which I added too much vanilla extract and ended up with very boozy-tasting macarons (and not in a good way). Frustrated, I swore off making French macarons and only baked good old American chocolate chip cookies for months. Well, not really, but I steered clear of finicky dessert recipes.
After some time, however, I decided to drop my grudge and try again. I'm glad I did, because otherwise, I wouldn't have arrived at these beauties.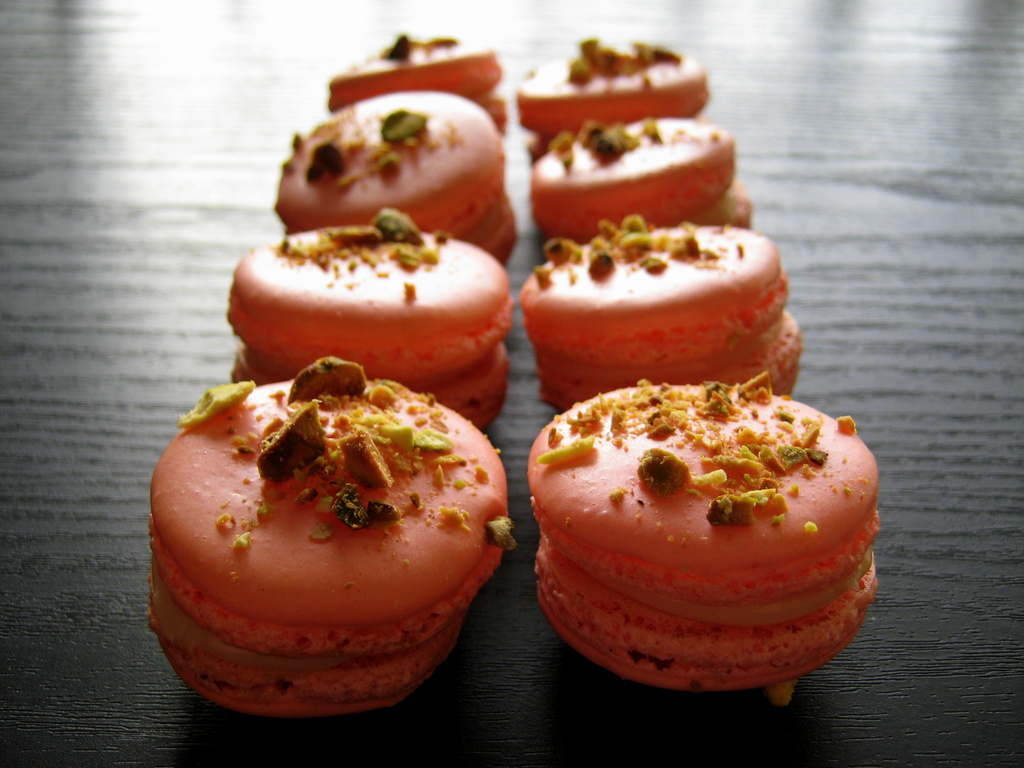 Grapefruit Pistachio French Macarons
Servings: makes about 50 shells (25 macarons)
Time: about 2 1/2 hours
Ingredients
Macaron shells
1 cup powdered sugar
3/4 cup almond flour
2 large egg whites, room temperature
Pinch of cream of tartar
1/4 cup superfine sugar (you can also use regular sugar after pulsing in a food processor)
1 teaspoon grapefruit zest
pink and yellow food coloring
chopped pistachios
White Chocolate Grapefruit Ganache
1 1/4 cup white chocolate chips
1/4 cup grapefruit juice
1/8 cup orange juice
1 teaspoon lemon juice
Instructions
Plan-ahead Prep
1. Two days before you plan on baking the macaron shells, place egg whites in a sealed container in the refrigerator. On baking day, allow  egg whites to warm up to room temperature before beating.
Ganache
1. Melt white chocolate chips over a double boiler. If you do not have a double boiler, put the white chocolate chips in an oven-proof glass bowl. Place a saucepan with 1 to 2 inches of water in the bottom on the stove on low heat, and set the glass bowl on top. As the water heats up, stir the chocolate until melted and smooth.
2. Combine grapefruit, orange, and lemon juices. Add to the melted chocolate and whisk until combined. Store ganache in a sealed container in the refrigerator until 30 minutes before filling shells.
Note: You can make the ganache at any point—either before or after baking the shells. I recommend doing it a day or two before, and then taking it out of the refrigerator 30 minutes before you are ready to fill the shells.
Baking Day – Shells
1. Pulse powdered sugar and almond flour in a food processor until combined. Sift mixture twice, discarding any hard, small, seed-like accumulations that do not pass through the sifter. If you are using almond flour from an already-opened package, I recommend spreading it out on a baking sheet and baking it in the oven at 250 degrees for about half an hour, to remove moisture it may have absorbed over time.
2. Preheat oven to 375 degrees. Whisk egg whites with mixer on medium speed until foamy in appearance. Add cream of tartar and whisk until soft peaks form. Add superfine sugar and increase speed to high. Whisk until stiff peaks form, about 6-7 minutes.
3. Add grapefruit zest and food coloring, folding gently into beaten egg whites. You will want to use more pink than yellow, and remember – a little bit goes a long way!
4. Sift flour mixture on top of beaten egg whites, and gently fold until mixture is smooth and slightly runny. When you lift the spatula, you want to see a ribbon of batter trailing from it.
5. Line 2 or 3 baking sheets with parchment paper. Transfer batter to a gallon-size ziploc bag, squeezing the batter into one bottom corner and twisting the bag at the top of the batter. You may want to put a twist-tie here to keep the bag in place. Cut a 1/4 inch hole in the corner of the bag. Starting at the center and spiraling outward, pipe the batter into 1-inch rounds on the baking sheets, about 1 inch apart from each other. Try to drag the tip of the bag lightly against the outside of the circle to finish each round.
6. Sprinkle tops of rounds with chopped pistachios. Tap bottom of each baking sheet lightly on counter to release any air bubbles. Set aside for 15 minutes.
7. Reduce oven temperature to 325 degrees. Bake sheets one at a time for 10 minutes each, until shells are crisp—be careful not to let them brown, though! After each sheet, increase oven temperature to 375 degrees for 5 minutes, then reduce to 325 degrees.
8. Let macarons cool on baking sheets for 2 to 3 minutes before transferring to a cooling rack. Let cool completely before filling shells with ganache.
9. To finish, sandwich about a teaspoon of ganache between two shells.
Bon appétit!
Note: In order to serve the freshest possible macarons, store the shells in the refrigerator or freezer until you are ready to fill them, then serve immediately. You can also fill the macarons ahead of time and store them fully assembled in the refrigerator or freezer.