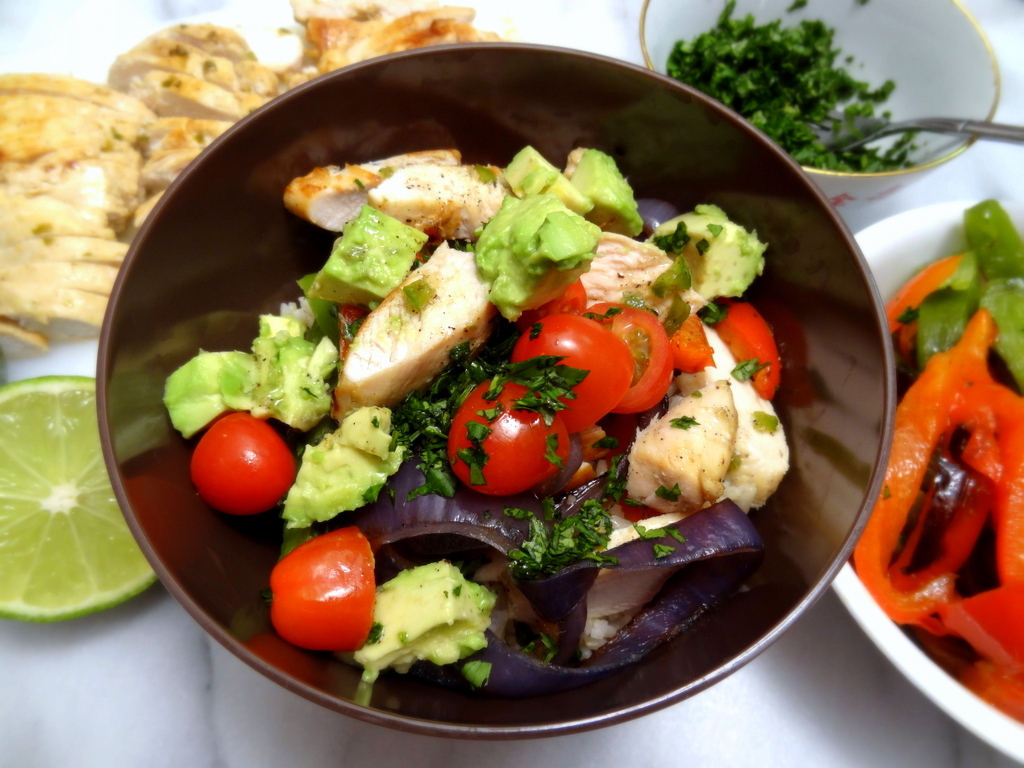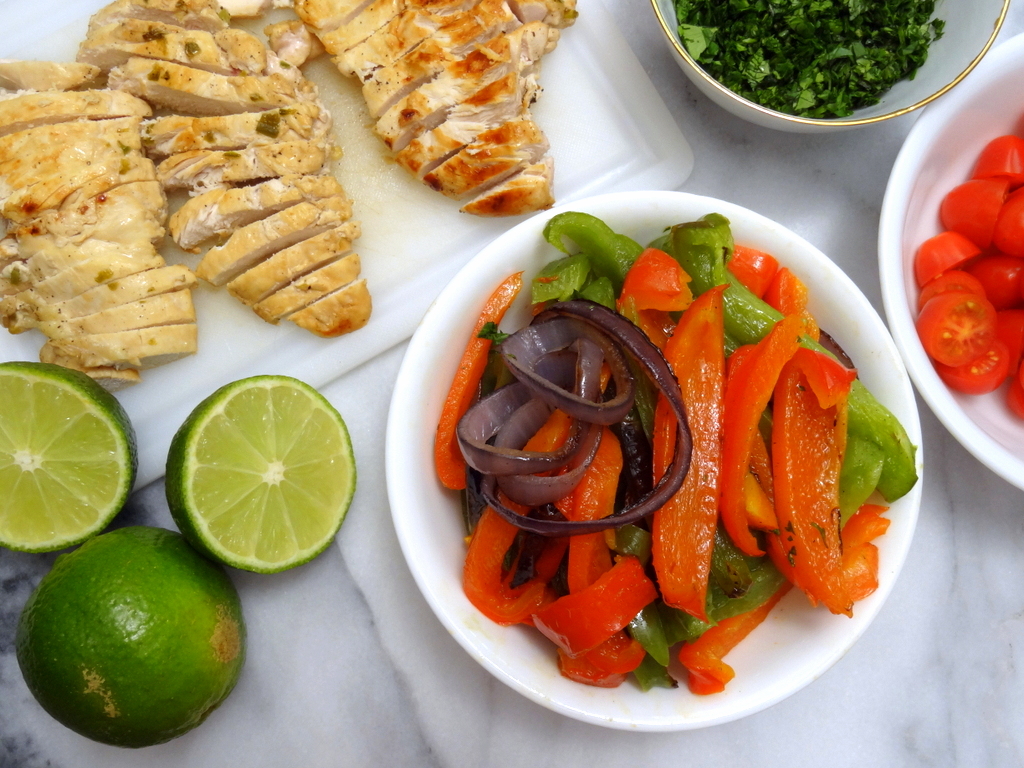 Fajitas have always been a tricky food for me, since I typically try to cram the tortillas with far more than their actual capacity. Half of the contents then spill out the back end of the tortilla, leaving behind a delicious mess that, as I gobble it down with a fork, proclaims to everyone at the table that my eyes were larger than my stomach tortilla. So, I figure, why not just skip the extra steps (and embarrassment*) in between and make a fajita bowl?!
I love a good one-bowl meal, since I often finish making a main dish and then realize I have no accompanying vegetables or protein. Not a problem in this case, though! These fajita bowls have got you covered: bell peppers, onions, tomatoes, avocado, and chicken, served with brown rice! Before cooking the chicken, you marinade it in an amazingly flavorful combination of lime juice, jalapeños, Worcestershire sauce, cilantro, and garlic – my brother found the recipe in Cook's Illustrated and made it for the family over the holidays, and after one taste, I knew I had to get the recipe from him – it's fantastic! One of the best things about this recipe is that you don't need any special equipment (or weather), since there's no grilling involved. This way, you can enjoy fajita bowls rain or shine, any time of year! ¡Buen provecho!
*There is, of course, a time and place for traditional fajitas—and I do love fajitas regardless of the mess I make—but there are also times when one would rather not be trying to eat a veritable volcano of Tex-Mex tastiness: for instance, when you're cooking for a date and want to retain some semblance of sophistication, when you have small children present, or when you have a dog who lunges to vacuum any fallen crumbs off your plate/lap/face.
Jalapeño-Lime Chicken Fajita Bowls
2016-01-18 16:58:21
Marinade
1/3 cup lime juice
4 tablespoons vegetable oil
3 cloves garlic, minced
1 tablespoon Worcestershire sauce
1 1/2 teaspoons brown sugar
1 jalapeño, seeded and diced finely
2 tablespoons cilantro, chopped finely
salt and pepper
Fajita bowls
4 tablespoons vegetable oil, divided
2 pounds boneless skinless chicken thighs
1 red onion, peeled and cut into 1/2-inch-thick rounds (do NOT separate the rings)
1 red bell pepper, seeds and stem removed, cut into quarters
1 green bell pepper, seeds and stem removed, cut into quarters
2 avocados, diced
1 cup grape tomatoes, halved
1/2 bunch cilantro, chopped
2 cups uncooked brown rice
Instructions
Prepare brown rice according to the package directions.
After starting the rice, combine the marinade ingredients in a medium bowl: lime juice, 4 tablespoons oil, garlic, Worcestershire sauce, brown sugar, jalapeño, cilantro, 1 teaspoon salt, and 3/4 teaspoon black pepper. Whisk until combined; set aside 1/4 cup of the marinade in a separate bowl. Add 1 teaspoon salt to the remaining marinade. Pour the marinade into a pie pan or shallow dish and place the chicken in the dish. Cover with plastic wrap and refrigerate for 15 minutes.
Position an oven rack to about 8 inches below the heating element. Preheat the broiler.
Without separating the rings of the onion, brush the onion rounds and bell pepper quarters with 2 tablespoons oil and sprinkle with salt and pepper. Place in a single layer on a rimmed baking sheet.
Remove chicken from the marinade and pat dry with paper towels. Discard the excess marinade. Heat 2 tablespoons oil in a large nonstick skillet for 2-3 minutes over medium-high heat. Place the chicken in the skillet and cook, without moving, for 3 minutes, or until nicely browned. Flip the chicken over and cook until the second sides are nicely browned, about 2 minutes. Reduce heat to medium and continue cooking, flipping chicken every 2 minutes or so, until the meat is no longer pink inside (about 6-8 minutes). Remove from heat and set aside.
While the chicken is cooking, put the vegetables into the preheated oven. Broil until the peppers are slightly charred, about 6-8 minutes. Using tongs, carefully transfer the peppers to a cutting board, and flip the onion rounds over. Return the onion to the oven and broil 2-4 additional minutes.
Once ingredients are cool enough to touch, slice the chicken and bell peppers into thin strips, and separate the onion rings. Toss the chicken, bell peppers, and onions with 2 tablespoons of the reserved marinade. Serve the chicken, bell peppers, onions, and tomatoes with the brown rice, and garnish with cilantro, avocado, and remaining marinade as desired.
Adapted from Cook's Illustrated (Sept. 2005)
Adapted from Cook's Illustrated (Sept. 2005)
Put on Your Cake Pants http://putonyourcakepants.com/