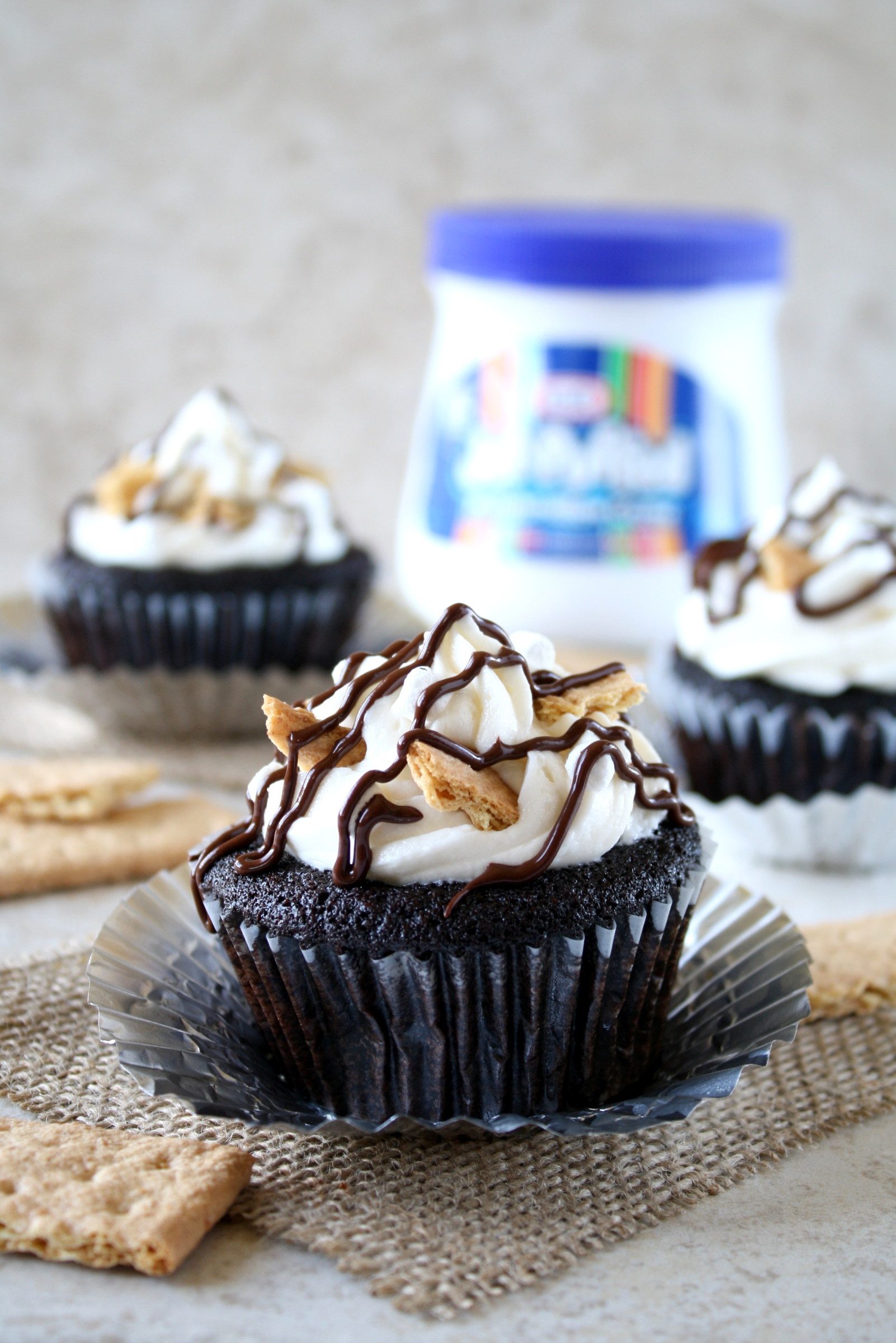 Happy first day of summer! What better way to celebrate than with a dessert inspired by s'mores, one of the quintessential emblems of summertime leisure? I have to admit: I've never been crazy about actual s'mores. Toasted marshmallows make my throat a bit tingly, and not in a good way—more in an "I think I'm coming down with a cold" way. But the combination of graham crackers, chocolate, and marshmallows is undeniably enticing, and after I recently had a s'mores cupcake from a local bakery, I knew I had to make my own version.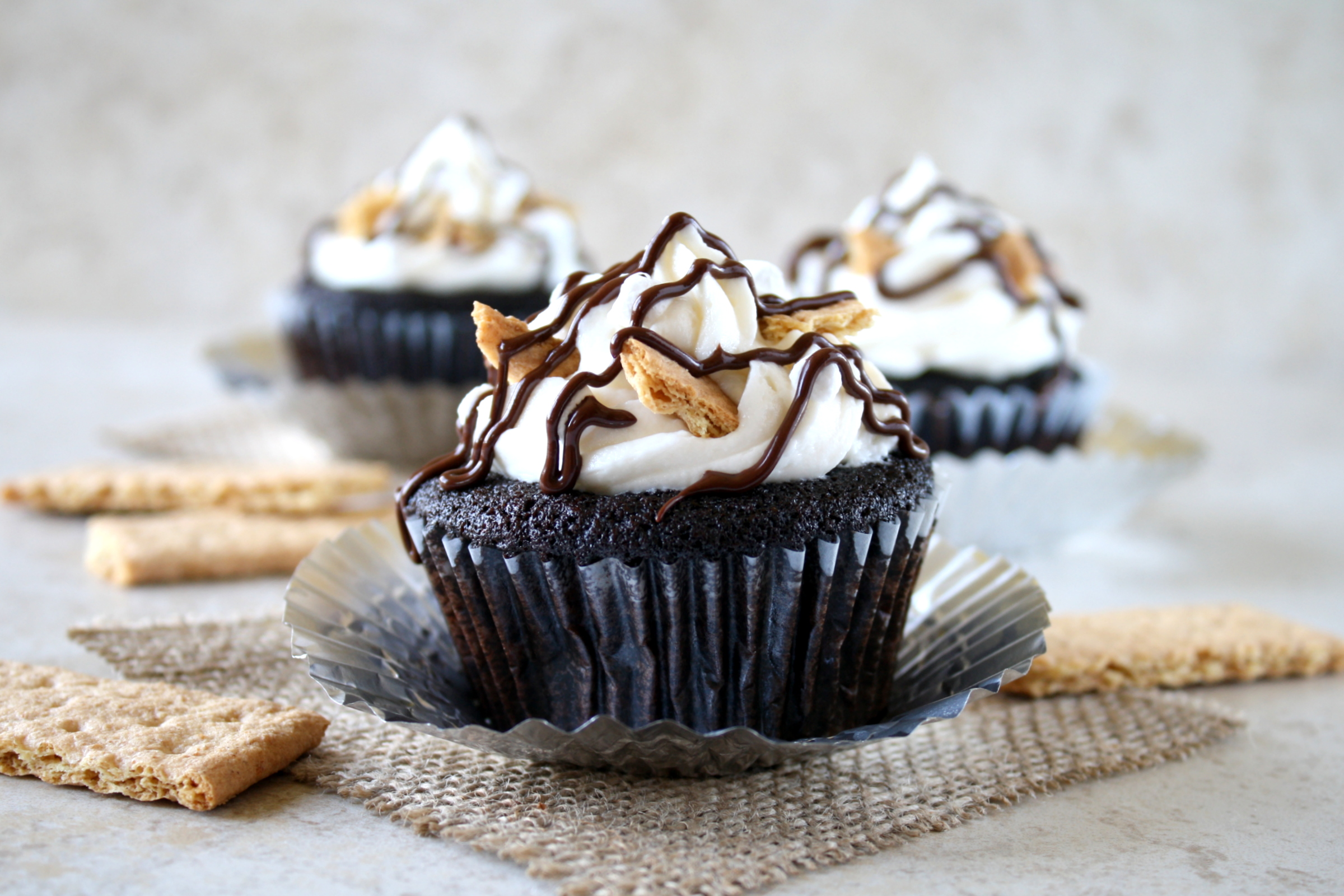 One of the things that sets this recipe for s'mores cupcakes apart from many of the others you'll find is that this one uses crushed graham crackers to replace most of the flour, so the sweet, honeyed flavor of graham crackers permeates the cake itself. The graham crackers also give the cake an almost impossibly moist crumb—if the cake were any more tender, it would probably fall apart!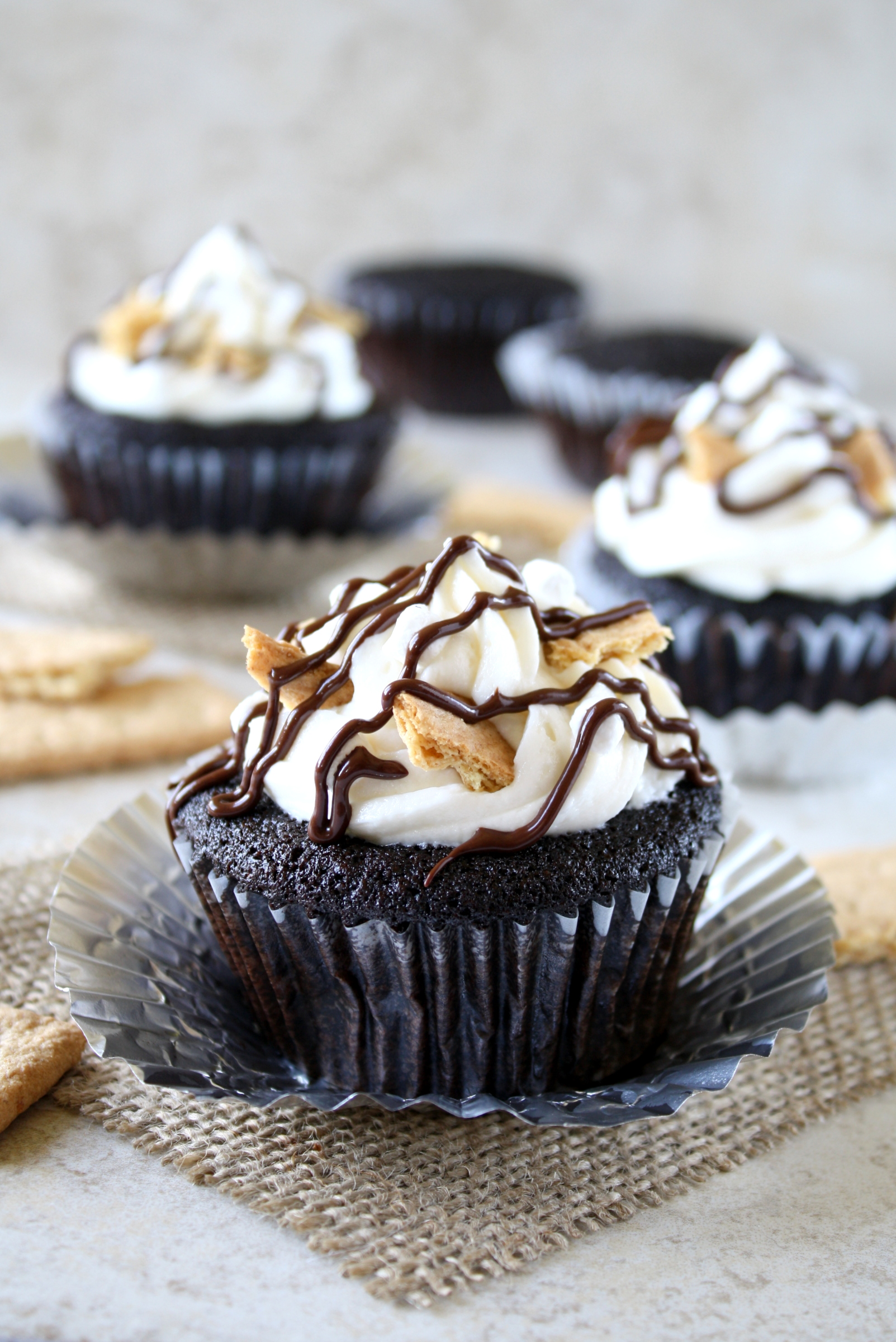 Another thing that sets this recipe apart is that it features a marshmallow buttercream, made with real marshmallow fluff. I've seen a lot of recipes for "marshmallow" frosting that don't actually involve marshmallows, but instead use egg whites to form a meringue that can then be toasted to look like marshmallows. But I really wanted that marshmallow-y flavor, plus I couldn't be bothered to bust out a blowtorch—it's summer, after all! I may be willing to get up early to bake before the heat arrives in full force, but I'm not about to sweat on the cupcakes by carefully torching the frosting atop each one.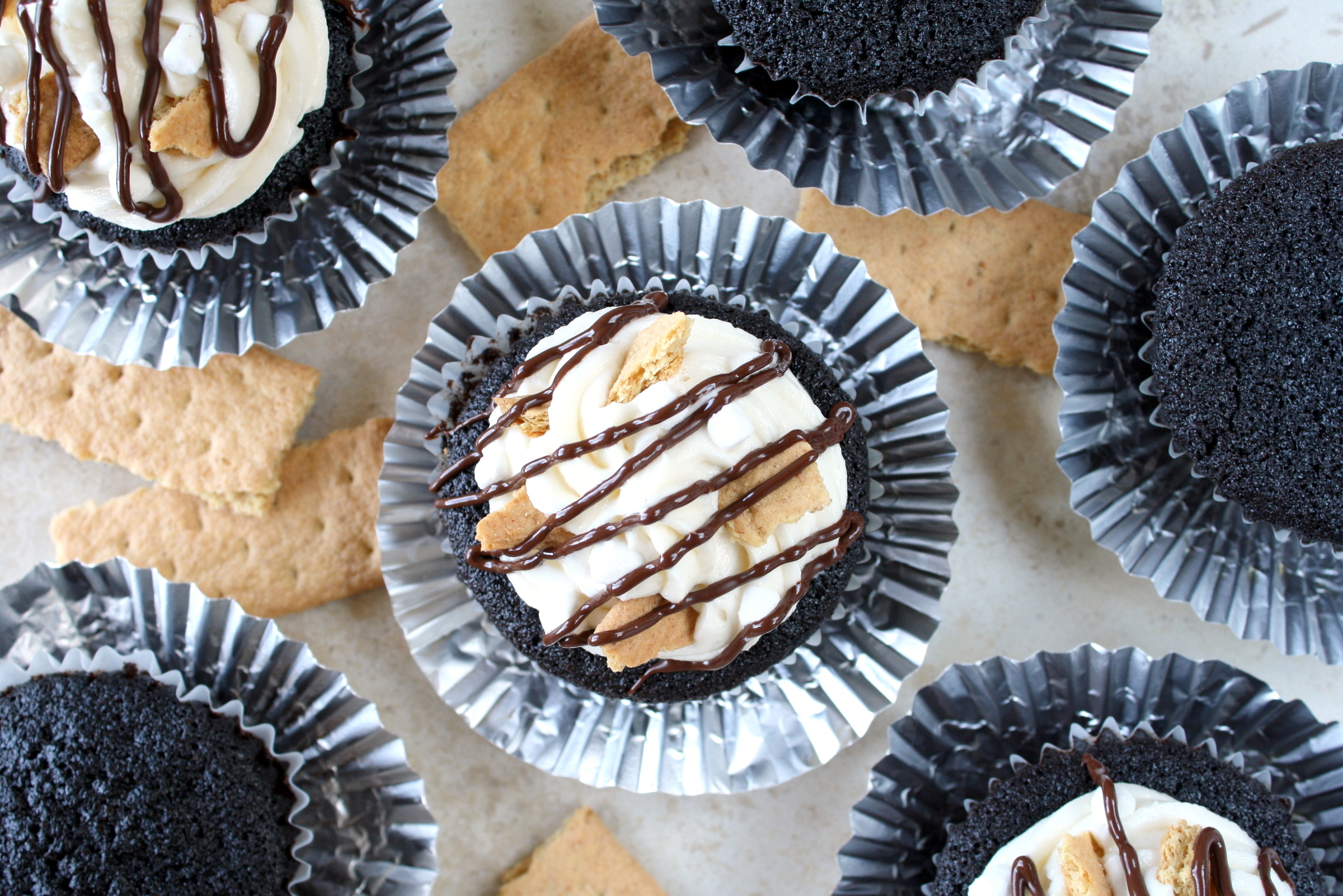 Since marshmallow fluff itself is pretty, well, fluffy, and not great at holding its shape, I used some shortening to help the frosting stiffen up. Shortening has a higher melting point than butter, so it helps the frosting keep its shape and not slide off the cupcakes if they're sitting out for a bit. I actually made two different versions of the marshmallow buttercream—one with some shortening and one without—and then put them to the test by bringing the cupcakes to the boyfriend's family, which meant sitting in a warm car for an hour (it was 90 degrees outside!). The frosting with shortening held up marvelously, while the frosting without flattened out and puddled on top of the cupcakes. Taste-wise, however, they're very similar, so if presentation isn't a priority, go ahead and skip the shortening.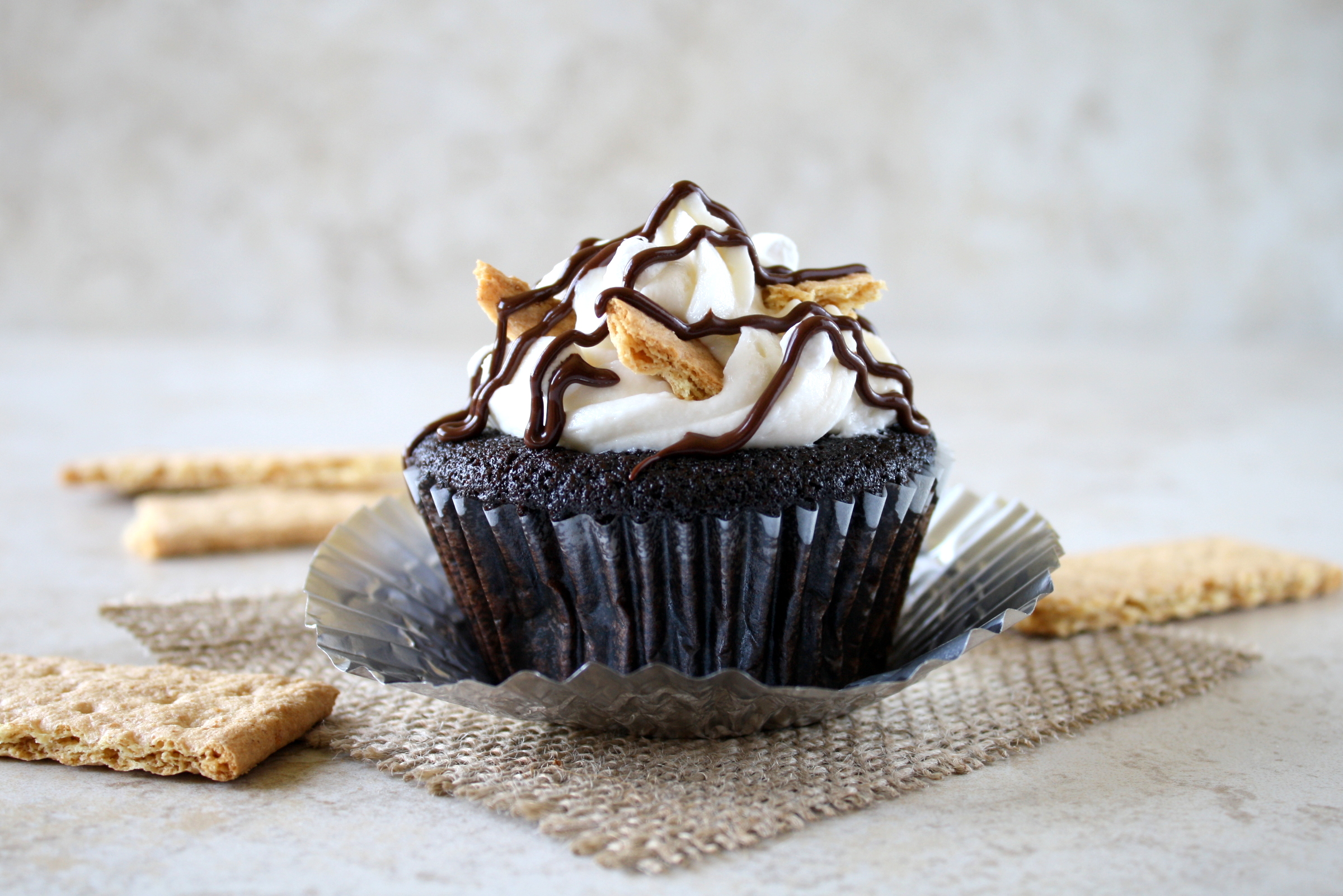 These s'mores cupcakes will sweeten up any pool party or kid's birthday party, but they're certainly not just for kids—people of all ages will ooh and ahh over these decadent treats!
Which foods do you consider essential in order for it to feel like summer?
Recipe of the Week
,
The Wednesday Showcase
,
Foodie FriDIY
, and
Fiesta Friday
.