As much as I enjoy coming up with new recipes in the kitchen, I consider Christmas a time for traditions, and baking these Aunt Della's cookies has been one of my family's holiday traditions as far back as I can remember. We're not exactly sure where the recipe originated at this point, but my mom got the recipe from her mom, who we think got it from a friend of hers…who either got the recipe herself from an Aunt Della or from someone else who had an Aunt Della. So basically we have no idea who Aunt Della is, but we certainly love her cookie recipe!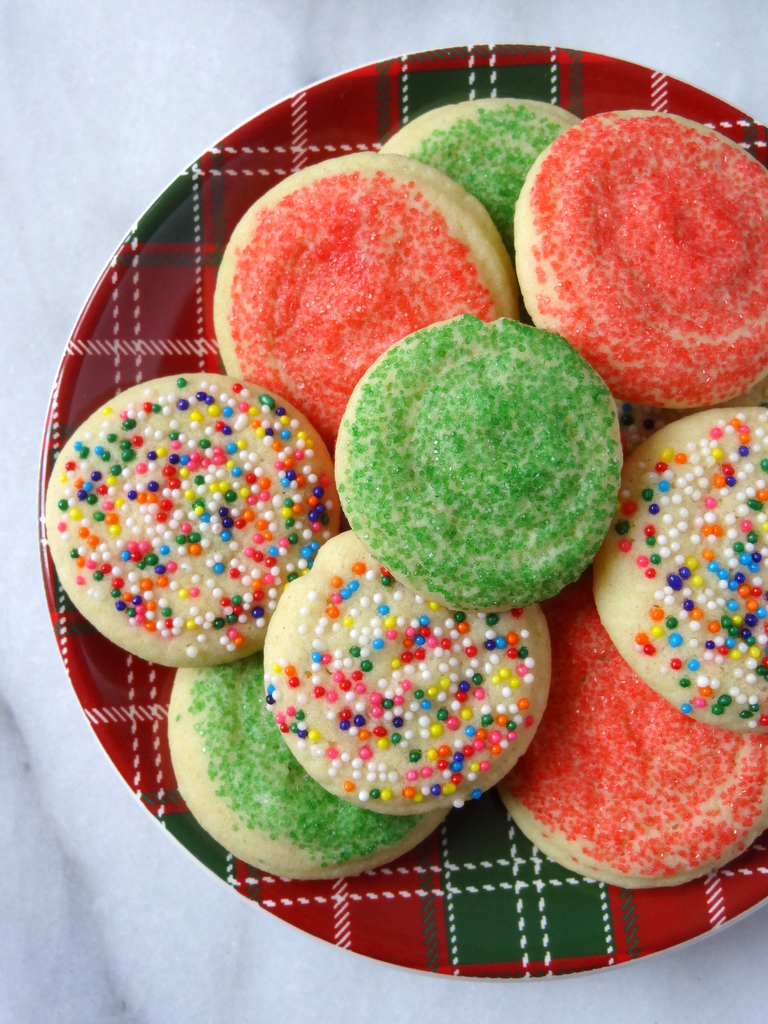 Aunt Della's cookies are simple, unassuming sugar cookies that just about melt in your mouth and are instantly addictive. In fact, I'm pretty sure it's virtually impossible to eat just one. My mother and I decorate them with sprinkles (green and red colored sugar and multicolored nonpareils), but my grandmother also uses chopped walnuts and shredded coconut – completely up to you!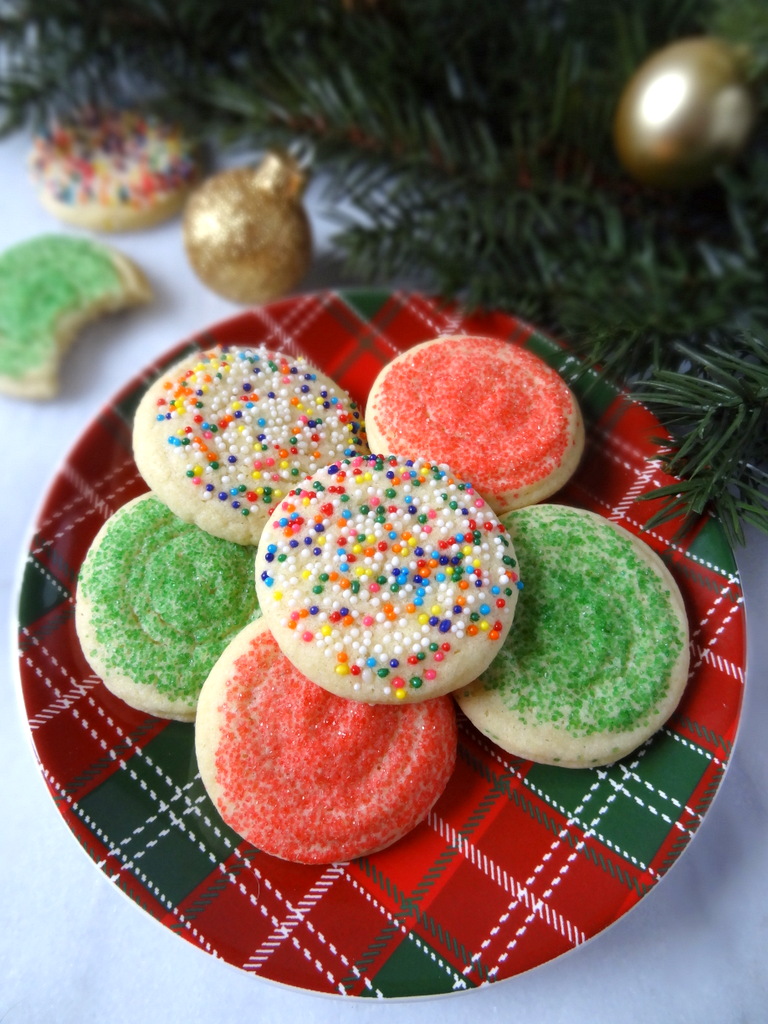 A word to the wise: while Aunt Della's cookies are great to have around to nosh on, to give to neighbors, or to set out for Santa, these are relatively fragile cookies and do NOT pack well, so if you're looking for baked goods to send to faraway family and friends, you'd be better off with something sturdier, like brown butter oatmeal cookies, chocolate espresso crinkle cookies, or Nutella Rice Krispies chocolate chip cookies. My mom once sent some of these to her brother in another state, and he told her that they arrived in crumbs…very, very tasty crumbs that he ate with a spoon. I think that's a good testament as to how irresistible Aunt Della's cookies are, no?
What are some of your family's favorite holiday treats?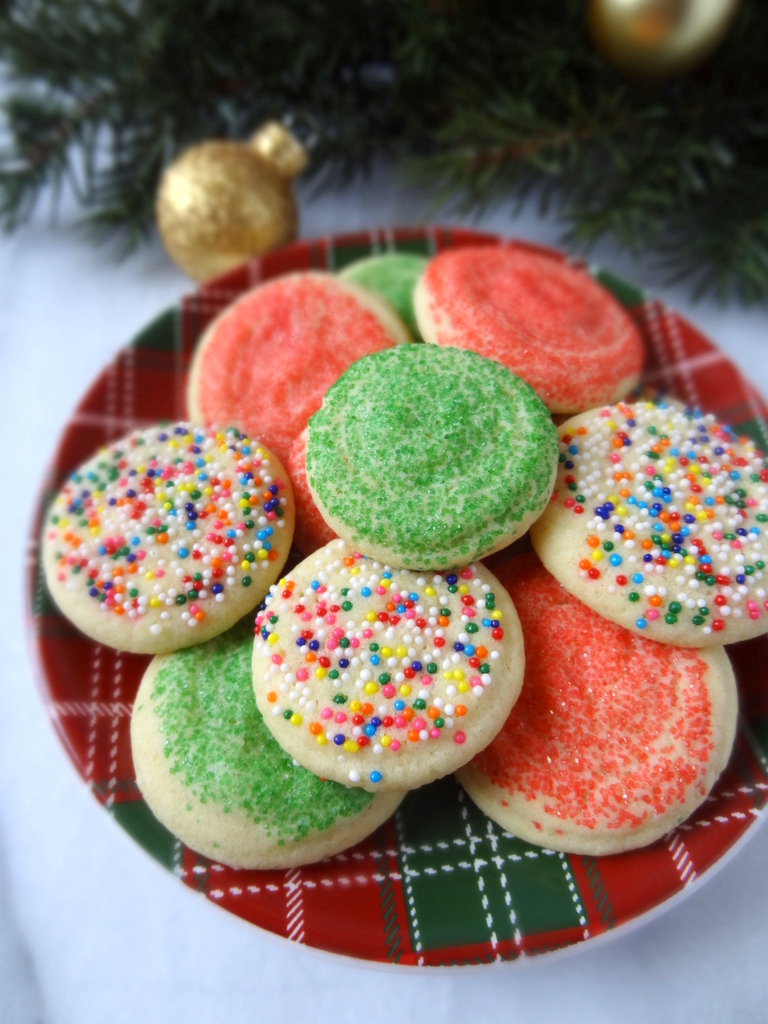 Aunt Della's Sugar Cookies
2016-01-13 21:05:25
Ingredients
1/2 cup powdered sugar
1/2 cup granulated sugar
1/2 cup margarine
1/2 cup vegetable oil
1 egg
1/2 teaspoon vanilla extract
2 1/4 cups flour
1/2 teaspoon soda
1/4 teaspoon salt
1/2 teaspoon cream of tartar
5-6 tablespoons colored sugars
Instructions
Cream together powdered and granulated sugars, margarine, and oil, and mix until smooth. Add in the egg and vanilla extract.
In a separate bowl, sift together flour, baking soda, salt, and cream of tartar. Stir into the sugar mixture and mix until smooth.
Refrigerate the dough for at least 2 hours.
Preheat the oven to 375 degrees.
Roll the dough into small balls, about 1 inch in diameter, then dip in colored sugars. Place on ungreased cookie sheet, with at least 1 1/2 inches between cookies.
To flatten the cookies slightly, press with the bottom of a small glass. Bake for 7-8 minutes or until light brown.
Put on Your Cake Pants http://putonyourcakepants.com/