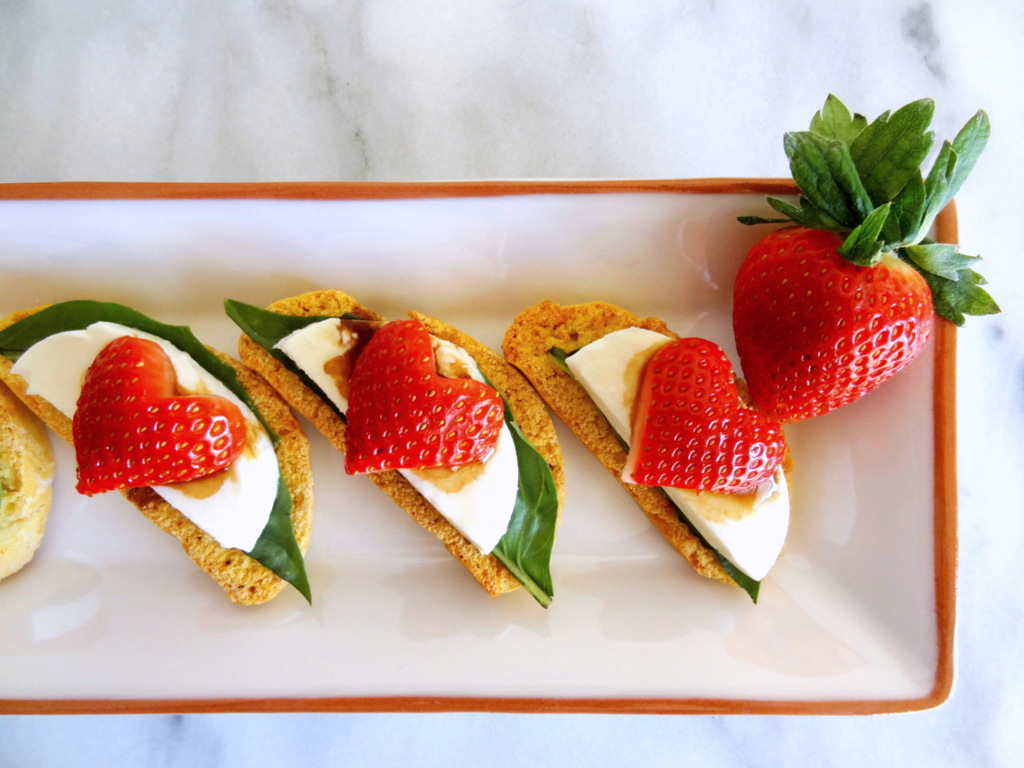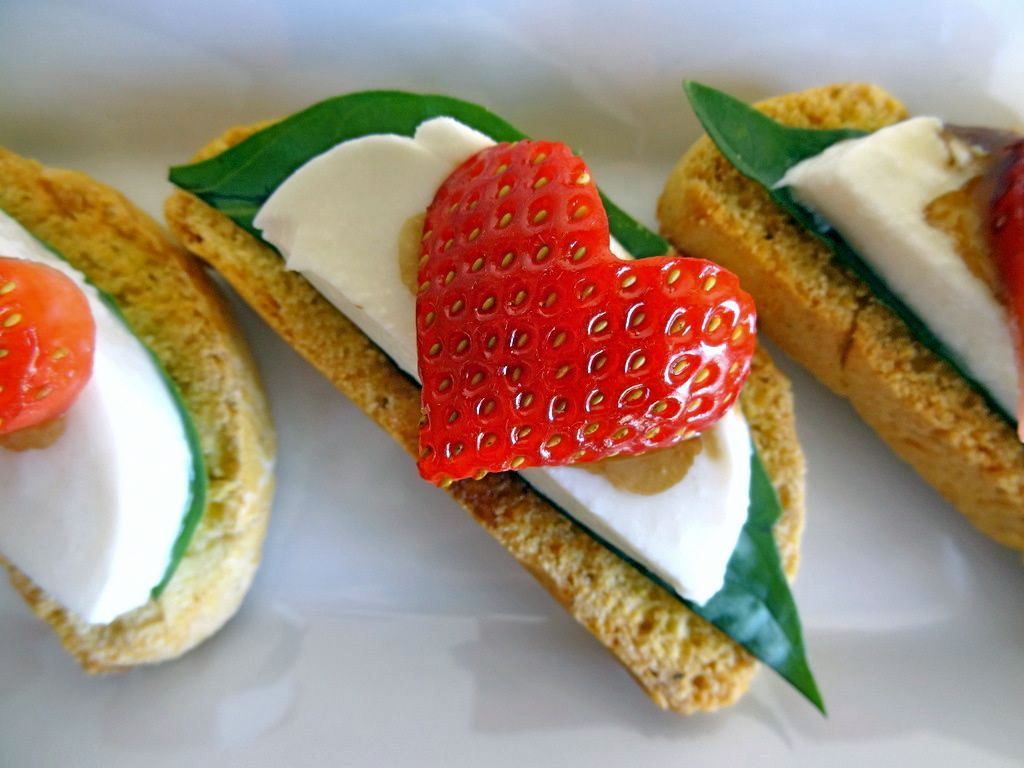 I've never been to Italy, but would LOVE to go there someday. It seems like such a fascinating place, replete with history and architecture that, while centuries and centuries old, is still very much alive today; amazing food, of course; and so much more – not to mention it's quite the romantic destination! For this month's Cheese Please! challenge, hosted by Fromage Homage (this month's theme: "Cheesy Romance") I knew I wanted to incorporate strawberries somehow, and was inspired to take things in a pseudo-Italian direction while looking at the art print hanging over my dresser one morning.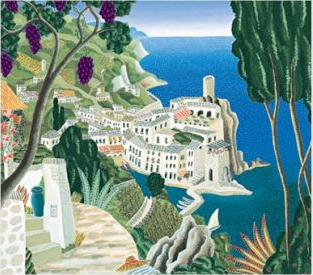 This painting of the Italian coast is by one of my favorite artists, Thomas McKnight, who has an incredible talent for depicting landscapes and scenes across the world in vivid and intriguing ways, and for focusing more on the energy and spirit of places, rather than on technical details.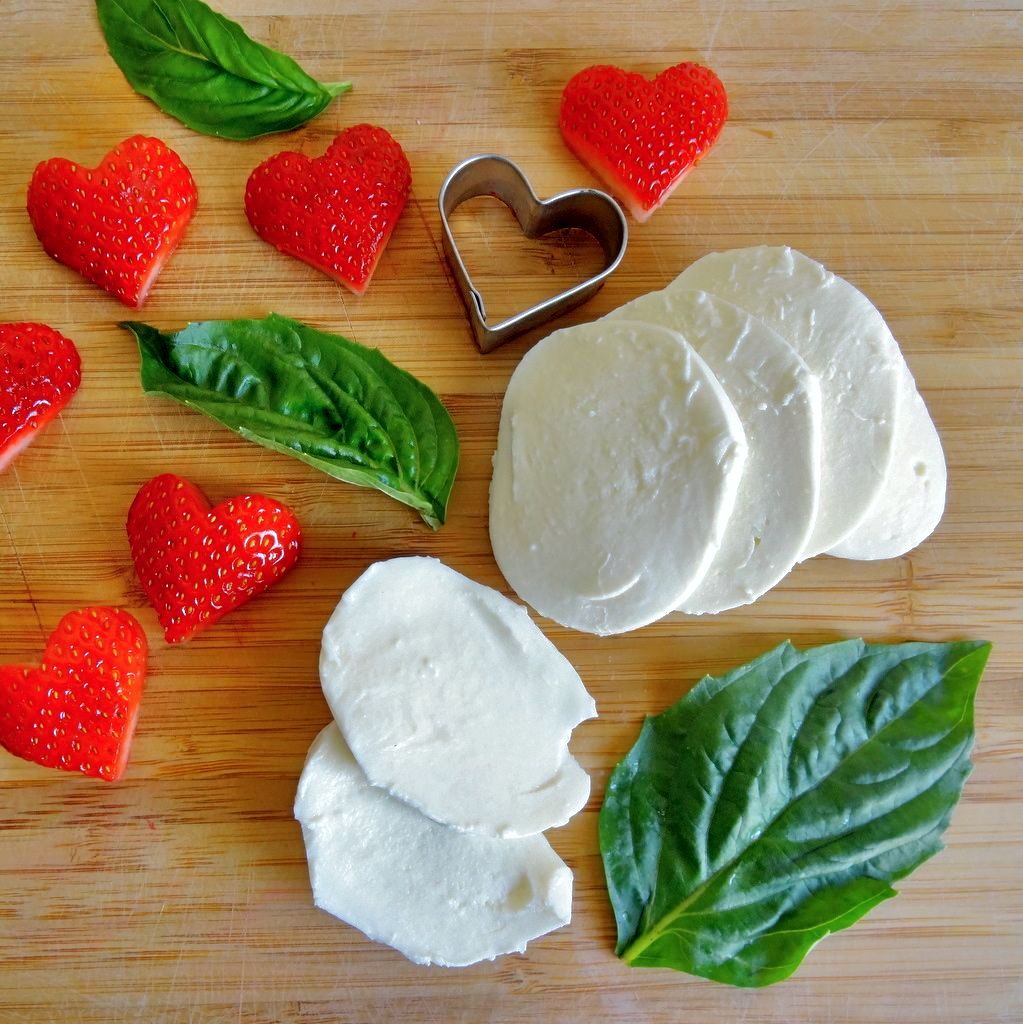 But anyway, to return to food: this appetizer could hardly be any simpler to make. Swapping in strawberries for tomatoes makes for a surprising twist on the classic caprese combination of tomatoes, mozzarella, and basil. The strawberry heart cut-outs lend a crisp, juicy sweetness and a hint of whimsy – a great way to start off a homemade Valentine's Day meal! You can of course make your own bread for the base, but since I think most of us, when putting together a multi-course meal, like to concentrate our energies on creating impressive entrées and desserts, this seems like a perfectly acceptable short-cut to take. I have to confess that I don't quite know what to call these (suggestions?) – they're not actually bruschetta or crostini, since they're neither toasted nor grilled. I originally tried these with toasted bread (as you can see in the pictures), but later decided that I liked the mouth feel better when using soft, fresh bread. But ultimately, it doesn't matter what I call them – they're delicious regardless. Buon appetito!