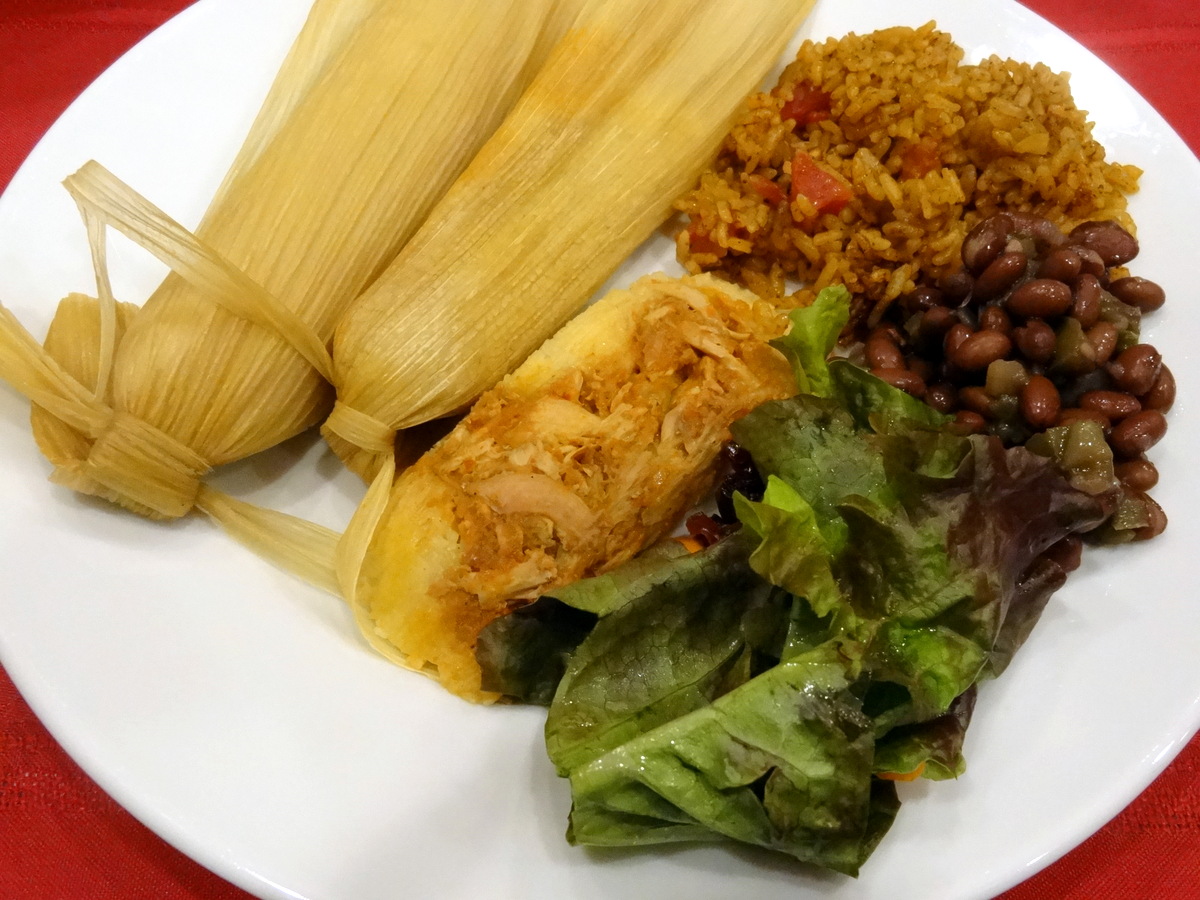 While I was at home in California over the holidays, where it was a balmy sixty degrees or so and there was none of this polar vortex business going on (thanks for the fifteen below/thirty below with wind chill welcome back, Michigan!), where I could go to the grocery store and not find that everyone got there before I did and had already cleared out the store's supply of, well, pretty much everything, in preparation for the latest snowpocalypse…wait, where was I going with this? Ah, yes – tamales!  After a lazy Christmas morning of pancakes and lounging around in pajamas, my family spent the afternoon making homemade tamales. This was our first time making tamales since the cooking class we took after Thanksgiving, and it was a lot of fun to do things from start to finish, since at the cooking class, the instructor had prepared certain things beforehand for the sake of saving time. My dad made some arroz rojo (red rice) to go with the tamales, and we had scrumptious Mexican-themed dinner.
Here are some notes from our tamale-making experience:
Notes on ingredients
I wasn't able to find masa preparada at regular grocery stores, so I bought dry masa mix instead. I only had to add margarine, some baking powder, salt, and water. Simple! This is also a good option if, like my family, you're a little skeeved out by lard, since you can just substitute margarine (although you will be sacrificing some of the flavor), whereas I believe masa preparada is made exclusively with lard.
Instead of using roasted pork, we filled the tamales with shredded meat from a rotisserie chicken, which saved a ton of time. I didn't measure exactly, but my estimate would be that we used about 3/4 of a rotisserie chicken, or approximately 5-6 cups of shredded chicken.
Since you'll be puréeing the sauce, it doesn't matter what kind of canned tomatoes you use – we had diced tomatoes in the pantry, so that's what we used.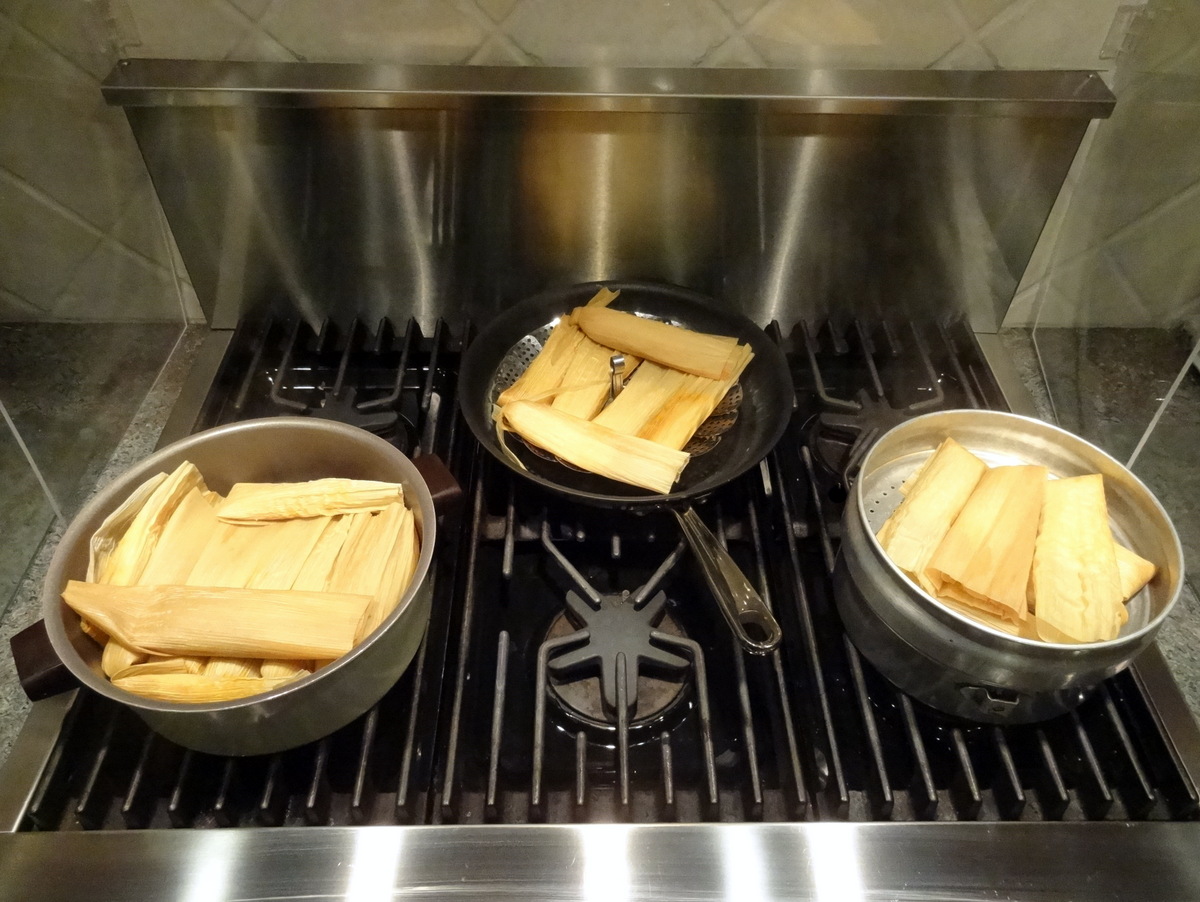 Notes on the method
While soaking the guajillo chiles, be sure to stir them around periodically so that all surfaces get a chance to be fully submerged. I kept the lid on the pot during this period to retain the heat better.
When making the guajillo sauce, you may not need any chicken stock to make it of a pourable consistency – I found that the 2 cups of water reserved from soaking the chiles was plenty.
In order to prevent the tamale filling from getting soggy, I recommend not only draining the pineapple tidbits but actually using your hands to squeeze out some of the liquid.
For the masa, I used Maseca Tamal instant corn masa mix. Following the instructions on the packaging, I combined 4 cups of the dry mix with 2 teaspoons baking powder and 1 teaspoon salt, then added 4 cups of water. After beating 1 1/3 cups margarine in an electric mixer until softened, I added the margarine to the other ingredients and mixed until the dough was smooth. This yielded enough masa for 32 tamales.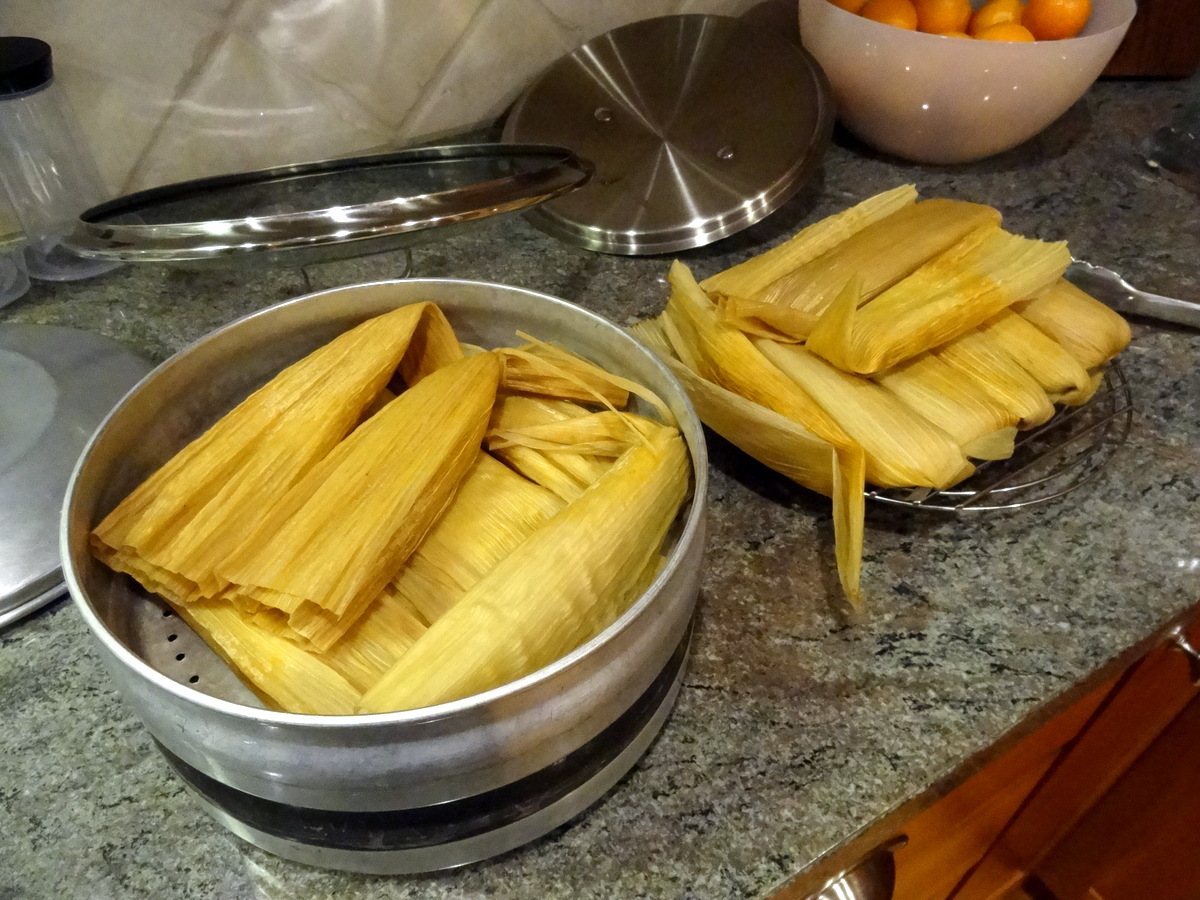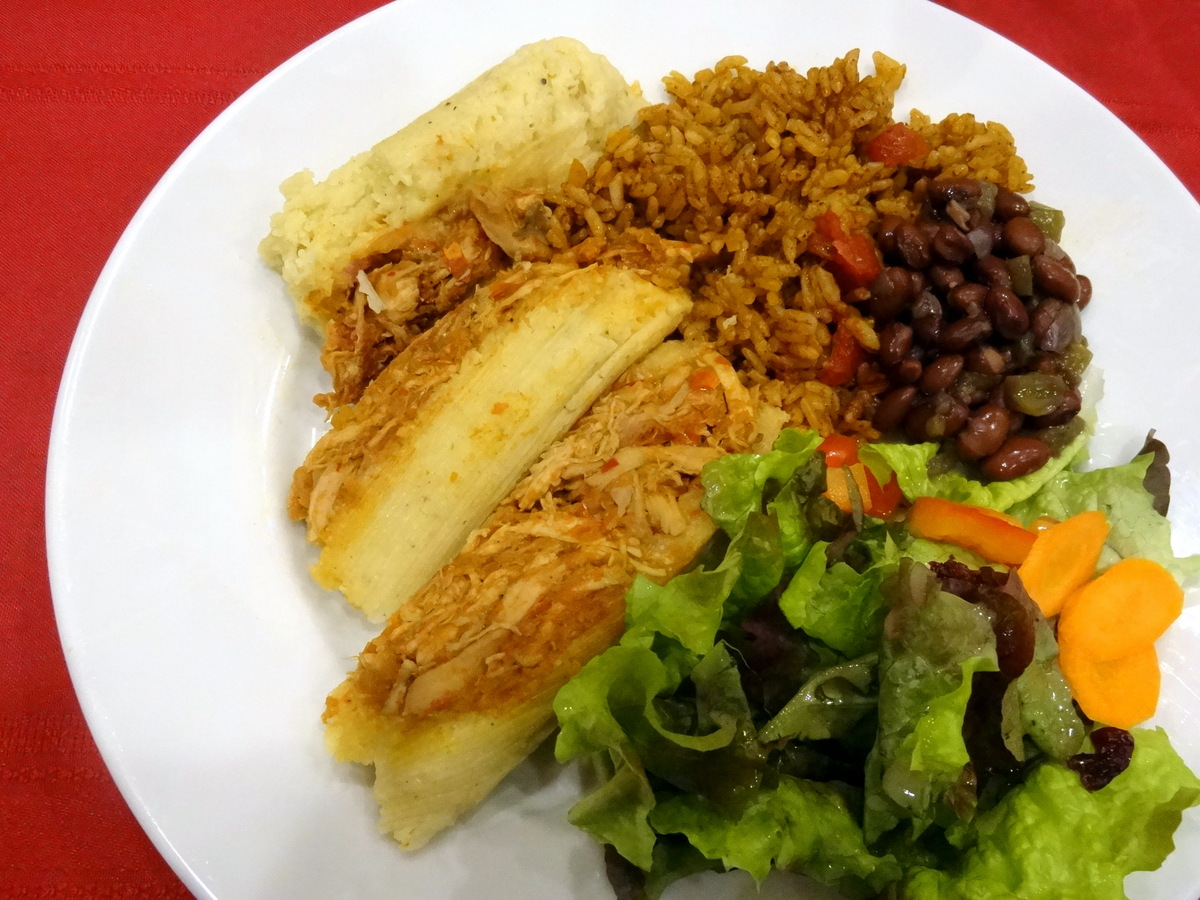 You can freeze leftover tamales after you've fully steamed them. Leave them wrapped in their cornhusks and seal them in an airtight container or plastic bag. Reheat by steaming until the tamales are warmed all the way through.