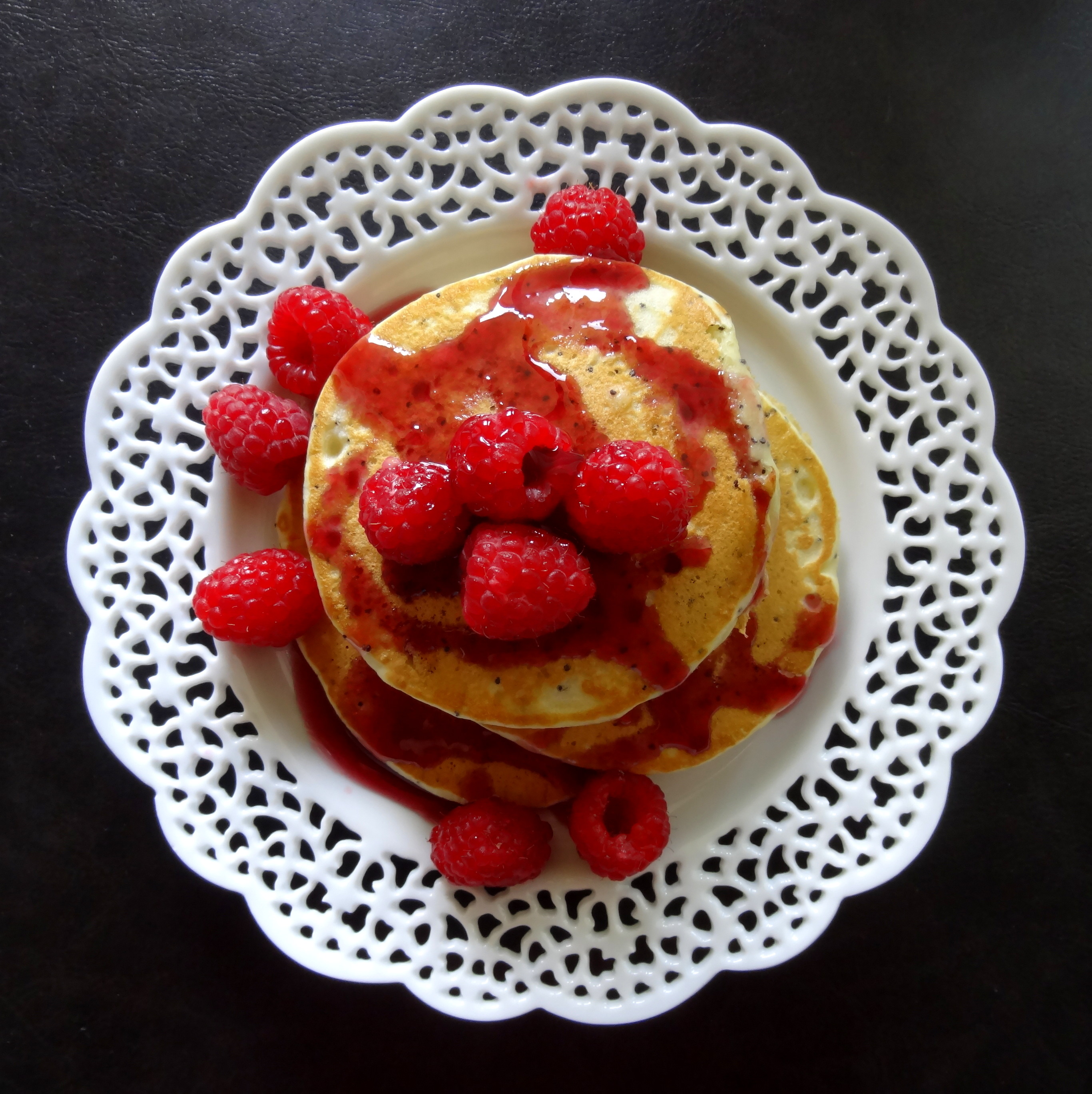 Pancakes! Need I say more? Probably not, but I will anyway. These pancakes are the perfect weekend morning treat. The slight bitterness of the amaretto and the sweetness of the berries and syrup balance each other out marvelously, and the poppy seeds add an element of texture that many pancakes lack. And now please excuse me while I go take a post-pancake nap (the perfect late morning weekend treat).
Amaretto Poppy Seed Pancakes
2016-01-23 15:37:08
Pancakes
1 egg
1 scant cup milk + 1 tablespoon lemon juice
2 tablespoons vegetable oil
1 cup flour
1/2 tablespoon sugar
1 teaspoon baking powder
1/2 teaspoon baking soda
1/2 teaspoon salt
1 tablespoon amaretto liqueur
1 tablespoon poppy seeds
Garnish
6 ounces fresh raspberries
boysenberry syrup
Instructions
Put one tablespoon lemon juice in a one-cup measuring cup and fill remainder with milk. Let sit 5 minutes.
Using a whisk, beat egg in medium mixing bowl. Add remaining ingredients in order, whisking in between each ingredient.
Spray a griddle or nonstick skillet with cooking spray. Heat on medium heat for several minutes, or until water dropped onto surface sizzles.
Scoop pancake batter onto griddle, making pancakes approximately 4 or 5 inches in diameter. When bubbles appear throughout each pancake, flip onto other side and cook.
Serve, and top with raspberries and boysenberry syrup.
Put on Your Cake Pants http://putonyourcakepants.com/