As a child, I was a much pickier eater than I am now. Don't get me wrong—I can still be picky, but to a far lesser extent. I wasn't really a fan of going to restaurants that feature anything other than American or Mexican food, but I'm now thankful that my parents ignored my preferences at times and encouraged me to expand my horizons. I was probably about ten years old when my family first went to Yas Restaurant, which specializes in Persian cuisine, and I was surprised to find it to my liking. They have a dish called Albaloo Polo, which is chicken served with rice flavored with saffron and sour cherries. Delectable. Every time we've gone to Yas since then, at least one of us has ordered it.
This summer, I was excited to recreate Albaloo Polo (minus the Polo, since—let's be honest—it's really all about the cherries and saffron, not the chicken) with some fresh Michigan-grown sour cherries. But alas, despite living in the state where most of the nation's tart cherries are grown AND despite even going up to Traverse City, the so-called cherry capital of the world, I have not been successful in attaining fresh sour cherries. At least Trader Joe's has my back, offering jars of sour cherries imported from Germany. Although I will continue my quest to find fresh sour cherries next summer, I have to say that this dish, made with imported ones, is just as delectable as I remember.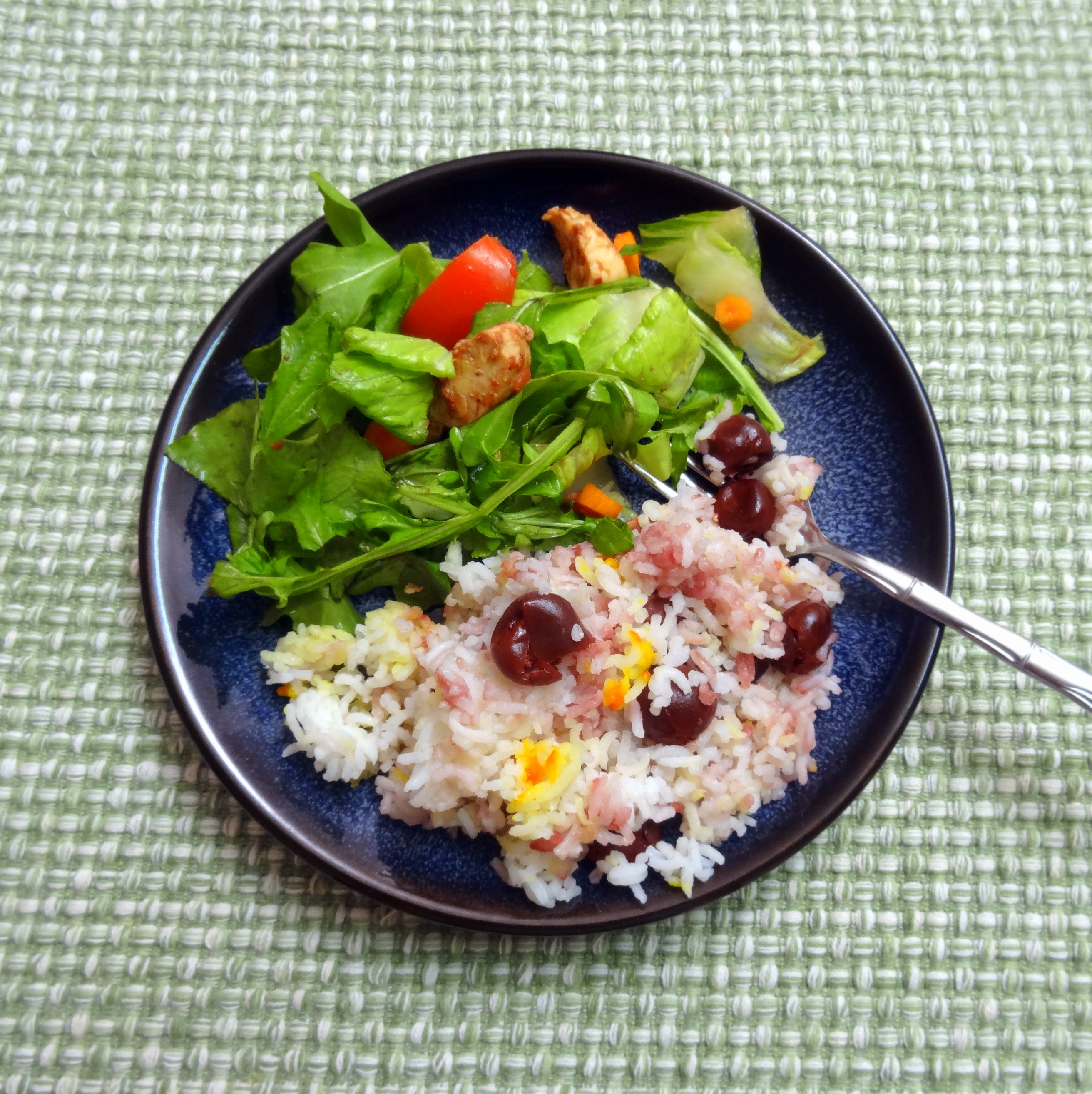 Persian Saffron Rice with Sour Cherries
Servings: 4
Time: 50 minutes, plus 30 minutes to soak rice before starting
Adapted from
Steamy Kitchen
Ingredients
12 ounces sour cherries in light syrup, drained
1/4 teaspoon saffron
1 1/2 cups basmati rice
2 tablespoons butter
1 1/2 teaspoons salt
Instructions
1. Wash and soak basmati rice in water for 30 minutes. Drain. Soak saffron in 1 tablespoon of hot water, and set aside.
2. Bring a large saucepan of water up to a boil. Add rice and boil for 8 minutes. Drain rice.
3. In the same pot, heat one tablespoon butter and salt over high heat. Once melted, add/layer:
half of drained rice
half of saffron and its water
half of drained cherries
remaining rice
remaining saffron and its water
1 tablespoon butter (stir this a little, so as to distribute butter equally)
remaining cherries
4. Wrap lid of saucepan with a thin kitchen towel, using a twist-tie or rubber band to keep edges away from burner, and cover saucepan. Cook on medium heat for 10 minutes.
5. Turn heat down to lowest setting and cook for 20 minutes. Remove from heat, fluff, and serve. Add salt to taste.