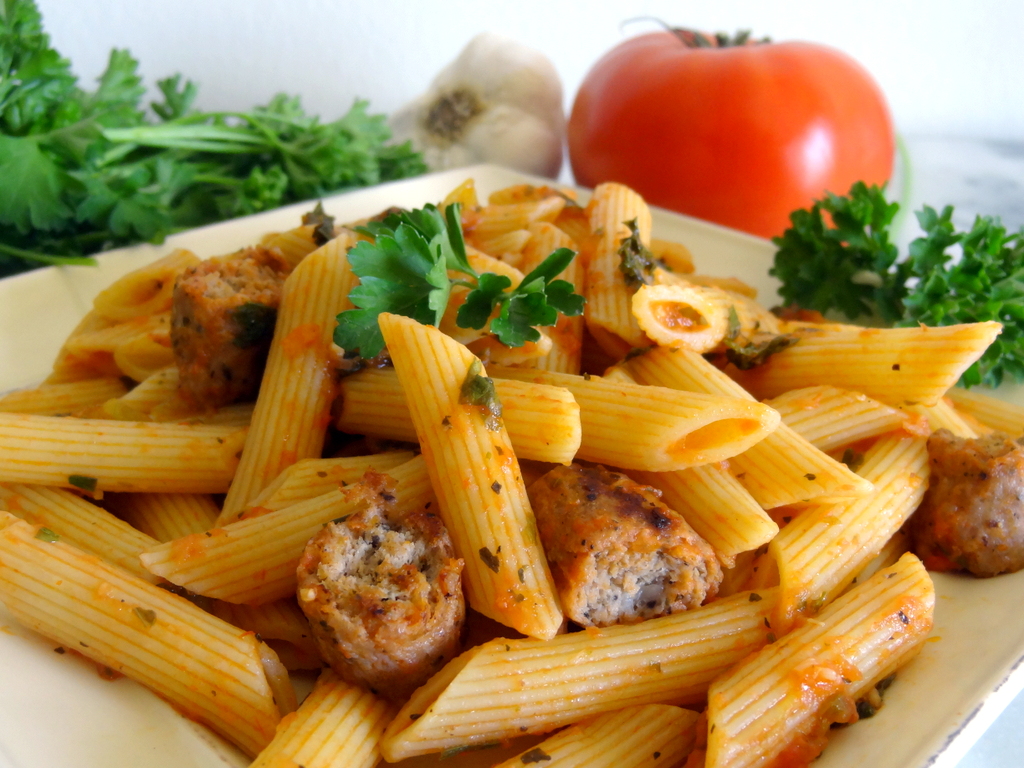 I may have thrown my dad's cooking a little bit under the bus before, when I was talking about his Indian food phase. Truth be told, I learned most of what I know about cooking and baking from my parents, and they had a homemade meal on the table every night of the week for my brother and me while we were growing up, so I really had no right to turn up my nose or complain. That's not to say I didn't complain (and I still tease them when they tell me things like that they made vegan Philly cheesesteaks), but ultimately, I've always been grateful for their culinary efforts. Thus I thought it'd be nice to share one of their recipes that has always been a family favorite – penne al boccalone! Just before my senior year in college, I went up to Seattle to visit my brother and we made this for dinner together. Afterward, we found out that our parents had also made penne that same night – a family favorite, indeed!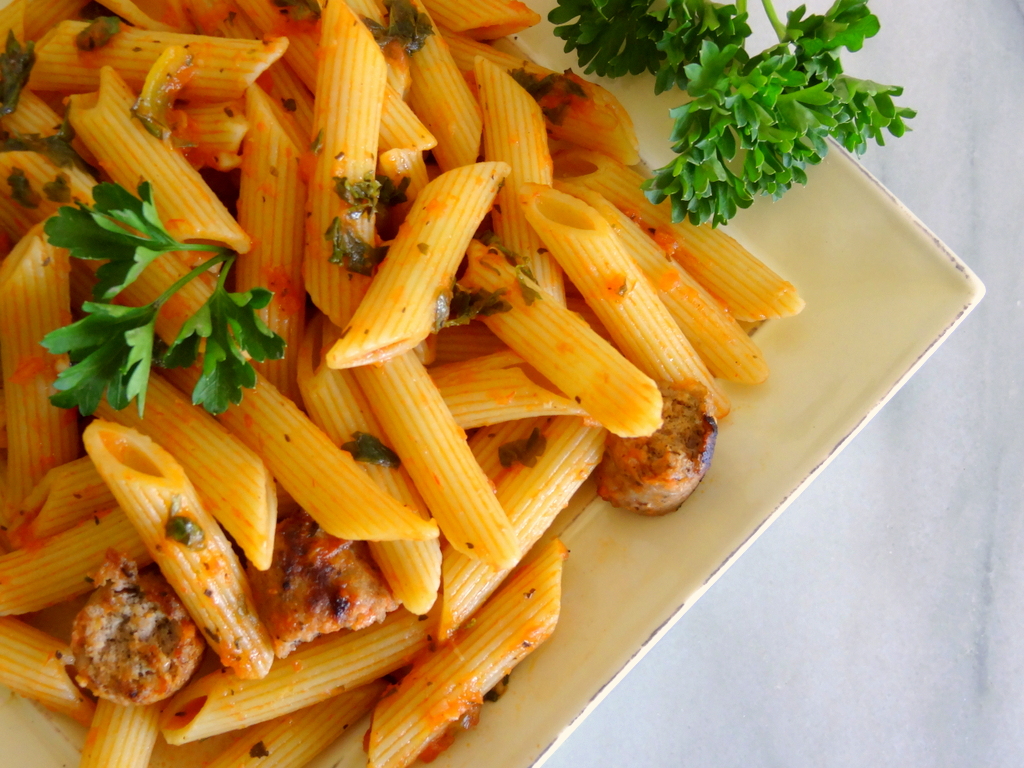 To be honest, I'm not sure why it's called "al boccalone", since as far as I can tell, boccalone is a type of meat or sausage, and the recipes I've seen for penne al boccalone are vegetarian. Hmm. Can anyone explain this to me? I have no Italian heritage and the closest I come to speaking Italian is Spanish, so I don't feel super authoritative on the matter. Anyway, I decided to throw in some sausage since there isn't really any other source of protein, but feel free to leave it out or use veggie sausage if you're trying to eat vegetarian or vegan. The tomato-based sauce for penne al boccalone is lighter than a traditional marinara sauce, but full of flavor regardless – the green chiles and parsley add a nice element of freshness, making this a perfect pasta for springtime!
I gave Phoebe a small bite or two of sausage while I was cooking. She came over later while I was taking photos to see if she could either snag another or convince me to give her one by melting me with her big brown puppy eyes. Unsuccessful…because I know a certain little puppy who is getting her own whole adoptiversary cake veeeery soon (stay tuned!).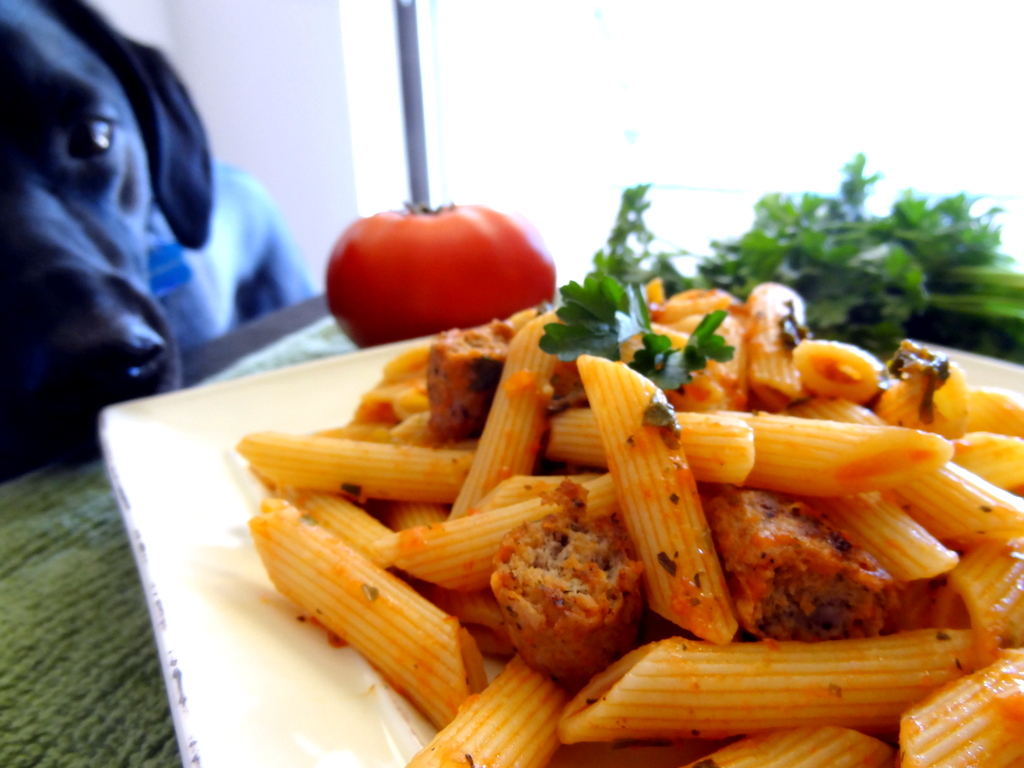 7/16/18 edit: for the updated and simplified recipe, see this post! Please note that the updated recipe does not include sausage, so if you'd like to, simply cook 8 ounces sausage (casing removed) until browned and then stir it into the pasta at the end.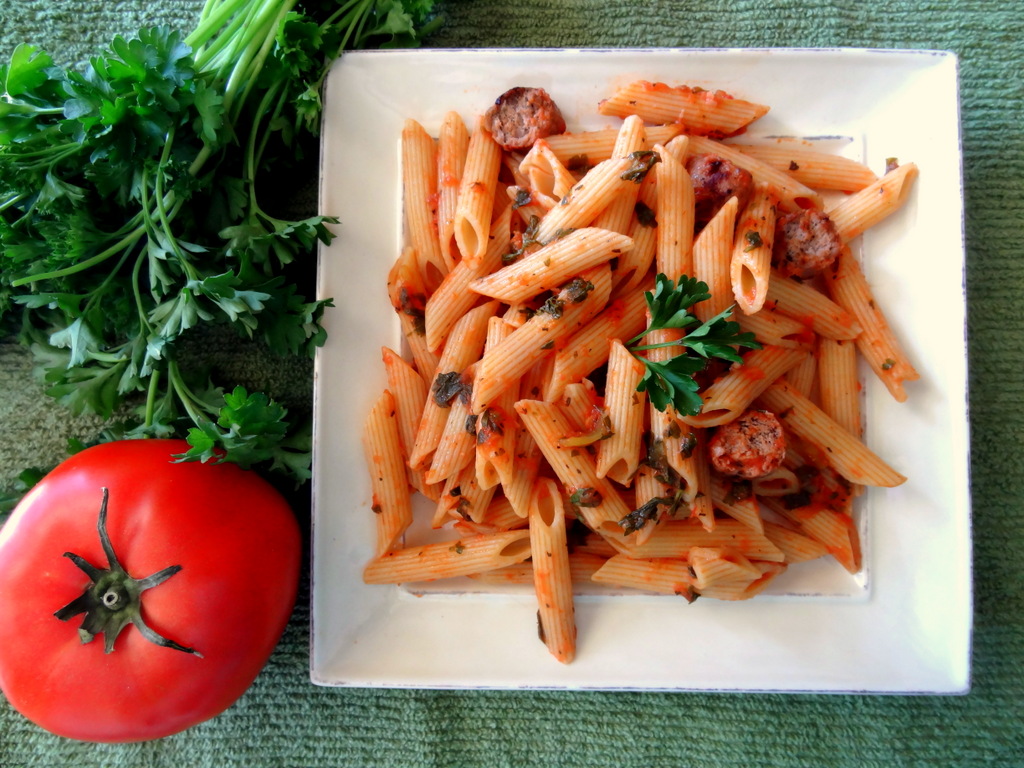 SaveSave